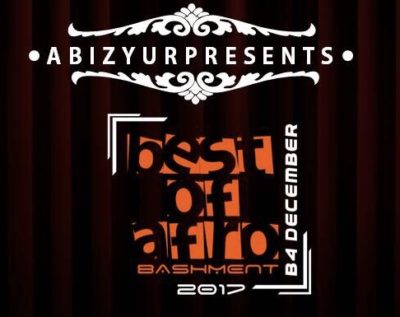 Introducing "ABIZYURPRESENTS", a Pan African music distribution network. It is designed specifically to usher in outstanding new talents into the limelight, as well as promoting the established ones onto a wider audience both at home and in diaspora alike.
In a recent press conference, Nigerian music promoter Abiz yur quotes "The Music industry thrives in competition, which is best described as the breakthrough for the new talents, and reform for the established ones, thereby bringing about desired growth to the music business".
The platform is free, but Terms and Conditions applies.
This edition is HOSTED BY SPANKY MANOLO (industry nite MC)
IG/Twitter/FB: Abizyurpresents
Get below
More Links below
Download Links
https://www.hulkshare.com/8hxz6ciqc1og
https://www.hulkshare.com/5bwx3luajjnk
https://www.hulkshare.com/zbpmjz72tips
https://www.hulkshare.com/tpsp7ipy4bnk
https://www.hulkshare.com/fv0lbkp3zy80
https://www.hulkshare.com/k5zfdrfarym8
https://www.hulkshare.com/zdcdivtza41s
https://www.hulkshare.com/5bwx3luajjnk://www.hulkshare.com/ny05e467gkcg
https://www.hulkshare.com/vflrhesweygw
https://www.hulkshare.com/uvyxukupg4jk
https://www.hulkshare.com/drhnn46ta8zk
https://www.hulkshare.com/x0s790ec8d1c
https://www.hulkshare.com/1dt5dzizbits
https://www.hulkshare.com/ts6n7f5bzxmo
<!– google_ad_section_end –>
---
---