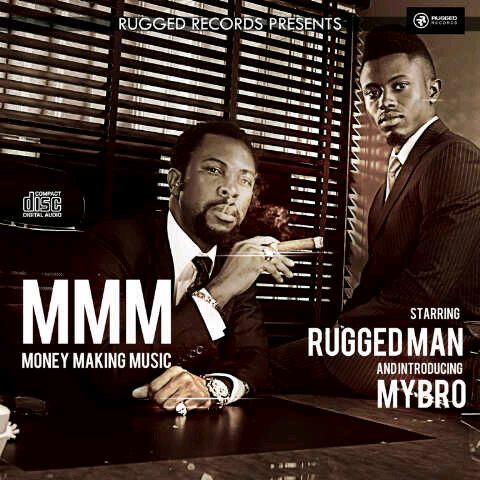 Artiste – Rugged Man & Mbryo [Rugged Records]
Features – Terry G, Chigurl & Funbi
Producers – Tee Mode, Reflex Beats, Popito, Woye Sounds, Mr Vine, Blaize Beatz, Samflex & Oga Jojo
Label – Rugged Records (2012)
It is the year 2012, undoubtedly Rugged Man can now be called a veteran having launched into the music industry in 1991 and strived to remain relevant over a decade, which is not easy to achieve. Ruggedy Baba has made all his releases under his record label 'Rugged Records' and signed its first artiste in September, talking about the prolific singer Mbyro. Aimed at officially introducing Mbyro to the world, Rugged Records brilliantly unleashed a collaboration album featuring works of Rugged Man and Mbyro hence the 11-track LP that goes by MMM [Money Making Music]. Armed with a handful of producers and artistes, which tracks are the best on "MMM"? This track-by-track review clears the air:
Takeover – Mybro: Equipped with a synth-driven Tee Code production, Mybro seeks to come in and 'Takeover' your playlist, the music industry and everything else with an up-tempo dance number, and might achieve his aim if caution is not exercised. The likes of Wande Coal and YQ should watch their back because Mr Mybro is coming!
Push – Rugged Man feat. Terry G: Reflex crafted a beat which features the signature bells to ensure that fans of 'The King of Gingah' do not let this cut slide. Rugged Man aided by street-hop maestro Terry G ventures into a new territory and excels while at it. 'Push' is a club banger and a certified must have for any DJ.
Remote [Freestyle] – Mbyro: 'Remote' has everything one should look for forward to in a freestyle; catchy lyrics, impromptu vocal styling, a stellar vocal performance not forgetting a groovy production credited to 'Popito' in this instance. 
I Like Your Azonto – Mybro: You may be falling for his art but it is her 'Azonto' that has caught the attention of the singer. Looking to benefit from the current fever caused by the dance-step, the tenor puts his voice to use on the Azonto-ish beat and joins the bandwagon with a fairly above average track.
Money Making Music – Rugged Man & Mybro: The first collaboration with the duo on the LP and its title track is a mid-tempo song celebrating making ends meet while doing what they love which is making music. Mybro on the hook and Opomulero dropping his signature rap verses.
Ruggedy Baba Part 2 [Skit] – Chigurl: A hilarious skit with comedienne 'Chigurl' raving about the sequel to Rugged Man signature hit 'Ruggedy Baba'. Funny as usual, expect nothing less. 
Ruggedy Baba Part 2 (feat. Mbryo): Ruggedy Baba is the name of Michael Stephens' sophomore album as well as his signature track which features 9ice. Not so sure remaking it was a good idea still Rugged Man released 'Ruggedy Baba Part 2' as the lead single off the album, although it does not reignite the fire started by the first part, it is a solid number and Mybro rises to the occasion.
Ireke – Rugged Man: Produced by hit-maker Samklef is 'Ireke' which means 'sugarcane'. Toned down sexual lyrics on a mid-tempo dance beat as he goes; 'She likes my Ireke oh….' or maybe Rugged Man has a sugarcane plantation somewhere.
Oga Na Master – Rugged Man: Bragging Rights!!! A topic which is tirelessly battered by rappers and is addressed once again in grand style in 'Oga Na Master'. Reaffirming us that he has been here and is not going anywhere, dope rap verses too. 
Don't Go – Mybro: Mybro shows off his pipes in 'Don't Go'. Sounding like Praiz and Dipo at the same time, listeners get to encounter the soulful side of singer as Nigerian Idol judges felt during his brief stint on the second season of the show. The romantic cut enriched with talking drums, rattles and piano, he pleads to his love interest to stay with him and build a family. 'Don't Go' puts the dot in the statement, 'Mybro is the real deal'.
How You Want Am (feat. Funbi) – Rugged Man: Closing 'MMM' is the Funbi-assisted 'How You Want Am'. Known for his western contemporary R&B style Funbi shines while Rugged Man glides on the moody Blaize Beatz hip-hop engineered instrumentation with his engaging English/Yoruba rap verses often backed with clean vocal from the singer. Ever heard of a 'Hip-Hop Rap/Sung Collaboration'? If no, listening to this track will provide all the education you need.

Reviewed by Ogaga Sakpaide [ @Ogagus_ ]
<!– google_ad_section_end –>
---
December 11, 2012
---