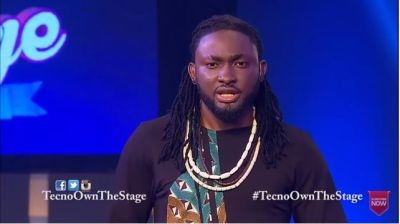 Techno own the stage Karaoke competition continued this week, not breaking in its stride of excitement and all the thrills, the fourth edition saw Uti ditch his dapper suits for a native attire In honor of the African themed week. The contestants left in the competition performed strictly African hits, while some delivered brilliantly, some not so much.
The first performance of the night was Tanzania's Mary who performed the same song she performed during her auditions, Loliwe by Zaha. The judges were a little bit impressed, although Bein said she could definitely have done better, also telling her to do more risks.
The second contestant to grace the stage was Shapira Makepeace who got a standing ovation from all the judges and maybe even some of us at home the previous week. This week Shapira performed Kiss Daniels Smash hit Woju, She clearly had difficulties with the language which was noticed by Yemi, never the less the judges praised her consistency.
Banye performed Diamond Platinumz popular track, "Number one" next, the judges were not too pleased as they said he seemed out of breathe, apparently the only thing the judges were feeling were Banye's shoes.
Tosin raised the bar last week when she performed Whitney's song beautifully she however could not keep up this week as she started well but lost her lines in the middle, the judges encouraged her to read the lyrics luckily she got back her bearing. The judges strongly advised Tosin to work harder and never give up on herself.
Next up was the Tanzanian, Zooccu who performed "Sisikii" by Jux. Bien note dthat her diction was off but he praised her performance.
Closing the night was Tanzanian's Jef Ndumah, who was the last but definitely not the least performer of the night, the judges were especially impressed by his performance, Yemi confessed that she was not too thrilled to hear that he was going to perform but had her heart changed with his performance, talk about a much needed turn around.
The much dreaded time for eviction come, and all the contestants were called back on stage, Bien was charged with delivering the bottom three contestants which turned out to be Mary, Banye and Tosin. Eventually it was decided that it was the end of the road for Banye as far as Techno own the stage was concerned.
The competition is getting tougher and even more exciting as each week sees them getting closer to the prize.
If you missed this week's episode, don't worry we got you covered visit the Youtube Channel : Tecno OwntheStage and get all the hits and misses from last night.
To be a part of all the fun and excitement, watch the show highlight and show some love to your favorite contestant.
Follow us on;
Facebook – Tecno Own The Stage
Twitter – @tecnoowndstage
Instagram – @tecnoownthestage
Tecno's #OwnTheStage shows on:
Sundays – Africa Magic Showcase at 19:00 CAT
Sundays – Africa Magic Urban at 21:00 CAT
You can watch the repeat broadcast on:
Tuesdays – Maisha Magic East and Maisha Magic Bongo at 18:30 CAT
Wednesdays – Africa Magic Family at 19:00 CAT
<!– google_ad_section_end –>
---
December 7, 2015
---