<!– google_ad_section_start –>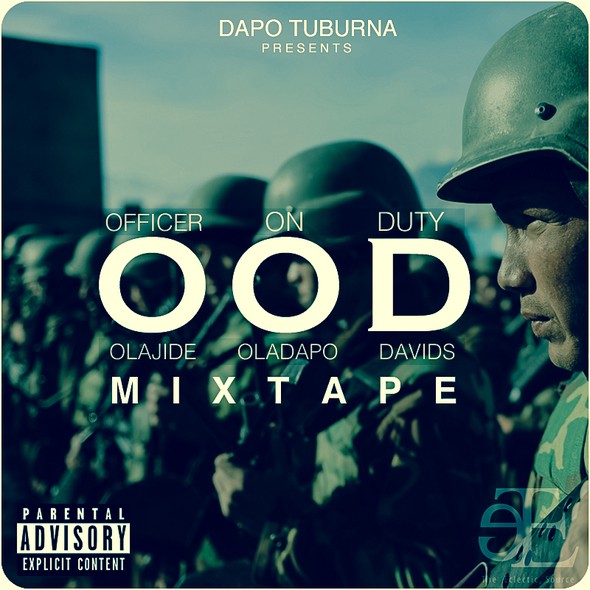 Dapo Tuburna [real name – Olajide Oladapo Davids] finally releases his long-awaited "O.O.D" mix-tape, which in full means "Officer On Duty", also an acronym for his real name. Having dropped a couple of tracks off the mix-tape in recent times, the 13-track mix-tape features samples of the Late Fela Anikulapo-Kuti and also Bishop David Oyedepo, perfectly mashed together by the excellent production skills of different producers, including Kiddominant, Dr. Jazz, MadBlaze, EOD, QueBeat and his band.
With hit songs including the likes of "Gege Gaga", which features SammyLee of the Ghanaian record label, AK Music, and "Dangerous", which was produced by fast-rising Kiddominant, the "Officer On Duty" mix-tape sure would thrill lovers of good music all way round; Trick and Toby also make an appearance on the mix-tape. Fully set to maneuver virtually every possible sector in the entertainment scene as an artiste,Dapo Tuburna just concluded his LIVE band concert, and also starred in the honorary documentary for Femi Kuti earlier this year. Listen up and share your thoughts. |ENJOY!!!
DOWNLOAD INDIVIDUAL TRACKS
1. Dapo Tuburna – INTRO
2. Dapo Tuburna – PRAYER
3. Dapo Tuburna ft. SammyLee – GEGE GAGA [prod. by Dr. Jazz]
4. Dapo Tuburna – LIFE
5. Dapo Tuburna – DANGEROUS [prod. by Kiddominant]
6. Dapo Tuburna – WAGBA [prod. by Kiddominant]
7. Dapo Tuburna – BAD [prod. by Kiddominant]
8. Dapo Tuburna – FIYA BURN DEM
9. Dapo Tuburna – I SEE [prod. by QueBeat]
10. Dapo Tuburna – REWIND IT [prod. by Dr. Jazz]
11. Dapo Tuburna – BACK IT [prod. by MadBlaze]
12. Dapo Tuburna ft. Trick & Toby – GIRLS AROUND THE WORLD [prod. by EOD]
13. Dapo Tuburna – DAMI MO [Outro ~ prod. by Dr. Jazz]
DOWNLOAD "OFFICER ON DUTY [#OODMixtape]"
<!– google_ad_section_end –>
---
---