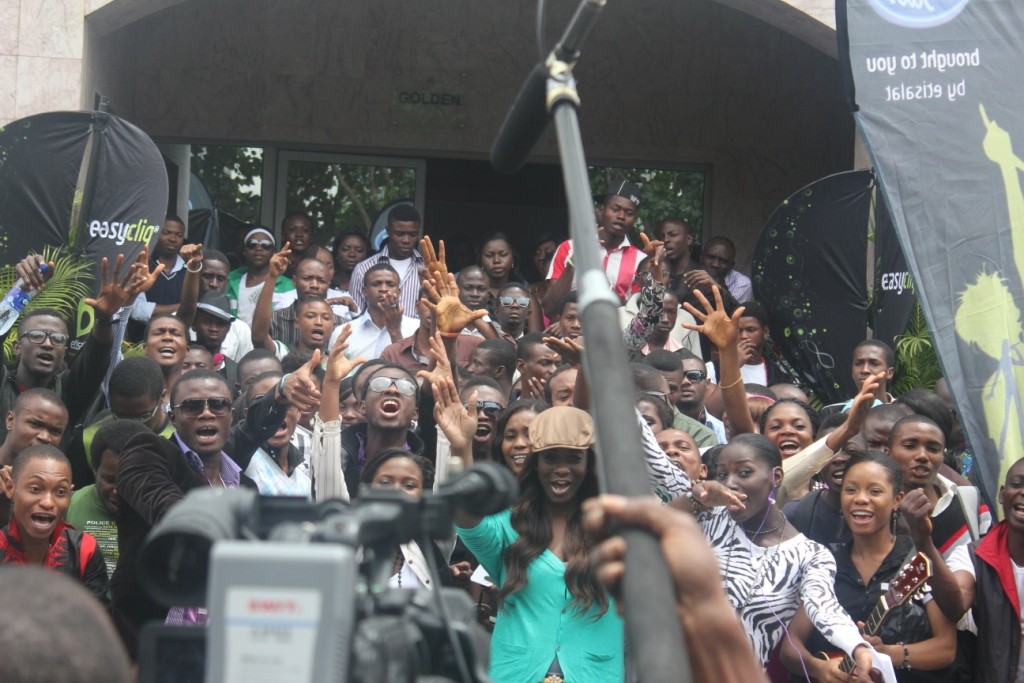 …. As Audition Trains Moves to Port Harcourt
Abuja, Nigeria; October 9, 2011: It was thrills and frills over the weekend in Abuja, as over 2,000 youths turned out at the Chelsea Hotel, venue of the audition for the season 2 of the Etisalat Nigeria sponsored Nigerian Idol.
Excited by the huge turnout of enthusiastic youths, Olufemi Ashipa, Sponsorship and Marketing Manager, Etisalat Nigeria, said "With the huge turn-out of contestants at the Abuja auditions, we are sure that our next stop in Port Harcourt will be mind blowing". He also disclosed that the total number of contestants that turned up for the Abuja auditions were well over 2,000. According to him, the contestants were excited but nervous in their performances.
"It was a once in a lifetime opportunity for some and they wanted to make it worthwhile. In line with this season's theme for the show, Abuja and environs showed that they were ready to ignite their dreams. We congratulate those who scaled through to the next phase and wish them the very best. And for those who didn't, should not give up, there will always be a next time," Ashipa concluded.
Day one of the auditions witnessed contestants, amidst the rains, trooping in droves to, Chelsea Hotel, venue of the auditions, while day two of the auditions featured a concert with popular Nigerian artistes such as, Naeto C, Jah Bless, Jesse Jagz ,olamide and ….., thrilling the guests.
The auditions train for Nigerian Idols season 2 moves to the garden city of Port Harcourt on the 14th and 15th of October at the Presidential Hall, from where it will  move to,Universal Hotel, Enugu on the 28th and 29th of this month. The last phase of the audition will be in Lagos on the 9th to 12th of November at Dream Studios.
Nigerian Idol is a reality show music talent hunt contest for a solo singing sensation. Contestants are tested through audition process and it offers young talents a lifetime opportunity to contestant(s) to win prestigious recording contracts, a tested doorway to fame and fortune. Total prize for season two winner is a whooping Hundred Thousand dollars, a brand new SUV, and a recording contract.
To register:
1. Complete the Registration form at http://nigerianidol.com/registration
2. Confirm your Audition location, by sending an SMS from your Etisalat
line with your FULL NAME & PREFERRED AUDITION CITY to 5599.
3. Show up at the audition venue with the ETISALAT SMS confirmation, a
printed copy of your application form and 2 passport photos.
*Those who register online will be given priority; however forms are also
available at the venue of the audition.
Nigerian Idol is brought to you by Etisalat, in association with Pepsi and
Sony. It is also supported by partners, Air Nigeria and Beat FM.
Auditions also hold in Enugu and Lagos.
<!– google_ad_section_end –>
---
October 14, 2011
---