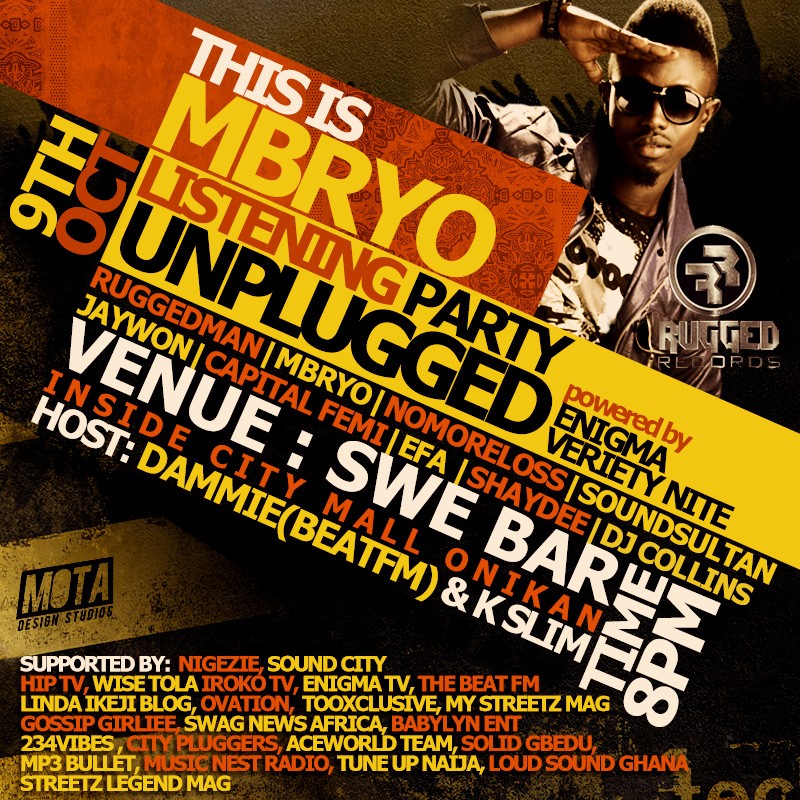 Veteran award winning rapper Ruggedman,who has been known to have had a hand in the success of a few A list Nigerian artists is set to officially introduce his artist called Mbryo "The Special One". The R n B singing sensation who is already making a name for himself is a song writer,singer who plays the Piano,drums and Guitar. His songs were the most played songs inside the just concluded Big Brother Africa house.
5 DAYS,5 VENUES:
The listening parties will take place in 5 different venues and dates in Lagos state. Starting from October 9th to 13th.
Swe Bar Ikoyi (LIVE BAND)
Wednesday 9th October sees host to the Listening Party of talented artist Mbryo aka The Special One as he is officially introduced by Rugged Records.Over the last 12 months, Mbryo has received critical acclaim and heavy support from a number of industry giants and media attention from the likes of BBA due to the fact that his songs were being played in the BBA house on a regular basis.
Join Mbryo as he performs his tracks 'Remote', 'Don't Go', 'Parole', 'Ragabomi' and also his newest song titled 'Shimbolobo'. He will also be supported by other artists such as Ruggedman, Sound Sultan, Jaywon, Capital Femi and more. Mbryo is already poised to be a game-changer in the African music scene at large.
This listening session for the Mbryo starts at 8.00pm.
Swe Bar is located Inside City Mall, Onikan.
ACTS:
The days are for Ruggedman and Mbryo,but there will be different supporting acts from musicians and comedians like Basketmouth,Dj Humility, Dj Chascolee,Ill Bliss,Capital FEMI,Jaywon,Chudy K,Dj Sose,vito,Fedi,Phyno,Chinaydu,Nomoreloss,Reminisce and more.
MEDIA :
Soundcity,Nigezie,Hip Tv,IrokoTv and On Tv.
Linda Ikeji,360Nobs,SwagnewsAfrica,Solidgbedu,TuneUp9ja,Gossipgirliee,MusicNestradio,LoudSoundGhana,CityPluggers,234Vibes,TooXlusive,MP3Bullet,
<!– google_ad_section_end –>
---
October 5, 2013
---