With Hit singles like Danny young's Ojutiwon ft Ojoroo & My girl ft Kel and Paul Play ,new hit singles from Faze "Am in the mood"  , Chop My Money on P-sqaure's Invasion album and LKT – Money sweet ft Jingle, Tracks for YQ, Vector, Ay.com, Jhybo,Soul-E Baba, Olu Maintain, LKT, Klever J, Ojoro, AY.COM,kzeek,Spiderman and many others Fliptyce without a doubt is one of the top  producers in the industry today.We featured Fliptyce some weeks ago on our MEET… Section and you need to read and learn a lot about the hit-maker .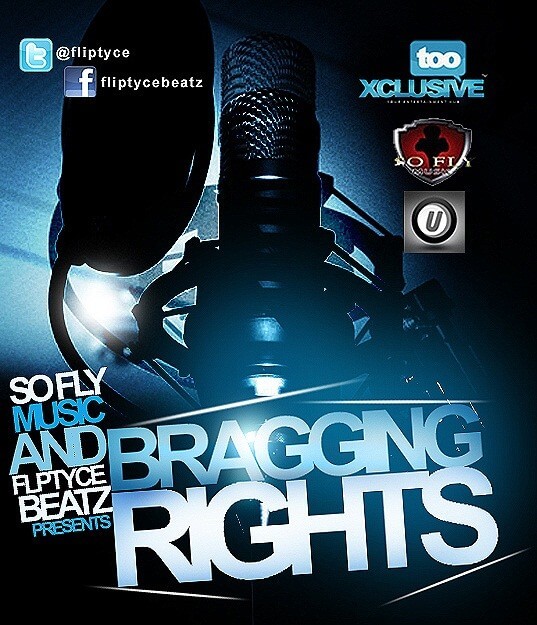 So Fly Music/Fliptyce Beatz  in collaboration with tooXclusive.com brings you the Hottest competition of the year "Bragging Rights".This competition is for upcoming artistes to showcase they are talented on new cooked beatz by @Fliptyce .If you're an artiste and you do good music (HipHop/Rap, R 'n' B, Pop, Soul, any kinda of music) you stand a chance .All you need to do is DOWNLOAD 1 or all 3 beats ,Spit ur barz on it and Send your tracks to beatz@tooxclusive.com .
@Fliptyce and tooXclusive.com crew will go through each and every song sent in , we will pick TOP 10 tracks  and make polls available for Visitors to vote .
TOP THREE WINNERS FROM THE POLL RESULTS
1st(First) gets 2 Tracks  produced by @Fliptyce with an option of a star artiste(check his resume lots of artistes on there ) on 1 if the winner wants 
2nd(Second) Gets 1 Track  produced by @Fliptyce 
3rd(Third) Gets A free Beat from @Fliptyce 
UPDATE :THE WINNER GETS  2 FREE MOVIE  TICKETS – COURTESY @naijareview 
Spit Barz 1 (prod. By @fliptyce) FRESH BEAT  (DOWNLOAD)
[audio:http://tooxclusive.com/wp-content/uploads/2011/09/Spit-Barz-1-prod.-By-@fliptyce.mp3|titles=Spit Barz 1 (prod. By @fliptyce)]
Spit Barz 2 (prod. By @fliptyce) FRESH BEAT  (DOWNLOAD)
[audio:http://tooxclusive.com/wp-content/uploads/2011/09/Spit-Barz-2prod.-By-@fliptyce.mp3|titles=Spit Barz 2(prod. By @fliptyce)]
Danny young – My girl ft Kel and Paul Play Beat  (DOWNLOAD)
[audio:http://tooxclusive.com/wp-content/uploads/2011/09/my-girl.mp3|titles=my girl]
PS:You have a full month to work on the tracks and send them in .Entries closes 30 September .Goodluck
Album Art Courtesy @Ucheugo designs 
<!– google_ad_section_end –>
---
September 5, 2011
---