<!– google_ad_section_start –>
UCHEUGO is a creative Graphic/Web Designer and Entrepreneur, who provides rich strategic creative services to wide range of clients such as business owners, individuals, and corporate bodies.
This week on QueMeetsYou, Quebex meets the Creative "UcheUgo" Visuals.
•• Who Is Ucheugo?
Uche: UCHEUGO Operates as a VISUAL DESIGNER/DIGITAL MEDIA CONSULTANT.
•• And what are Ucheugo's Full names?
Uche: UCHECHUKWU UGO
•• Briefly describe Your Background and Academics.
Uche: I'm from imo state, owerri to be precise. from the the family of 6 i'm the second child. Computer Science Auchi Polytechnic, Auchi, Edo!
•• Wow! That's cool, I am actually from Edo where you schooled. When did Graphic Designing become a part of your life and what made you choose to apply to Graphic design??
Uche: Graphics generally became part of me 3years back when i was with an advertising agency… i actually learnt on my own even though people thought i learnt from somewhere…i'm a self taught graphic designer by God's grace and i learnt through google.com
i chose graphic designing because of the passion i have for colours and being behind a successful story.
•• That's amazing! What experience do you have in Graphic design field?
Uche: BRANDING, BRAND STRATEGY, WEBSITE DESIGN, ADVERTISING, DIGITAL ADVERTISING, CAMPAIGNS, BRAND IDENTITY.E.T.C LOL
•• What do you think are the most important qualities in a graphic designer?
Uche: Responsibility and Professionalism, Endless amounts of creativity, have the zeal to deliver intuitive & unique solutions, have the ability to deal with criticism, Respect deadlines..e.t.c
•• Do you sketch your designs first before converting them to digital format? If yes, how many designs do you usually sketch before choosing one?
Uche: Yes infact, that's another important quality in a graphic designer because you must know how to sketch even if you are bad sketcher, you just must know how to sketch.
i don't sketch some of the digital designs not because i don't know how to sketch but because the ideas or inspiration just flows generally, so i work based on the inspiration.. But i do sketch for BRAND IDENTITIES(logo) and WEBSITE DESIGN while some designers don't sketch though but they produce good works..i just believe when u sketch, it makes your work faster…and by the way, have done some sketches for fashion designers
•• You are told to create a design without any instructions. What do you do?
Uche: (smiles) There is no way you won't get any instructions or brief on what to do. and even if you get one without instructions, me knowing what you want to achieve is enough instructions.
•• What is the average number of days that you take to deliver a graphical design?
Uche: 4 (Four) Working days, it really depends on the brief. Actually, some take a day while some 1- 2weeks
•• What is the importance of graphic designing in the context of communication with the public or customers of a firm?
Uche: Design represents a strategic solution to business communication problems. requires a working understanding of organizational and consumer psychology, branding, copywriting, positioning, marketing e.t.c it goes beyond just been graphic design..In branding, copy is the conversation, and design is the context. If one neglects the other, both become irrelevant.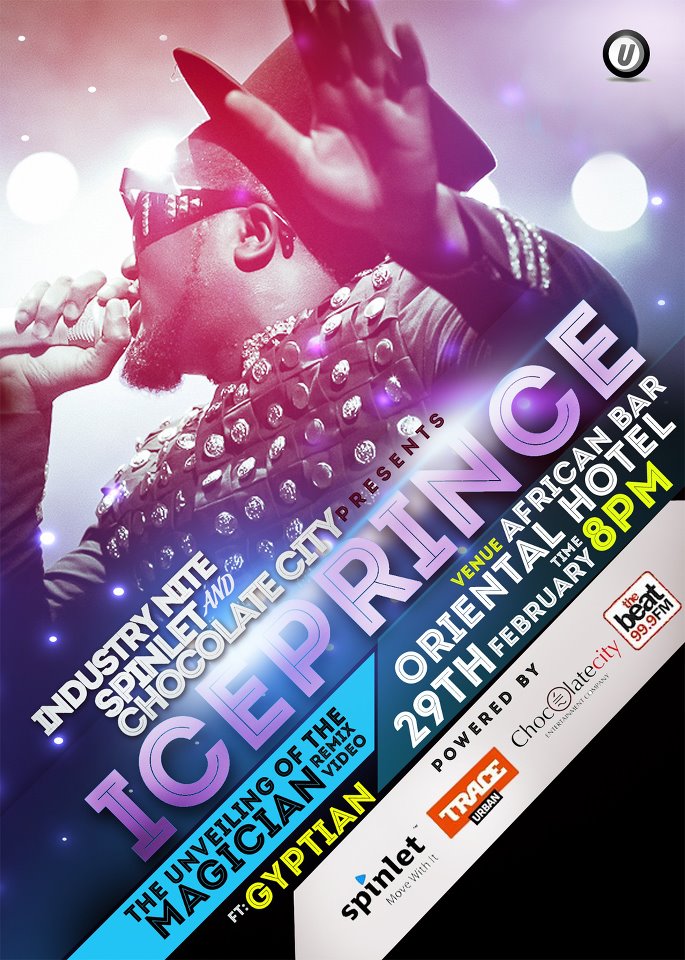 •• I know you have created graphic designs for DJs, Music Producers, artistes, companies and so on, please mention a few of the designs you have created and their success.
Uche: (Smiles) Have worked on corporate brand such as Indomie, SEAMANS, Gala, Business school of Netherlands, Village Kitchen, access bank, astymin and much more..some are newspaper ads, billboard, campaigns and i'm always happy when i see them out there which really mean success to me.. not to mention some entertainment designs which i see on every blogs, on tv,websites, at the store and others that are printed..they are all success to me because they are been used with a happy heart by the client.
•• Are there different types of Graphic designing? If yes, What are the various types of graphic designing?
Uche: we have 2D and 3D graphics and also under graphic designing, we have specialties where by a graphic designer specialize on a particular area of strength or expertise.
•• What kind of graphic design do you think attracts the customer most?
Uche: Colourful design attracts but a good interpretation of ART engages a customer.
•• Yeah! I agree with that. Which of the following is the most important stage of graphic designing – planning, designing, or executing?
Uche: I will like to use it in my own words : Think | VISUALIZE | CREATE. #UCHEUGO
•• How important is Graphic Designing to you? And how long do you plan to be into it?
Uche: Very important to me because creative design is demanding..and there is a business part of graphic design which i plan to be into till GOD knows when (smiles)
••Where do you see Ucheugo professionally 5 years down the line?
Uche: A successful entrepreneur in creative business, owning 5 successful brands/business..the only thing that would stop me from getting this 5 brands working is PROCRASTINATION which i already murdered last year if not, UCHEUGO VISUALS won't be running by now.
•• Do you have an advice for the up and coming Graphic Designers and those who want to become Graphic Designers?
Uche: 1. Ability to accept constructive criticism
2. Keep practicing and experimenting.
3. Always be promoting yourself. The best way to find new leads is let them come to you.
4. Do freebies sometimes.
5. put GOD first.
•• On behalf of myself and the Tooxclusive.com Crew, I say Thank You Ucheugo for Granting this interview.
Uche: aaaaaaaaaaaaaah! thank you for having me oooo.
Follow Uche Ugo on twitter: @UCHEUGO
EMAIL : ucheugostudios@gmail.com
COOL JOBS
[portfolio_slideshow size=medium]
<!– google_ad_section_end –>
---
---