Terry Tha Rapman aka Joe Spazm is a rap veteran by all definitions and not to be joked with in the Nigerian hip-hop circuit. He's built respect and credibility, even though he's still waiting for the big break – little wonder he's adopted the slogan 'Boyz Are Not Smilin'.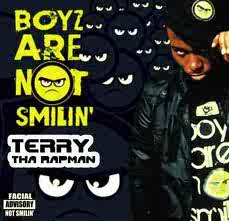 And with this statement, Terry Madaki has grown over the years, building himself a brand that produced one of the 'realest' slogans on a T-shirt. After the release of his last album in 2010, he's back with a mixtape aptly titled 'World Domination' hosted by DJ Kaywise.
This week on QueMeetsYou, Quebex meets the World Dominating Terry Tha Rapman and they talk about how life in music has been for him so far and his newly released "World Domination Mixtape".
DOWNLOAD WORLD DOMINATION MIXTAPE
•• Hello Terry!
Terry: Hello
•• Who is Terry Tha Rapman?
Terry: Terry tha Rapman is a gifted emcee, a performer, an entrepreneur and a motivator through music.
•• Nice! That's a lot! How did you get interested in a rapping career and how long have you been rapping and performing?
Terry: I always grew up around music, thanks to my parents but I discovered rap music thru friends and been hooked ever since. Professionally I started music 2001.
Boys Are Not Smiling
[audio:http://tooxclusive.com/wp-content/uploads/2012/04/Terry-Tha-Rapman-Boys-Are-Not-Smiling.mp3|titles=Terry Tha Rapman – Boys Are Not Smiling]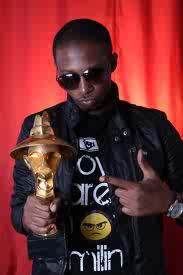 •• Wow! That's a long time. What was your first break?
Terry: I think it was with the song 'Na Beanz' it was a commercial success but it still was very hip hop. It set the blueprint for playful wordplay in pidgin.
•• Which African musicians did you listen to growing up?
Terry: Fela Anikulapo Kuti,Majek Fashek,and Bongos Ikwe.
•• You have been regular in the music scene for a while now, how has it been?
Terry: Its been hard but I thank God for lessons and experience. Its good so your prepared and ready 4 success.
•• Let's talk about your newly released project, "The Domination Mixtape". What is the inspiration behind the Mixtape?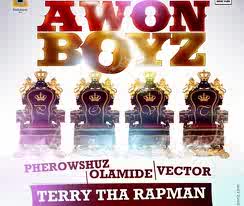 Terry: World Domination mixtape apart from being a free online mixtape for my fans is me telling my competition, the industry that I'm here to take over…simple! Its to inspire people who didn't have nothing coming up that with hard work and God, you can run the world.
•• How has the response from the fans towards the mixtape been so far?
Terry: I'm so lucky to be blessed with the most loyal fans ever. My fans bully other people to listen to my music, the BANS movement keeps growing and I love them for that!
•• Do you have a favorite musical project that you've worked on?
Terry: Well,apart from Zombie right now I'd say Awon Boyz is a favorite right now. Pherow nailed the beat with the sample of Olu Maintain voice.
Awon Boyz
[audio:http://tooxclusive.com/wp-content/uploads/2012/04/01-Awon-Boyz-f_-Pherowshuz-Olamide.mp3|titles=01 Awon Boyz f_ Pherowshuz, Olamide]
•• What next from Terry Tha Rapman?
Terry: The official single off the BANS2.0 album drops in end of May. We shooting some videos too!
••Is there any artiste you want to work with that you have not yet had the opportunity to work with?
Terry: Eminem,at home I have worked with most of them already.
•• What is your take on piracy and paying DJs to promote your music?
Terry: Its a neccesary evil. We stuck with it till somebody changes things.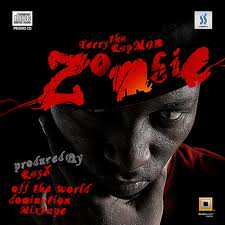 •• What do you think about the current state of the Nigeria Music Industry?
Terry: Its still not very organized but we getting there tho. We still doing good despite the poor state of the industry.
•• What problem should be fixed in the Nigeria Music Industry? If any!
Terry: Piracy and artistes getting royalties off records.
•• Do you have any present engagements and works other than music?
Terry: Hoping to go into Nollywood.
Zombie
[audio:http://tooxclusive.com/wp-content/uploads/2011/11/Terry-Tha-Rapman-Zombie.mp3|titles=Terry Tha Rapman-Zombie]
•• What is your average weekday like?
Terry: Very hectic.
•• How do you handle your popularity? Do you stay away from public places?
Terry: I try to but its hard. I'm a down to earth guy so I might be caught in a buka once in a while.
•• Do you have an advice for the young, up and coming artistes?
Terry: Work hard, learn about the business, pray to God and don't give up! #BANS
•• Give us your Parthian shot (last words)
Terry:  Boyz are not…you know the rest!
**Follow Terry Tha Rapman on Twitter: @tharapman and like his page on Facebook: Terry Tha Rapman
<!– google_ad_section_end –>
---
April 20, 2012
---