<!– google_ad_section_start –>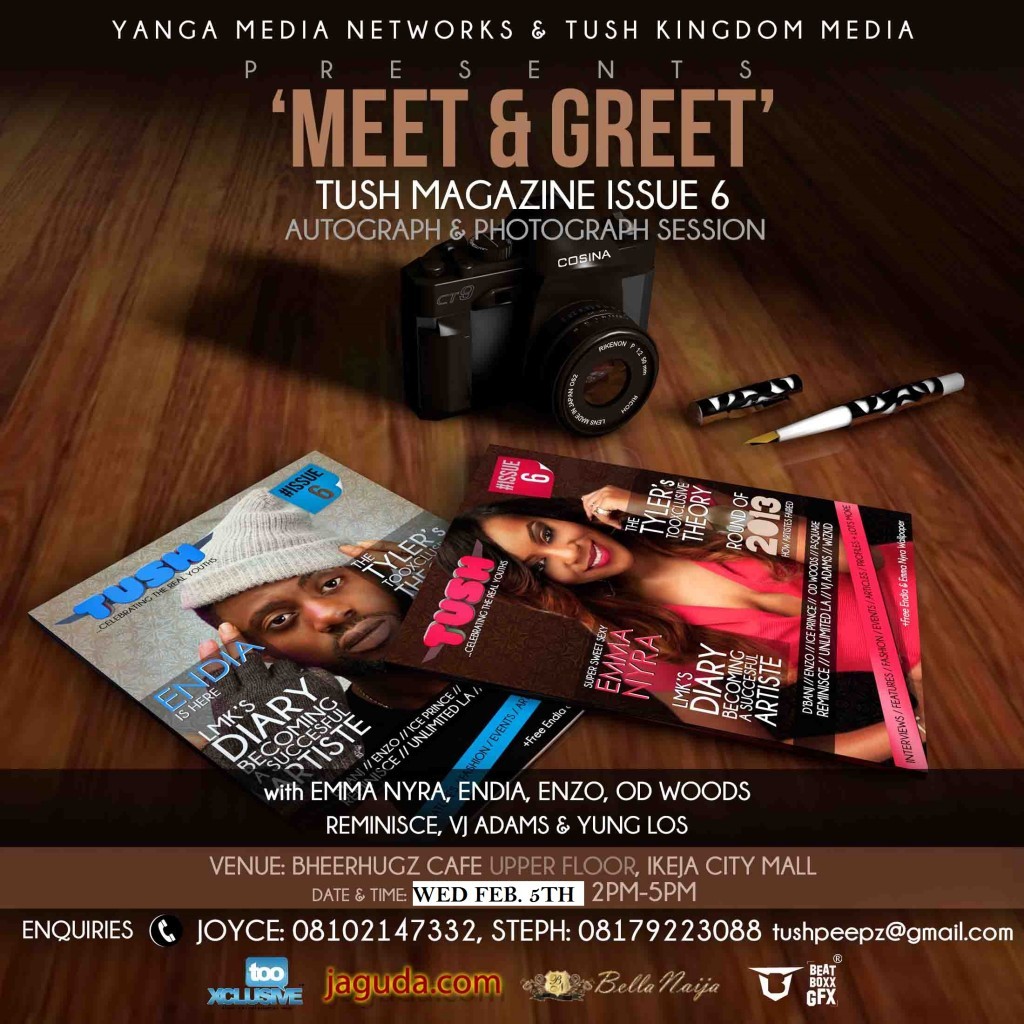 TUSH Magazine holds AUTOGRAPH & PHOTOGRAPH SESSION with EMMA NYRA, ENDIA, ENZO, OD WOODS, REMINISCE, UNLIMITED LA, VJ ADAMS & YUNG LOS 
On Wednesday, the 5th of February 2014 between the hours of 2pm – 4:00p.m., TUSH Magazine will be having an exclusive AUTOGRAPH & PHOTOGRAPH SESSION with EMMA NYRA, ENDIA, ENZO, OD WOODS, REMINISCE, UNLIMITED LA, VJ ADAMS & YUNG LOS.
Fresh from the release of the sixth issue of its magazine, Tush Kingdom Media announced that as part of its launch celebration for its 6thissue, Tush Magazine will be at the Ikeja City Mall, Lagos state to promote their latest issue.
The magazine haven being released, features the beautiful and sexy EMMA NYRA and talented raving ENDIA. It will be having its Autograph and Photograph sessions with its 6th issue cover page faces and featured artistes at BhEERHUGZ CAFE, IKEJA CITY MALL, Lagos.
Tush Kingdom Media will be giving its readers and fans great opportunities to get even closer to their cover page personalities as well as the others featured on this issue on that day at BhEERHUGZ CAFE.
Eligibity and participation is free and open to all. Follow @TushMag9ja on twitter and tweet at us what you love most about EMMA NYRA, ENDIA, ENZO, OD WOODS or YUNG LOS.
For enquiries, participation and sponsorship, contact:
Anslem – 08134246086
Joyce – 08102147332
Steph – 08179223088
Email: tushpeepz@gmail.com
<!– google_ad_section_end –>
---
---