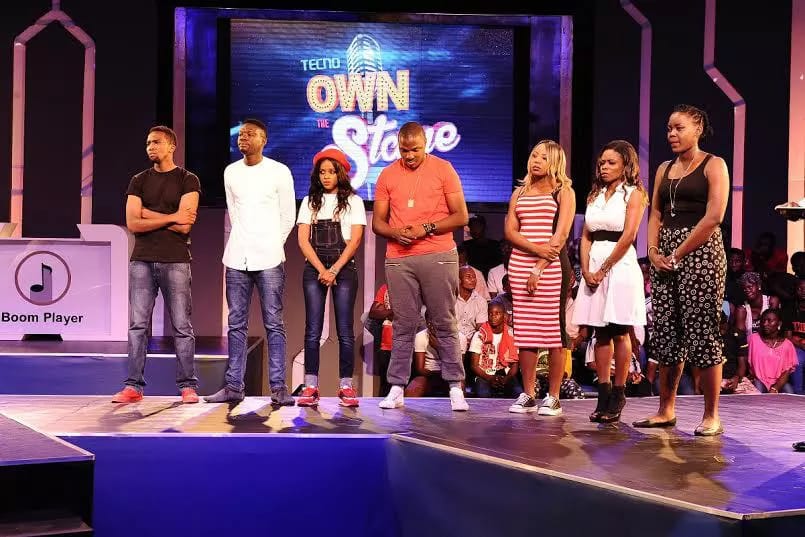 Sometime ago, we dwelt on if Nigerian artistes are better performers than their African counterparts. Incase you missed that, you can read up here. It however turned out to be a subject matter that struck serious nerves. For me, I think it's become a growing concern how much our songs get peddled to other African countries, yet vice versa is hardly the case. This singular fact became good premise to talk about how Nigerian artistes may not be better performers afterall, and by a stroke of fate (or luck, if you may) the latest trending TV music show hosted by Tecno, vividly captures this essence in context.
Styled in a karaoke format, with contestants from regions inside Africa, you find that non-Nigerians properly exude their confidence by showing some inclination towards Nigerian songs. This is regardless of the obvious language barrier that they are most times faced with considering a heavy majority of our songs seek to herald our local roots. But dear Nigerians are just too damn lazy to stretch themselves by either opting for materials with western influences or self-compositions from their fellow nationals.
That's even on the basis of the (music) material. How about vocal competence? Nigerians can be very heavy at touting their talent and really, it's amazing. But shall it interest you to know that of the six or so contestants left on the show, only one is a Nigerian? Doesn't that introduce a sincere cause to wonder? Away from the fact that she's actually uber talented and is the most rooted for to win the show right now, this competition started out with more Nigerians on the show with all of them showing serious and appreciable prospect. Sadly, the most recent evictee was the second to the last Nigerian standing.
It's possible that the issue may not reside in our talent, or the lack of it thereof. Maybe it is diversity. How much we have failed at stretching our creative persons. How much we've failed at attempts to even amaze ourselves. How much we've settled for less and how badly it has corroded our sense of a self value. Just maybe. This even, is a feat that clearly represents the quo of our music industry judging by the artistes' lackluster approach to their art form that eventually spirals into a high influx of third class material, which we're forced to consume and without reason, condition or reserve.
I'm especially riled up for the outcome of this, perhaps it not only drives home my point but also proves it in the process. Until that happens, stay tuned!
If you are in Ibadan, Kaduna, Kano, Lagos, Abuja, Onitcha, Owerri, Portharcout, Uyo. Use the hashtag #TECNOOwnTheStage + Your Location (e.g. #TECNOOwnTheStageUNILAG) to bring the TECNO Music Truck to your hood. And get to perform any of the contestant's rendition on the Tecno music truck.
If you missed this weeks edition no need to panic, visit Tecno own the stage' Youtube Channel: Tecno OwntheStage and get all the hits and misses from last night.To be a part of all the fun and excitement, watch the show highlight and show some love to your favorite contestant.
For more info and updates, you can follow us on;
Facebook – Tecno Own The Stage
Twitter – @tecnoowndstage
Instagram – @tecnoownthestage
Tecno's #OwnTheStage shows on:
Sundays – Africa Magic Showcase at 19:00 CAT
Sundays – Africa Magic Urban at 21:00 CAT
You can watch the repeat broadcast on:
Tuesdays – Maisha Magic East and Maisha Magic Bongo at 18:30 CAT
Wednesdays – Africa Magic Family at 19:00 CAT
<!– google_ad_section_end –>
---
January 8, 2016
---