<!– google_ad_section_start –>
THIS IS NOT A REVIEW… of Boogey's Mixtape (T.I.N.A.A)
Wait!! Is Boogey starting this mixtape off by throwing shots?? Because the very first thing you hear is a dreadful rap battle, where people are going crazy over some unadulterated wackness. Eg… 2 and a half men… I watch that… and then the crowd goes wild like the guy just dropped the nuclear holocaust of punchlines. So could it be that Boogey is suggesting that most people celebrate mediocrity? Could it??
Random Note: The rap battle you hear features Supa Hot Fire and B-Bone. It's hilarious!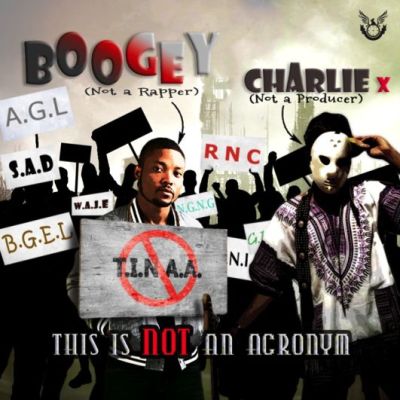 The T.I.N.A.A mixtape reveals 2 possible outcomes of Boogey's chosen style; (i) Some may relate to it (ii) Some may feel isolated by it.
To chop it all up and deduce the facts we will answer 4 essential questions that this mixtape may raise concerning Boogey's music and the industry.
Can he rap?
Why doesn't he talk about what people relate to?
Will he sell?
Is this mixtape worth my money?
Can he rap?
Seriously? This mixtape is a hailstorm of bars. Granted, the lyrics at various points sound like they were intentionally made to be complex, but other times, he may drop a line that hits you a few seconds after you've heard it.
Sample: On Track 3 ''Back for Ground'' he goes '' I'll let you leave my 4th letter covered in lipstick'' After about 3 seconds it hits you that the 4th letter of the alphabets… is ''D''. Yes… such a bad boy.
But in some moments: He could have said ''The chances of him flying are slim''… but he chose to say ''Agbani not as slim as his chances of flying'' If you are not listening intently, the remark can be missed.
As a story teller, he totally nails it. He doesn't place rhyming words down and then forcefully shove a story in between stacks of bars hoping that they fit.
Instead, the story is the priority, before the structure of rhyme. Boogey is so articulate that it sounds like the story itself chose to happen in a manner that only his rhyming lyrics can describe. Track 5 ''Said No'' is illustrated like an incident occurring right beside you. You almost want to scream at the girl and say ''NOOO… DON'T GO TO THAT GUY'S HOUSE''
And then comes the metaphoric imagery with which he makes his point. On Track 3 he is talking about feeding a girl poetry and remarks that it is ''boring as a couple of monkeys watching a growing tree'' If you picture such a scene you'd realize how depressing that must be.
The man can spit. It is undisputable. But why then.
Why does he not talk about what we relate to?
Boogey knows you think his lyrics are too complicated, as he stated while mimicking a girl who said to him ''dilute your lyrics we hate to concentrate'' (On track 1)
The T.I.N.A.A mixtape summarizes his life as young artist. He has lived, he has loved, he has suffered heartache, economical struggle, industrial competition and recognition (or lack of as he suggests).
In content, the lyrics match what a young rapper would typically speak of, except the typical false declaration of money and fame which Boogey insinuates is customary with rappers, but will not indulge in. (He suggests that a low budget video contradicts such grandiose claims)
On Said No; he tells the story that most men have personal versions of. With an acute description of wanting a girl who doesn't want the same thing, he alludes to borrowing something that you want to own, when the girl wants to keep things casual. He narrates how she ends up at another guy's house and he tries to charge into pleasuring himself against her will. He gets violent, forces himself on her… and then she… then she…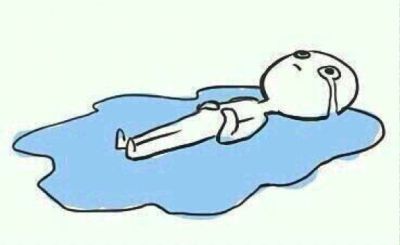 And by the way, the Boogeyman drops a line on Track 11, Kabiyesi saying ''if its 6'Oclock and you are young then it's time for curfew'' Shade much????
On ''All Love''; you will experience with him what it feels like being nominated for a Headies award, but hearing another person announced as winner.
On ''Ask for it''; He shares his dreams of success which he deserves as reimbursement for paying his dues, so he further remarks on the track ''I deserve the bread so much you think my mama home baked it''
Now can't you relate to any of that?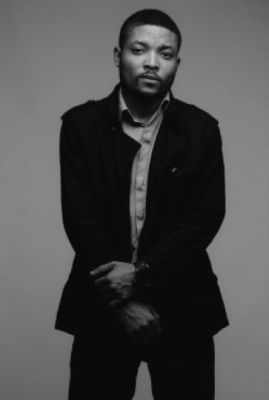 Will he sell??
Boogey makes 3 things clear on the album;
1: He knows you want or expect him to dumb down.
2: A significant portion of a rapper's craft is… the way he chooses to present it
3: The man loves the art too much to sell his soul.
T.I.N.A.A does not clearly suggest what a commercial outcome will be, rather it certifies that Boogey's music will serve you with a menu based on your appetite. What you find depends on what you are looking for.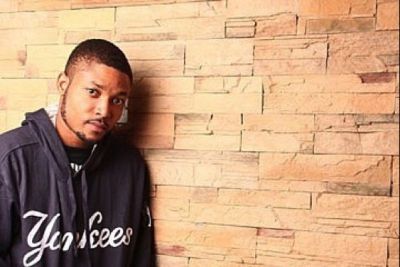 Is the mixtape worth my money?
You love hip-hop don't you? So yes, absolutely. Recommending T.I.N.A.A to hip-hop heads is like telling people about a new restaurant that serves the kind of food they assume is not available in the city. The art of hip-hop is alive and kicking on this mixtape.
Boogey walks off every verse like the cool guy in the movies who doesn't look back while things explode behind him.
The blemish however is that the mixtape is too busy being deep that it almost fails to entertain. It is a lot of heavy bars and metaphors, but all that wisdom is not overly exciting, and that is where some hearers may get isolated. The intro of Ameno is bold and imaginative, but the analogy does not easily describe what he may be trying to say.
The beats were engineered tactfully, and they merged with every contribution of vocals. The outcome? It is more of music to listen to for comprehension, than music to bump mindlessly to.
Super Sweet Tunes;
Salute Me: The instrumental sounds like a marching band went wild and turned it up
Kabiyesi: Has a trap feel and bumps hard enough to get you in the ''hands in the air, I'm thugging it out'' mood
The features offered great value when the likes of Sabre murked a verse on Salute Me and Zee on Ameno just lit an audio furnace.
Random Recognition: Eclipse on Ask For it came stampeding like a Juggernaut, stormed into the scene, and effortlessly bashed and trashed everything in sight.
Verdict: After careful consideration, we rate this album B for Boogeyman of the year. He's a horror story to the competition!!!
By Oscar Okeke
@cupidsassasin
<!– google_ad_section_end –>
---
---