<!– google_ad_section_start –>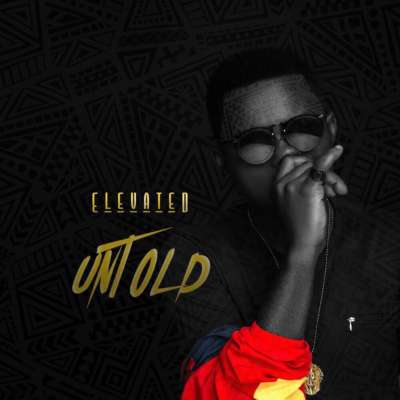 Up rising West-African native, from the middle belt Benue state Daniel Oche Ben Emaikwu popularly called Elevated has been inspired to reach the world through music since a young age. Growing up he has learned from his biggest musical influencers, and he is currently living his dreams through his art.
His tunes have a purpose of teaching knowledge, culture, and current social events. Afro-pop, and Hip-hop can be found in his vibrant and captivating sounds that are floating through the streets of GH Accra where he recently completed school And Lagos Nigeria where he is currently based.
With his recent smashing Ep Album Untold that officially dropped on the 20-01-18 that has features of the likes of Joel Amadi, kesse, Soul black which was mixed and mastered by Jiggy Jegg of covenant sounds currently available on all digital stores I bet you want to stay woke on Elevated as he is sure to get you Elevated with his art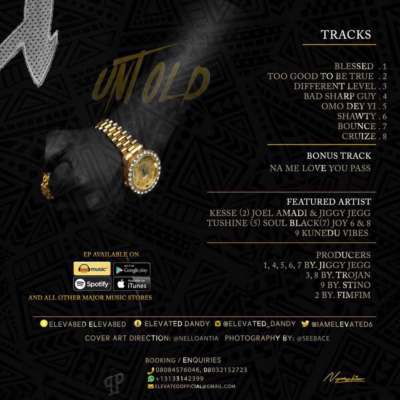 SOUNDCLOUD LINK
INDIVIDUAL LINKS
BLESSED
http://k003.kiwi6.com/hotlink/46hmbvq3ci/01_Elevated_-_Blessed.mp3
TOO GOOD TO BE TRUE
http://k003.kiwi6.com/hotlink/5x0xzleich/02_Elevated_-_Too_Good_To_Be_True.mp3
DIFFERENT LEVEL
http://k003.kiwi6.com/hotlink/gad3ittx4s/03_Elevated_-_Different_Level.mp3
BAD SHARP GUY
http://k003.kiwi6.com/hotlink/3niuoginjp/04_Elevated_-_Bad_Sharp_Guy.mp3
OMO DE YI
http://k003.kiwi6.com/hotlink/ztsxhgeopp/05_Elevated_-_Omo_De_Yi.mp3
SHAWTY
http://k003.kiwi6.com/hotlink/s263r4zjvy/06_Elevated_-_Shawty.mp3
BOUNCE
http://k003.kiwi6.com/hotlink/a86pfq3eta/07_Elevated_-_Bounce.mp3
CRUISE
http://k003.kiwi6.com/hotlink/bkfw9tu6y7/08_Elevated_-_Cruise.mp3
BONUS: NA ME LOVE YOU PASS
http://k003.kiwi6.com/hotlink/6wkksfogjy/Bonus_Elevated_-_Na_Me_Love_You_Pass.mp3
CONNECT
IG : @ elevatedofficial6
Twitter @iamelevate
<!– google_ad_section_end –>
---
---