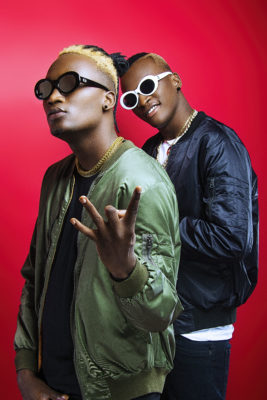 A lot of times we are blessed with a curse to choose between two valuables we wouldn't want to part with for any reason. I have an iPhone 7 plus and I also own a Samsung Galaxy s8 plus and if for any reason I would have to forfeit one over the other you'll understand the dilemma, and why I say we're blessed with a curse.
So many of us have been in such dilemma of choosing between two critical options but we have to make the choice between the devil and the deep blue sea regardless.
DNA or Hypa, which of these group of boys would I choose if I was sentenced to a lifetime of entertainment from any of the duo? This is one hell of a decision to make, pretty much you'll have to deal with it for the most part of your sentence.
The earlier mentioned group artistes are somewhat new in the Nigerian music industry. They are fashioned in the same fabric as Boybreed or maybe even the big guys Psquare. That means the duos consist of two sets of singing brothers. They are the newcomers who would gracefully takeover from Psquare or go as far as plotting a coup and then overthrow Mr P and Rudeboy to become Nigeria's new favorite singing twins.
Whether we are consciously aware or not at some point in the Nigerian music industry Psquare would be banished to the pages of our history books. We would only look back to reminisce on the glory days of the very successful, multiple award winning duo.
Who gets to replace them lies strongly with Dreams Records duo Hypa and S.M.D's Blair and Clinton better known as DNA. Why the crown falls between DNA or Hypa is because they group artistes are brothers as well as twins, they would be perfect choice to fill in the void.
Blair and Clinton of DNA joined the now swollen roster of artistes at Don Jazzy's Mavin Records following an announcement from the music imprint on February 2017. The boys caught the attention of the Mavin boss easily through their appearance on maiden edition of The Voice Nigeria. Before now, DNA were contestants on the Glo X Factor music reality show.
Following their signing they group released a Nigerian highlife tune "How Can" as their professional debut single.
Meanwhile, the hyper Hypa group has soul brothers HypaRay and HypaJay as members with birth names Rasheed and Ganiuomobolaji Ekemode. The rookies were officially signed to Dreams Records last November.
So far the vibrant brothers in no time dropped their debut single "Alert" then an accompanying video was shot by one of Nigeria's finest cinematographer Unlimited L. A. Thereafter, the boys struck the airwaves again with a follow up single "Asiko" which is currently gaining traction on the social media space.
Looking at both groups it's more likely that DNA are resting on the oars because they are signed to about the biggest and most structured record label in Nigeria. Clinton and Blair have failed to fully harness what would be an advantage of the Don's backing. They are yet to forge an identity for themselves at the moment by being proactive.
However, the hyper Hypa brothers are somewhat possessed by their moniker. The group is outgoing and also reaching out to established colleagues as the push up the ranks. Sustainable growth in the music industry anchors on making the right decisions and moves.
Performance wise, Hypa is a more delightful bunch to watch than the DNA. Ray and Jay engage and radiate energy right to the audience, saw them at the shrine.
Both groups make good music no doubt but Hypa are a few steps in front of DNA.
<!– google_ad_section_end –>
---
July 3, 2017
---