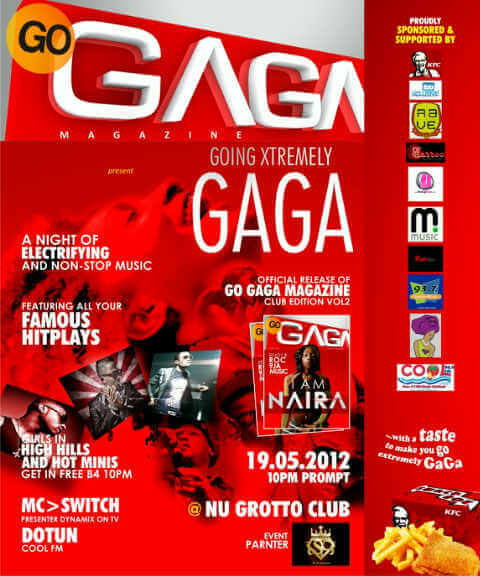 The first Edition which is still very much available and making waves in different state and campuses as a free edition for people and our readers to know what we are upto.
The gogaga first edition was crown with a sexy most female anticipated artiste TIWA SALVAGE which will popularly called Tiwa-sexy also other interesting story inside.
Here come 19th May 2012 another edition which we make international Edition as we have the Nigeria Uk artiste Based NAIRA as our ambassador for this Second edition and the Launch will take Place here in Nigeria and Uk respectively.
Which will features:W4? VECTOR?LNC?EL-PHLEX?TIZZE?IYANYA?SUNKY?EMMYKEL STEVEN?GHETTO P?T-WIZZLE?TIWASALVAGE?DANAGOG? ENORMOSS?IJEOMA?JODIE?KLEM?LKT?YQ?
Date:19th May 2012
Venue: Fashion Club Nu-grotto
217 Etim Iyang by Cool fm
Lagos Nigera
Time:10pm (red carpet start By 8pm)
For info and details contact : 07043546706 bbpin:228dbaec
Supported by Hiptv/Nigezie/Soundcity/HG2/EHQ/unilag olodo/olorisupregal/rhythm/cool fm
Powered by Tooxclusive and KFC
Event:by SCOOPCONCEPTS $ ECCLASSIC ENT
<!– google_ad_section_end –>
---
May 15, 2012
---