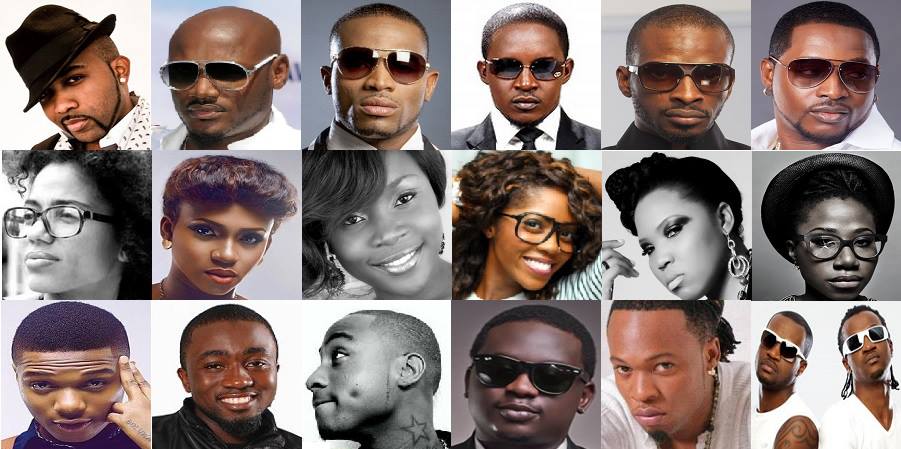 This week on TX Weekly we won't be serving our regular weekly dose of industry news but not to worry, we have something even better… A year's worth of music news!!
So we took a short trip down memory lane and selected the juicy bits of gossip, events and news that got everyone talking in 2014 and boy…. Is the list long! Of course we couldn't possibly fit everything into this post but we tried to cover most of the huge events that rocked our industry.
Davido & Wizkid's unending drama
While their tiresome "war" can't described as epic, it did hold our attention for a long time. I can't exactly recall when their supposed beef started but I remember reading something about Wizkid shading Davido's show though the two had been on the same flight and had taken pictures and stuff together prior to their respective shows. Anyways, things quickly deteriorated from then and it was almost like a tennis match; watching the two sides smack subliminal digs into the other's court. Course both parties claimed it was no big deal but there was an interview I watched and Davido seem quite pained about the whole matter. Wizkid on the other hand struggled to portray a non-nonchalant attitude but abegggi!
This year, it is hoped the two sides would chill on the drama and give us fantastic music. Meanwhile my fingers are still crossed on that collaboration.
Aunty Tiwa and her bucketful of controversies
Her "gist" was one of the earliest ones that got us talking in 2014. On a good note of course! She got married to her manager, T-Billz in what can only be described as a fairytale wedding but things quickly spiraled to the 'not so good'. She released her Wanted video and critiques had quite a bit to say, mostly negative and to think she was just showing her creative side oo! Moving on, poor Tiwa was on the receiving end of tongue lashing AGAIN from her fans for her risque outfits especially since she's now a Mrs. but it seemed the more complaints, the more Tiwa was willing to reveal *sigh*. Let's not forget her rumored "break-up" with her husband. That got some factions calling her a copycat who was trying to be like Beyonce by using her marriage for publicity stunt. Despite the loads of negativity shot at her, Mrs Billz got countless award nominations and went on to win most of them.
2015 has started on a good note for the sultry singer as she rang in the New Year by announcing her pregnancy….. Hopefully Aunty Tiwa will be less raunchy and cover-up!
Between the Okoye Brothers…..
Hit making twins P-Square and their elder brother Jude "Engees" Okoye got their share of publicity in 2014 too. Surprisingly, the three brothers got married this year to the despair of us single ladies. Unfortunately, they were also rumored to have some sort of "beef" amongst them. It started when news broke out that Jude missed Peter's traditional marriage to Lola. Though the brothers continued working together and even released their album "Double Trouble", with contributions from Jude of course, Peter still missed Jude's wedding to his wife Ify. Deliberate or not, this was fodder for gossip as most were convinced that all wasn't well in Squareville. Before the year ran out, Peter was announced as an ambassador for Olympic milk, an unusual move since the two brothers have been a duo in all their music dealings. Peter further floated his record label where he signed one of their cousins.
While most have predicted a split in the nearest future, I fervently hope peace would rain this year.
May Their Souls Rest in Peace
On a sad note, we lost two wonderful artistes to the cold hands of death last year.  Branama Queen Kefee, died of lung failure on the 12th of June in the United States after being in a coma for 15 days. The gospel singer was given a befitting burial at her village.
Popular Nigerian-American artiste, Margaret-Mary Joseph, popularly known as Zara Gretti, also died. The artiste/songwriter/on-air personality on Rhythm 93.7fm gave up the ghost after a prolonged battle with multiple sclerosis. May their souls and those of others who have also passed on continue to rest in peace.
Two of our A-list artistes also made their big come backs last year. First it was Olanrewaju Ogumefun aka Vector. Having finally settled with his former label YSG Entertainment, the lyrical titan Vector released his  mixtape titled #A7 to critical acclaim. The Chairman himself, Jude Abaga who goes by the stage name M.I also set tongues wagging when he released his long awaited album, Chairman. The album no doubt had all other rappers scrambling to release come-backs and woke the slackers up from their slumber.
Former Choc city boy Brymo also released his album Tabula Rasa, following his split from the record label. Perhaps it was a result of poor publicity but I think it is one of the under-rated releases of 2014.
Davido's many many nominations
2014 was undoubtedly Davido's best as far as his musical career is concerned. His hit single, "Aye" and his collaborations led to a bevy of prominent award nominations most of which he won. From the MAMAs to BET, MOBO, HEADIES, AFRIMA, NMVA, MTV EMAs, ChannelO, OBO shined the Nigerian flag bright.
However, he didn't stay in the news for just that. As usual the artiste remained his controversial self. Asides his fight with archrival Wizkid, he's currently embroiled in a battle with Tanzanian artiste Diamond Platnumz whom he claims to have made popular. He also got into spats with fans via social media. In all, he kept the drama coming all year round.
2014 saw some courageous artistes taking the plunge into marriage, some to our delight others to the everlasting dismay of us single sistahs *sigh*.
The Okoye brothers Peter, Paul and Jude got married to Lola, Anita and Ify respectively. Dr Sid said "I do" to Simi, Tiwa Savage and former manager T-Billz had an elaborate wedding in Dubai and Bez also wedded his heartthrob. Director Matt Max got married to his costumier (or is it make-up artiste?)
Anyway, here's wishing all of them a happy married life. For those who are yet to give us babies, please work at it this year *wink*.
TO BE CONTINUED…….
<!– google_ad_section_end –>
---
January 11, 2015
---