TX Weekly is here again, presenting you with a digest of trending news, 411s, scoops, deets and all the other what haves about music's finest celebrities in our ever blossoming entertainment industry.
Be sure to keep visiting tooXclusive.com for MUSIC and more!
Wizkid's "Ayo" album claims No1 spot on iTunes less than 24 hours of release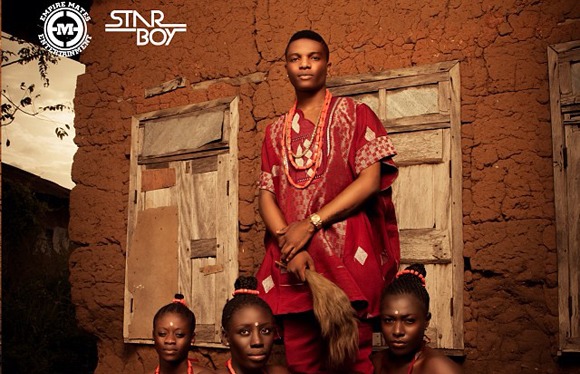 Wizkid's 2nd album "Ayo", which was released on iTunes yesterday amidst debate as to weather it was leaked or a surprise release has made it to the number one spot in the world music category in less than 24 hours of its release!
Its safe to say the starboy is indeed a wiz kid. Those who think the delay in the release of his admittedly long awaited album has cost him his fans had better have a rethink because Wizkid has brought his A-game. READ FULL STORY
Davido congratulates Wizkid on new album release
Like y'all already know, Wizkid nicodemus-ly dropped his album yesterday on iTunes which catapulted itself to the peak of the charts in less than 24 hours.
As fans and industry associates came out baring their support and showering him with accolades via social media platforms, one superstar who couldn't afford to be M.I.A would be Davido who allegedly claims to be a big fan of his and was reportedly spatting over some unnecessities with the Starboy just recently. READ FULL STORY
Lil Kesh's "Shoki" banned by NBC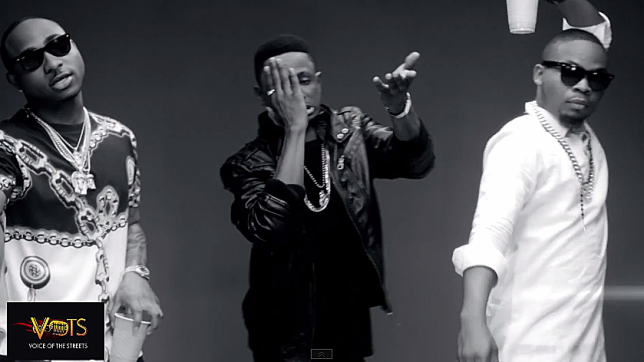 The gavel of the National Broadcasting Commission falls hard again, only this time it's coming down yet again on one of our music favourites – Shoki!
It wasn't long before Shoki's cataclysmic success was spread all over the country even in remote areas and sooner than we knew it, francophone countries in the African continent were jamming the sound treaty from YBNL's freshman, Lil Kesh. In it's English interpretation for "a quickie", the NBC thought it unfit for societal consumption. Although they have refuted claims of the supposed ban, banning the song. According to them, they have only requested that the club version of the song shouldn't be played during "family time".
Sekem master, MC Galaxy assaulted in the US by Concert Promoter + Davido reacts via Instagram post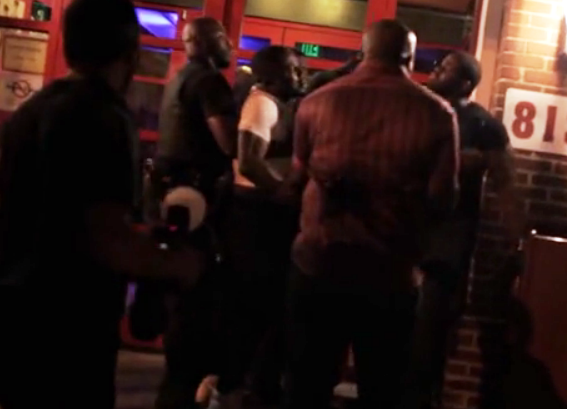 This is almost unbelievable. So, the Sekem crooner began a concert tour of the United States this September and when he arrived at the venue for one of his shows last Friday, something quite unusual happened. He was man handled to the public's spectacle by the show's promoter. Watch the video below as it explains it all.
[vimeo]http://vimeo.com/106315316[/vimeo]
Just look at that! What in God's name happened to the rule of law on human rights infringement? Especially in a country believed to be land of the free and home for the brave? Meanwhile, Davido reacted to the incident with an Instagram post that appeared to be a jest-like. He shared the photo below with the caption "They already know not to try this shit with HKN!!! Lmao wish we was there for @mcgalaxy01 U know we got u!! Lmao". Hopefully, no one will blow smoke from this.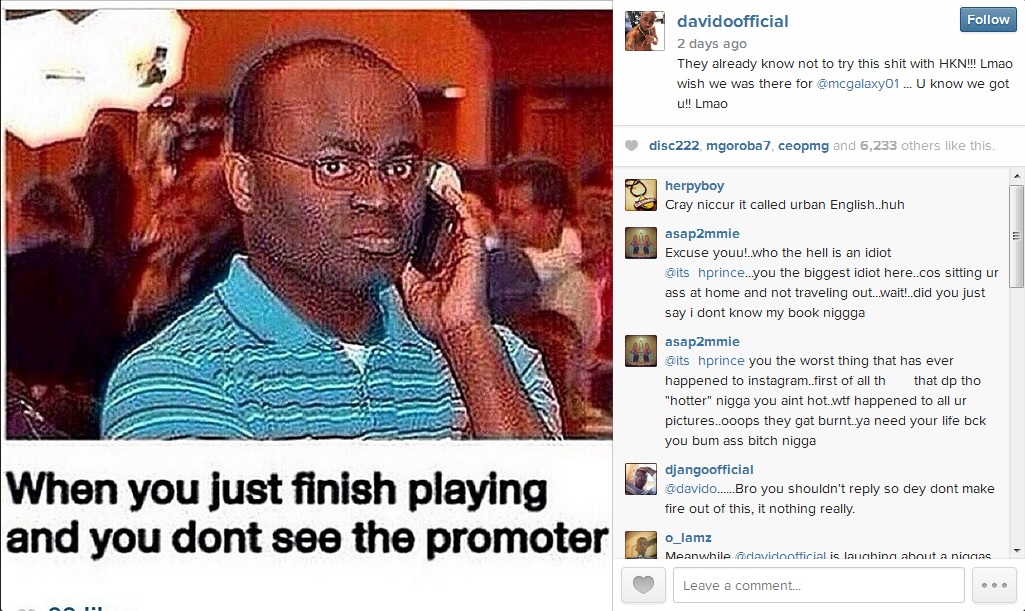 Oritsefemi signs multimillion naira deal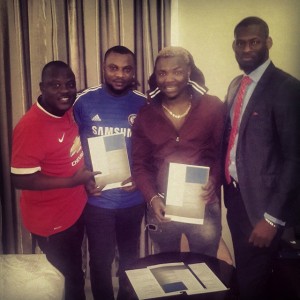 Self acclaimed 'Musical Taliban' Oritsefemi Majemite Ekele has signed a multimillion management deal with Avarta, an entertainment empire.
Revealing on his IG with the caption "Finally we signed a multi million pay deal… Roger dat peeps", the Delta State born singer will henceforth be managed by Avarta says Yusuf Adepitan Adebola aka Danku, the artiste manager who confirmed the news.

"I'm very delighted to work with Avarta. Our dexterity will bring out the best as far entertainment industry is concerned in Nigeria. My fans will hence forth see the new Oritsefemi", said the Double Wahala hit maker after the meeting with Avarta crew.
"You know who killed me and you're not doing anything about it", late Goldie speaks to Denrele from the grave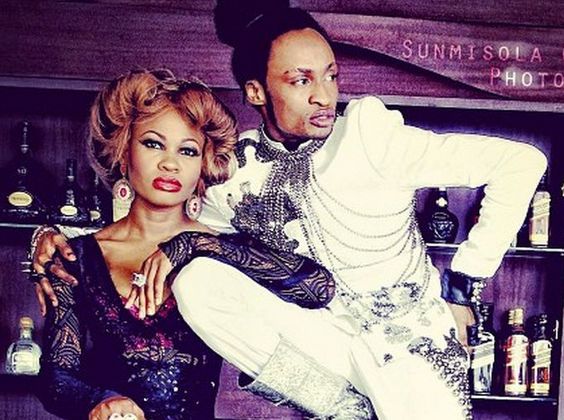 We've longed moved on from her death, but of course her memory still lives on. Rest in peace Goldie.
It seems there is reason to question what caused the late singer's death based on the interview her bestie, Denrele Edun had with SaharaTV on September 17, 2014 where he revealed that the late Goldie keeps appearing to him in his dreams saying to him "you know who killed me and you are not doing anything about it".
The 31-year old media personality also went on to narrate the story of how he got robbed and beaten at his family home by a group of robbers demanding for gold.
Watch his interview with Fatima Sesay and hear all he had to say:
Toke Makinwa & Bovi to host 2014 Headies
Ace comedian, Bovi and Radio/TV personality, Toke Makinwa have been announced as the hosts for this year's The Headies. In its 9th season, the award show themed "Feel The Passion" is scheduled to hold on the 25th of October 2014.
As the hosts are announced in anticipation of the list of nominees to be revealed later in the month, CEO of Smooth Promotions, Ayo Animashaun said: "Our decision on this year's selection of hosts for the Headies is undeniably a well deserved selection as Bovi and Toke Makinwa have both made a huge impact in the industry with their outstanding skills and talent. Guests are definitely in for a world class experience this year."
This year's award show will reportedly feature some of the biggest performances and side attractions ever witnessed on the Headies stage.
 Korede Bello, Victoria Kimani, Mr 2Kay, Doray & more at the 2014 Ping Awards
At the second edition of the 2014 Ping Awards otherwise known as PNA Awards, some of the industry's superstars turned up in celebration of Naija's youth hood. Holding at the Banquet Hall, Sheraton Hotel & Towers Lagos, present at the event were Ketchup, Korede Bello, BYNO, Victoria Kimani (who was also the host), Mr 2Kay, Doray amongst a fine crop of upcoming acts and many others including governorship aspirants from the PDD and ACN as well as Nollywood thespians. READ MORE
<!– google_ad_section_end –>
---
September 21, 2014
---