<!– google_ad_section_start –>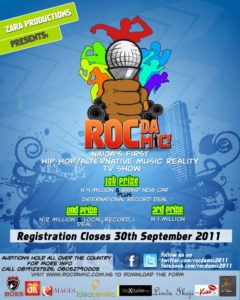 Tryna be Creative ain't easy, U've gotta watch me always like TV" I love that line; a certain "@I am psycho_1" sent that line when Rocdamic had a punchline contest on twitter. Let's for a minute forget the rhyme and just read that particular line again…. (Oya, time up). That line literally spoke the minds of a lot of young talented people that do hip-hop or Music, people that all they ever wanted was to be creative doing what they know best and be watched on television by a large audience. This large group of people have only had the chance to rap or sing in their bathrooms while admiring their reflection in the mirror or in a gathering of friends or maybe a small gig of about fifty people and all they had gotten in return was a pat on the back, a word of compliment, or maybe an imaginary applause from millions of people while they hold on to a toothbrush in their bathrooms (oya, confession time…. you are guilty of the toothbrush thingy abi or is it chewing stick you use?)
So, do you want to be watched on TV? Do u want millions of viewers tuned to watch you each week for thirteen weeks? (Not the imaginary ones in your bathroom). Are you creative or talented? Have you been waiting for the right opportunity to "show yourself"? Well, your time is NOW. Sign Up for Nigeria's first ever Hip-hop alternative reality TV show and get that chance you've been hungering for.
Roc Da Mic, (if you haven't already heard about it) is a reality show that will be aired on Nigerian TV and also Cable TV; it is the first of its kind and promises to be exciting. Not only does it cater to a different set of young artists, it also takes on the whole Reality TV show thing from a different angle.
I guess the next reasonable question is "what are they looking for?" Well, in one sentence, IF YOU SOUND GOOD AND YOUR SOUND IS NIGERIAN, then we are out looking for you. We are looking for the next "M.I, D'banj, Wizkid, Timaya, SauceKid and Co". We are looking for that group of people that have been turned away from every other Singing Reality TV show not because they sounded ''wacked" but because "they weren't what they were looking for".
Well, WE ARE LOOKING FOR YOU!
How to Register:
 Logon to www.rocdamic.com.ng
Download the REGISTRATION  form and fill it
http://rocdamic.com.ng/rocdamic_2011_reg_form.pdf
Walk into any Oceanic Bank nationwide and pay the sum of 4000 Naira into:
ACCT NAME: ZARA PRODUCTIONS (ROC DA MIC)
ACCT NUMBER: 0058569754
 Come with your teller and filled form to the auditions.
Just in case you aren't able to download the Registration Form, forms will be made available at the auditions for those with just their teller.
This is what you stand to gain:
First Prize:  4 Million Naira, a Brand New Car plus an International Recording Contract worth Millions of Naira.
Second Prize: 2 Million Naira, plus a Local Recording Contract worth Millions of Naira
Third Prize: 1 million Naira and loads of Consolation prices.
Auditions will hold in five cities; Lagos, Port Harcourt, Abuja, Enugu and Benin.
Registration closes on the 30th of September 2011, so go register and stop hesitating.
For more info call: 08036759928 08073397018 08191237526
Go to: www.rocdamic.com.ng
Join us on Facebook: www.facebook.com/rocdamic2011
Follow us on Twitter: www.twitter.com/rocdamic2011
Email us: rocdamic2011@gmail.com
<!– google_ad_section_end –>
---
---