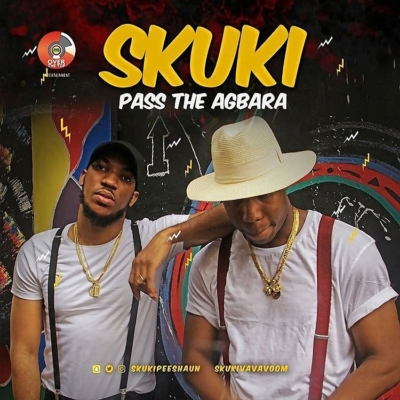 Over The Top Entertainment Duo, Skuki begins 2017 with this new record titled "Pass the Agbara" produced by DJ Mo.
Skuki seems to have made a niche out of club bangers and party friendly songs. 'Pass The Agbara' is another slice off the back of their previously released bangers like Voom Va. The song has the banging sound that has become a characteristic of songs favored by DJs. Skuki rolls out this special tune with a viral potential given that there is an ongoing conversation tied to the hashtag #PassTheAgbara on all social media platforms .
'Pass The Agbara' is not the kind of songs you listen to for inspiration but for groove and especially for dance. Skuki specialises in making dance music and the duo drops another good material for their portfolio of dance music.
Download and enjoy
Quotable Lyrics
ori agba pass the agbara
ahh pass the Agbara
ori agba pass the agbara
ahh pass the agbara
<!– google_ad_section_end –>
---
---