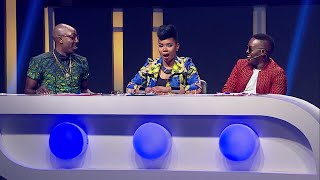 Just two weeks left before we find out who gets to be $25, 000 richer and the competition has no doubt reached a whole new level of hot. This remaining few weeks has seen some of the best performances in the entire competition and twist and turns like never before.
Performances for the night was kicked off by Harrysong who got the audience on their feet with his "Raggae Blues".
Shapeera Makepeace, was the first performer of the night. Fresh off her awesome performance last week, the Nigerian contestant continued with an awesome performance of Adele's hit "Rolling In The Deep". She did not fail to impress the judges as they implored her not to slip.
Nandy was up next with Vanessa Mdee's "Nobody but me". Her performance left the judges near speechless.
Pascal who is literarily the last man standing in the competition was up next with Sam Smith's "Stay with Me". Pascal gave a good account of himself, albeit not quite good enough for the judges. They commended his performance but noted that he was whispering for a good part of his performance.
Sikin was next with Zahara's "Loliwe". The judges applauded her performance, although they noted that she was playing it safe which was affecting her performance.
The judges declared their bottom two for the night was Pascal and Sikin. However there was a little twist as they were given a second chance at redeeming themselves.
Pascal did bring on a whole new flame when he came back on to perform "New Flame" a song originally performed by Chris Brown, Usher and Rick Ross. The judges were impressed, safe for Bien who insisted that he does something about his voice.
Sikin had her chance, with Alicia Keys, "Falling". Her performance earned her a declaration of love from yemi Alade.
Surprisingly the judges were impressed enough with what the two contestants had done with their second chances to keep them both in the house!
Catch full episode here >>> https://www.youtube.com/channel/UCbG37SOg6yfKXnD0byZUkUA on our YouTube channel.
Join the conversation and stay updated on social media!
Facebook https://www.facebook.com/Tecno-Own-The-Stage-1620883718194632/?fref=ts
Twitter – @tecnoowndstage
Instagram – @tecnoownthestage 
Be sure to like & share content with your friends using the #TECNOOwnTheStage hashtag. Tell your friends to tell their friends to support favorite contestant, voting polls would be open soon on the website. Win a TECNO gift pack by sharing!
TECNO's Own The Stage shows on:
Sundays – Africa Magic Showcase at 19:00 CAT
Sundays – Africa Magic Urban at 21:00 CAT
You can watch the repeat broadcast on:
Tuesdays – Maisha Magic East and Maisha Magic Bongo at 18:30 CAT
Wednesdays – Africa Magic Family at 19:00 CAT
<!– google_ad_section_end –>
January 25, 2016
---