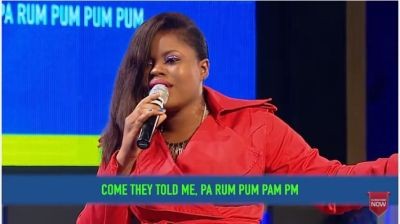 Last night's Christmas edition of Tecno own the stage was perhaps the most exciting yet. The judges opened with a quick rendition of classic Christmas carol "Silent Night". That was just a tip of the ice berg as the contestants also went on to give us different flavors of Christmas with their favorite Christmas songs.
First performer of the night was Sikin from Kenya with "Santa baby". M. I was probably the most excited by the performance, Yemi also complimented her on her looks and her performance.
Second up was Kenya's Pascal performing "Mistle Toe".Pascal really brought on his A game, and Bien commented that it was actually his first performance of the entire show. M. I however called his attention on not being too confident.
Nigeria's Tosin was next, performing, "Drummer boy" the contestant has not really had an impressive outing for two successive episodes. Clearly this was her redeeming night as Yemi could even be seen mouthing a "God bless you" from her sit, she went on to compliment her on making the song hers. An equally impressed Bien asked her to maintain the vibe.
Mary from Kenya came on stage to perform "Silent Night". The audience loved her, the judges loved her and M. I complimented her on her brilliant finishing.
Yubuu was up next performing Stevie Wonders "What Christmas means to me". From the long faces the judges wore, they were far from impressed. The judges said that he missed the spot today, it just wasn't his best.
Zooccu was next performing "White Christmas". M. I said even though the performance didn't have much energy she should actually be proud of herself as she had never performed a Christmas song before. Yemi said there was no time for O.K performances.
Judge/audience favorite Shapira Makepeace came on stage to perform "We three kings". If Shapira was going to break her streak of wonderful performances, it certainly wasn't this night. Her delivery earned her a standing ovation from the judges. They could not praise her performance enough!
Up next was Ramar254 with Frank Sinatra's "Have Yourself a Merry Little Christmas". The judges were very critical of his performance, Yemi noted that she was not surprised by his performance and he needed to surprise her more. Bien said his performance was more showy than necessary.
Performing last was Nandy with Mariah Carey's, "All I Want for Christmas". M. I said she gave a good account of herself considering it was her first time performing a Christmas song. Yemi was not as lenient as she charged her to own the stage regardless.
Christmas was about to come to an end for one or more contestants. Up for eviction was Nandy, Yubuu, Ramar254, and Mary. But trust Tecno to always come up with a way to surprise us. Bien announced that all of them would be going home, but they would be coming back next week again as they had all been saved from eviction. Tecno own the stage is certainly in the Christmas mood! Way to go!
If you missed the Christmas edition you can visit Tecno own the stage' Youtube Channel: Tecno OwntheStage and get all the hits and misses from last night.
To be a part of all the fun and excitement, watch the show highlight and show some love to your favorite contestant.
Follow us on;
Facebook – Tecno Own The Stage
Twitter – @tecnoowndstage
Instagram – @tecnoownthestage
For more info and updates, you can follow us on;
Facebook – Tecno Own The Stage
Twitter – @tecnoowndstage
Instagram – @tecnoownthestage
Tecno's #OwnTheStage shows on:
Sundays – Africa Magic Showcase at 19:00 CAT
Sundays – Africa Magic Urban at 21:00 CAT
You can watch the repeat broadcast on:
Tuesdays – Maisha Magic East and Maisha Magic Bongo at 18:30 CAT
Wednesdays – Africa Magic Family at 19:00 CAT
---