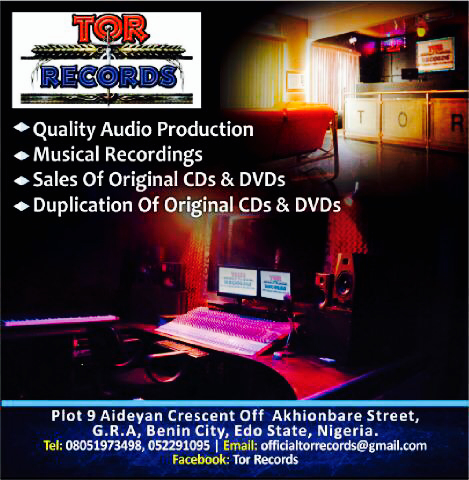 Top Nigerian footballers, Kanu Nwankwo and Osaze Odemwengie endorses foremost south-south numero-uno record label based in Benin. The top celebrities pitched tent with the label due to the vision of the record label Chairman/Founder and Executive producer Lord Fizo Idodo-Umeh exemplary leadership and vision; with his popular quote, "I keep doing my own thing".
Tor Records has already clinched six awards so far. Tor Records has discovered numerous artists in the south-south region of NIgeria, which has made the people of the south-south tag the company a label like no other and the pride of  the south-south. Tor Records boast of one of the best ultra recording studios and  mass production equipment. The company also handles music production, mixing and mastering, jingles among other studio works.
Watch and download the video introducing "Tor Records" featuring Kanu Nwankwo and Osaze Odemwengie. Its Tor Records baby!
Address: Plot 9 Aideyan Crescent, off Akhionbare Street, GRA, Benin-City.
Phone: 08051973498, 052 291 095
Twitter: @torrecords
Facebook: torrecords
BB Pin: 7e0e0a60
<!– google_ad_section_end –>
---
July 1, 2014
---