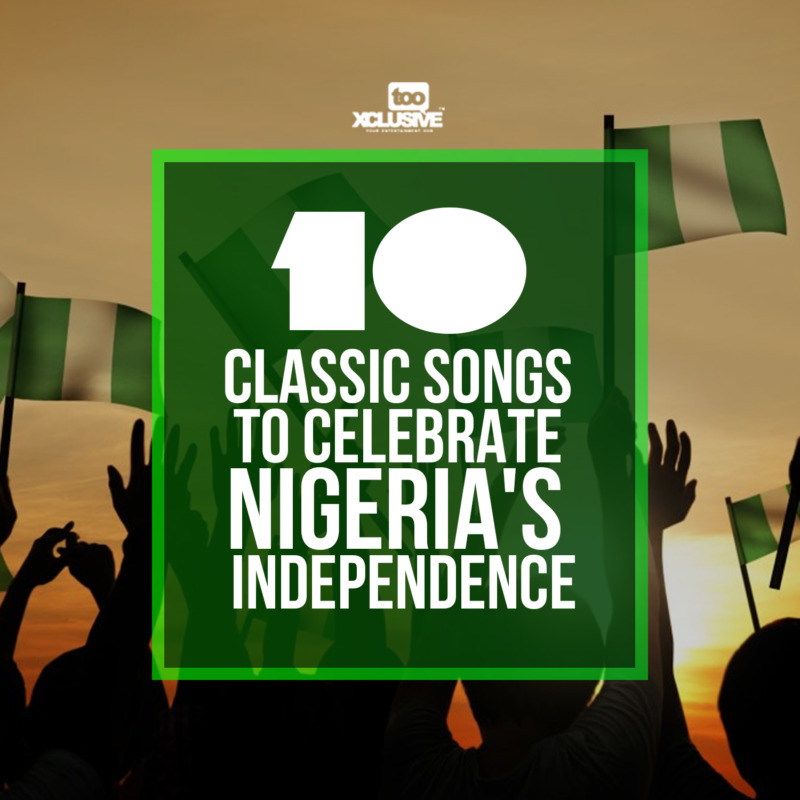 "Songs About Nigeria"… Nigeria is celebrating 60 years of independence today, the 1st of October, 2020, and it's certainly a day of celebration for the citizens. Sure, there are a lot of things wrong with Nigeria: poverty, corruption, lack of basic social amenities, poor education, insecurity, and so on but there are some artistes that has given us the hope that things would be better.
Undeterred by the ills plaguing the country, these artistes have spread positivity with their music, and there's no better way than to highlight these beautiful songs to commemorate this special day. From songs that speak about the beauty of the country to how things would eventually get better in the future.
Below are 10 Classic Songs About Nigeria to Celebrate Independence day. Peep below and Enjoy!
1. Onyeka Owenu – "One Love" 
Nigeria is an extremely ethnically-diverse multinational state with over 250 ethnic groups and there are three major tribes which consist of the Hausa-Fulanis, Igbos, and Yorubas. These tribes make up nearly 70% of the country's population so there is no doubt that there would be disorder and division in the land.
Released in 1991, this track seeks to promote what Nigerian really needs; Love and Unity. It's is a classic not just because of its powerful message but its easy-going vibe and easy to remember lyrics.
2. Sunny Okosun – "Which Way Nigeria"
This iconic track was released in 1984, a time freedom of speech wasn't in vogue. Sunny was one of the few artistes that was courageous enough to question the ills in the society. Sunny addressed issues which plagued the country and also questioned the growth of the country years after attaining independence. The empty promises made by the leaders and the dashed hopes of the children who were always told they were leaders of tomorrow but never got a chance. He calls on Nigerians to work towards not letting the country die.
"Which way is Nigeria is heading to, Many years after independence, We still find it hard to start, How long shall we be patient till we reach the promised land, Let's save Nigeria, So Nigeria won't die, Which way Nigeria? Which way to go? I love my fatherland, I want to know, Which way Nigeria is heading to…" Decades years later, this track is still relevant.
TY Bello belonged to a gospel group called "K.U.S.H" back in the days and shortly after they broke up, the singer released a track titled Greenland. The track has strong vocals and superb penmanship, TY Bello sings motivational lyrics to the people of the nation, saying that our country is a land of abundance and we should all be hopeful.
"The land is green", she chants in the catchy chorus even when in reality,  due to pollution, climate change, and the nonchalant attitude of the government and people,  the land is in fact not green. "The land is green, it's green, The land is green, it's green, Can't you see? The harvest is ready, Cos the Lord of the harvest told me so, It's green, it's green for me, It's green, it's green for me…" Despite the lyrics giving a gospel vibe, it is comforting and pleasant to listen to.
4. Timi Dakolo – "Great Nation"
Everyone knows Timi is a sucker for singing romantic songs for his wife but this time the love song is dedicated to Nigeria. "Great Nation" reeks of great song writing which is one of his best tracks to date. Timi tells us how we can build a great nation through peace, unity, and justice. "We're all we have, We'll defend our land, We believe in this nation, and we know we'll get there, We're all we have, we'll defend our land, We believe in Nigeria and the promise she holds, And that one day we'll shine like the sun, We're a great nation…"
5. King Sunny Ade – "The Way Foward"
King Sunny Ade is one of the greatest musicians that Nigeria has ever produced. His sonorous voice is not restricted to singing about love, romance, and politics but also about the unity of Nigeria. The track "The Way Foward" is one of his iconic tracks ever as it inspired the spirit of patriotism in millions of Nigerians.
Due to ethnic and religious uprisings at the time, King Sunny Ade recorded this powerful song in three languages to advise politicians to bury their hatchets, reminding them of the efforts of Nigerians to obtain independence. It calls on all Nigerians to join hands in lifting the country. He sang that no matter where one traveled to, there could never be any place like home.
6. KUSH – "Let's Live Together"
Released in 2013 just before they split up, Lara George, Emem Ena, and TY Bello warmed the hearts of Nigerian with the track "Lets Live Together". As the title depicts, the track encourages Nigerians to live together in peace and harmony.  "Jowo je ka jo gbe (Come let's live together) Kilode ta fin pa ara wa (Why are we killing ourselves)Ko ma si ibo miran ta le lo (There's no other place we can go)Our strength is in our diversity…"
7. Veno Marioghae – "Nigeria Go Survive"
This brilliant track which was released in 1985 would surely bring back nostalgic feelings to many especially the older generation. The song accompanied by a funky beat assured Nigerians and Africans as a whole that the nation would no doubt survive.  It was released at a time of crisis, when Nigerians cried out for basic social amenities. Veno also sang about how Nigeria has been blessed all around. Just like Veno said, Nigeria is still standing strong even after 60 years. "If they steal our oil, Even if they burn the oil o, Nigeria will survive, I say if they drink the oil o, No matter how they try o, Nigeria will survive, Our roots dem strong for ground o, Ancestors no go gree o,Nigeria will survive…"
8. Onyeka Owenu – "Peace Song"
Fondly called the elegant stallion, Onyeka has a plethora of songs about the beauty of Nigeria. Just like "One Love," she also released a song which, as the name implies, called for peace in the country. "We're the women of Nigeria, And peace is what we bring, Let it reign, let it reign everywhere, We're the children of Nigeria, And peace is what we need So that all can live as one…"
9. TY Bello – "The Future Is Here" (We Are Nigeria)
You can only be Nigerian to understand this track. TY Bello's "We Are The Future" captures the people of Nigeria trapped in a country that is pregnant with a lot of opportunities but laden with a lot of uncertainties. It tells the wonderful story that tells the story of how the youths struggle to break free of certain ills plaguing the society.
10. Funmi Adams – "Nigeria My Beloved Country"
This Funmi Adams' classic brings pure nostalgia and joy to every listener. It talks about unification and what it means to be a true Nigerian. "I know a lot about my country, I know a lot because I care, I know a lot about the people, I know a lot because I'm here. Nigeria my beloved country, working together is the key, Nigeria my beloved country, Her future is you and me. Land of Iron land of hope, Agriculture oil and gold, There are assets that we own, Around the world our name is known
Happy Independence Day, Nigeria! Drop in your wishes in the comment section below

"10 Classic Songs About Nigeria To Celebrate Independence Day", 5 out of 5 based on 3 ratings.
---