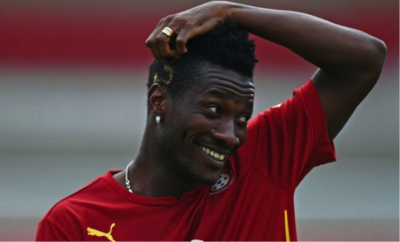 Asamoah Gyan is a Ghanaian striker that plays for Kayserispor. He is also the captain of the Ghanaian national team. Apart from his success in his career as a footballer, Asamoah Gyan is a great and successful entrepreneur. His houses and cars prove that he also spends his huge pay to get a good admirable lifestyle.
10 of the best traits to copy from Asamoah Gyan
Do you want to be as successful as Asamoah? Here are 10 habits Asamoah has (according to YEN.com.gh) that you should copy
Asamoah Gyan is a go-getter
Asamoah Gyan discovered his football talent and joined the Ghanaian Premier League in 2003. He has joined many clubs since then and has won the title of the best football sticker. Asamoah Gyan trait of being a go-getter should be copied by those who want success in their career or any business you venture in. Try your best to create and maintain good image.
Asamoah Gyan passion
The 32-year-old is a sticker with great passion in his career and that is the reason why he has continued to maintain a successful image. Some venture into careers or businesses that they work to get money without any passion for what they do. At the end of the day, there are tired and bored. You can never get tired and bored in doing something you have always had passion in and it makes one earn more success.
Asamoah Gyan is focused
Asamoah Gyan's profile since he started his career well tells that the young chap is focused. For instance, in 2011, Asamoah Gyan scored 24 times out of the total 27 matches he had after joining via a loan the Al Ain under the UAE Pro-League. His focus made him be the top-goalscorer in that league. Copy his trait of being focused in whatever you do and success will definitely follow you.
Asamoah Gyan is smart when spending his earnings
According to livesportsworld.com, the successful goalscorer earns a huge pay of about $23 million. Asamoah Gyan spends his huge earnings very wisely by venturing in many businesses that will even awe you. He owns quite a number of successful businesses like his water company that sells a bottle of water called 'paradise Pac', mining industry, Food Company 'Mama Vits Noodles and Rice', and he also owns gas stations. Asamoah Gyan success is beyond words.
Are you updated that Asamoah Gyan airline license to operate was acquainted by the Ghanaian president? This was a big achievement for the young sticker. His airline was allowed to start off with cargo transportation only.
All this proves that Asamoah Gyan salary is smartly spent with loads of creativity making him more and more successful. Copy his trait and spend your earnings to invest in profitable businesses or anything that will contribute to your success.
Asamoah Gyan enjoys his efforts by spoiling himself with a good lifestyle
Asamoah Gyan houses and cars prove that he also spends his huge pay to get a good admirable lifestyle. Exotic and customized are the Asamoah Gyan Cars in his garage like the Mercedes Benz M-Class luxury SUV, and Porsche Cayenne Turbo S.
Asamoah Gyan house in Dubai gives the true meaning of success and a good lifestyle. The luxury Asamoah Gyan mansion has an amazing master bedroom and a swimming pool that is a fairy tale to many people. Asamoah Gyan house has a giant parking space for his luxurious cars.
Have you seen Asamoah Gyan private jet photo on his Facebook page? Well, what to copy from his lifestyle, is to spoil yourself with what you have. Your happiness matters a lot.
Asamoah Gyan strives to excel
Asamoah Gyan never had academic qualifications in all the business he has ventured in. He has the desire to strive and excel in everything he does. You should also never lose hope but always keep on striving to accomplish your goal.
Help others to succeed in their career
Giving back to the community is a trait that one should copy from Asamoah Gyan. He promoted the boxing by encouraging the upcoming boxers to also excel. You should also try your best to help someone with a desire to achieve in what you are a guru in doing.
Asamoah Gyan is strong-willed
Asamoah Gyan is a strong-willed and that is the reason he represents the true mark of success and Luxury. Be strong-willed in everything you do and this trait will make a turn-over into your life.
Asamoah Gyan has a companion
Asamoah Gyan did not only concentrate on his career and business and forgot that he needs a companion. Asamoah Gyan wife and 3 kids have been posted by the Black star captain several times on social media. Your happiness matters and support from a partner will make you gain more and more success.
Asamoah Gyan is a businessman
Baby Jet is now the new nickname of Asamoah Gyan. He never limits himself proved by the many businesses he ventured in. You should also believe you can make it, have the desire and success will follow you.
---