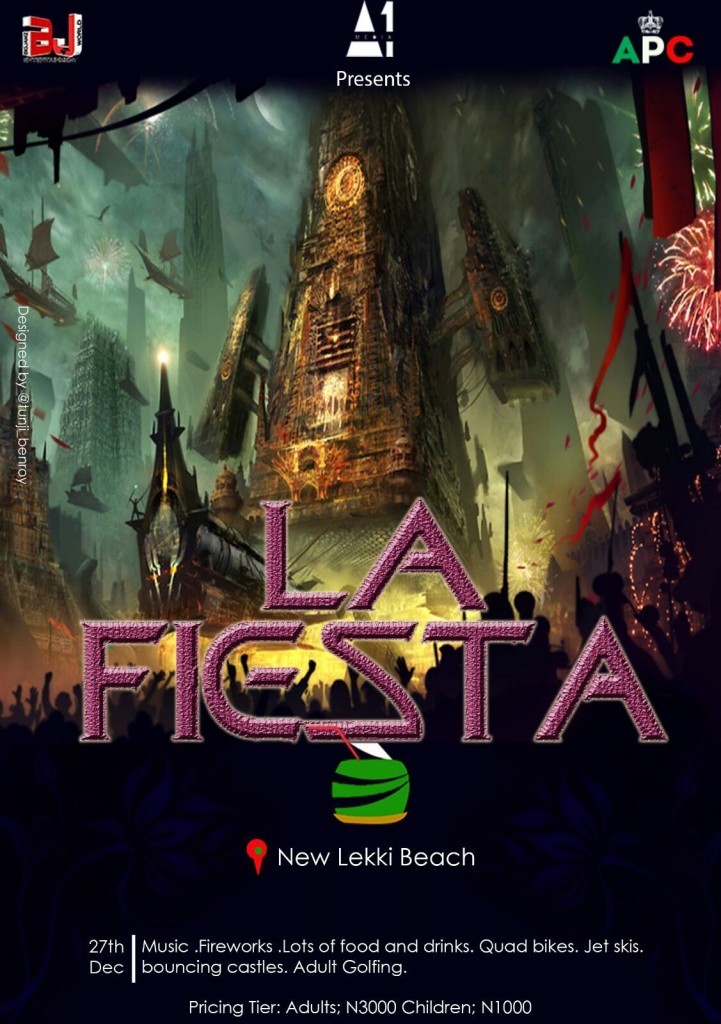 A1 Media in collaboration with BigJamz World & Atlantic Production Company creators of this year's edition of LA FIESTA in Lagos.
LA FIESTA #Lafiesta15 is under the ECO Charity Festival #ECOCharityFestival starting on the 24th Dec – 3rd January. Welcoming a diverse mix of over 50 entertainers to its third soon to be transformed and redesigned stage. LA FIESTA #Lafiesta15 will allow the opportunity to experience an incredible day of music, fireworks, lots of food and drinks, quad bikes, jet skis, bouncing castles, motor racing, adult golfing etc.
The event will take place on Sunday 27th of December at the New Lekki Beach Arcade, which is a Tourism hot-spot for the general public and consist of various facilities along the busy Lekki Expressway with loads of fun for everyone.
LA FIESTA #Lafiesta15 will welcome an eclectic mix of entertainers including some of the industry's most coveted performers including (listed alphabetically):
Ben 4ster
DJ Chascolee
DJ Consequence
DJ Foxy
DJ Fantastic
DJ Gee Q
DJ Hazan
DJ Kentalky
DJ Prasscope
DJ Phinga
DJ Smallz
DJ Simple
DJ Tommy
Dynamite
Gee4
JDC
K'Nas
Mako Reefer
Michael Landers
Rayce
Selebobo
Shakar EL
Shank
Sheliroy
Slyde
Turph Kako
Xucceedo
In response to this CEO of A1 Media Daddy A1 stated; "This year we push ourselves to give headliners a variety of music genres and an experience that goes beyond their expectations. Now that the lineup has been released I'm excited to welcome you to these offerings that will allow entertainers and fans to share unforgettable adventures this yuletide season."
Pricing ters for LA FIESTA #Lafiesta15 is at ?3000 for adults and ?1000 for kids.
The kids' time starts 12noon, while the main event starts by 6pm till DAWN.
For the most up-to-minute details regarding the music festival, please follow the festival on social media.
#Lafiesta15
#TakeMeToLafiesta
#ECOCharityFestival
Twitter: @Lafiesta_NG
IG: Lafiesta_NG
Facebook: www.facebook.com/LafiestaNG
LA FIESTA #Lafiesta15 is supported by ECO Restoration foundation of Nigeria. Eti-osa Local Government. Lagos State Government.
Media Partners
360nobs.com, BellaNaija.com, Cool FM, Cool TV, Planet Radio TV, Rhythm 93.7 FM, Smile Global Entertainment, STV, The Blow FM, Tooxclusive.com, Wazobia FM, Wazobia TV.
Powered by Naijatunez.com
For More Inquiries
08168032026, 07065896413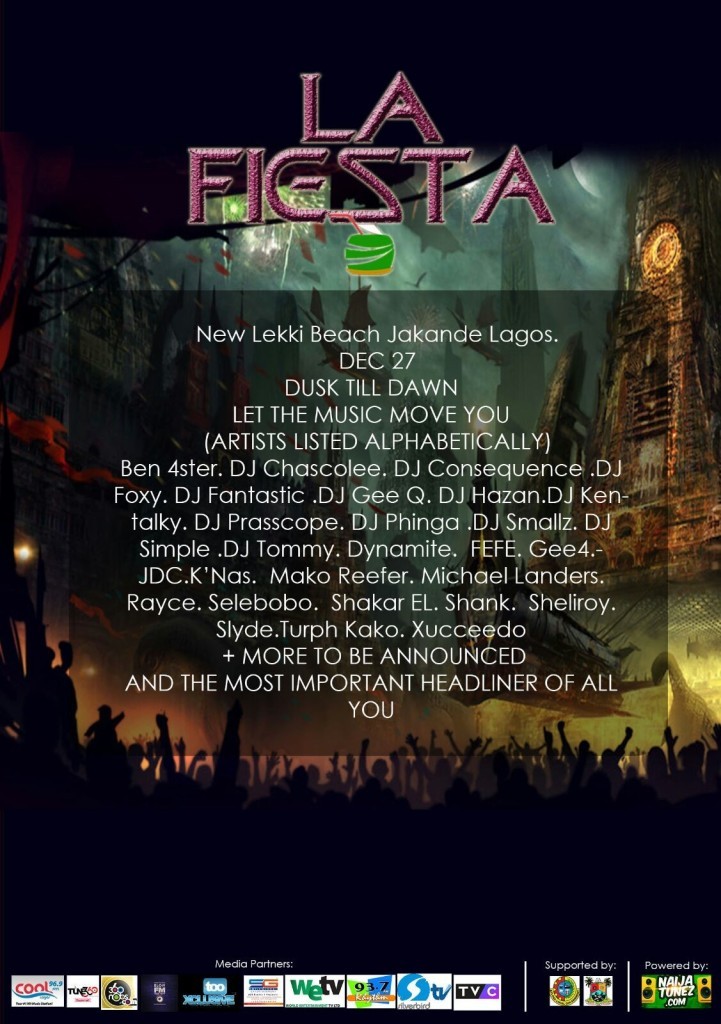 ---