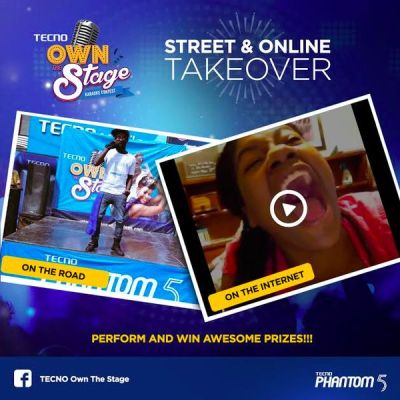 The most exciting show on TV right now, Tecno own the stage is turning  it up for viewers at home.
Yall can participate in the fun by recording yourself trying to "Own The Stage", who knows, you might just be better than the contestants on the show right now.
How To Enter The Competition:
If you are in Ibadan, Kaduna, Kano, Lagos, Abuja, Onitcha, Owerri, Portharcout, Uyo. Use the hashtag #TECNOOwnTheStage + Your Location (e.g. #TECNOOwnTheStageUNILAG) to bring the TECNO Music Truck to your hood. And get to perform any of the contestants rendition on the Tecnop music truck.
Or
Upload a 15 seconds version of any of the contestant's rendition on the TECNO Own The Stage Facebook page. The entry with the highest likes gets to win amazing prices from TECNO. TECNO devices  like the Phantom 5,Camon C8, Boom J7s and other fabulous prizes, speakers, headphones, flash drives…there's more than enough of TECNO to go round!.
Winners on the road also stand a chance to be a part of the grand finale and the TV show, and perform at the winners party in February.
---