So, following the whole Psquare bruhaha yesterday, with Peter of the famed group trashing their manager and brother, Jude Okoye on twitter, the other half of the group and family, Paul, has finally broken his silence over the whole issue.
Paul, took to Instagram to show his support for their manager, Jude, by posting a photo of them both and captioning it:
This is where i belong and this where i stand….you do music in the studio, not in social media, you have family issues, you discuss that in close doors not in social media….Family is family, blood is blood….If you don't do family business, then who am I to you?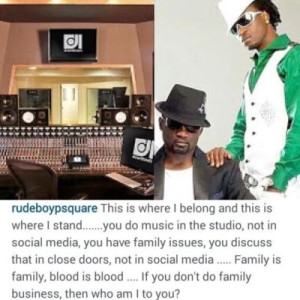 Well said Peter….Now lets wait and see how Peter responds to this, that's if he will.