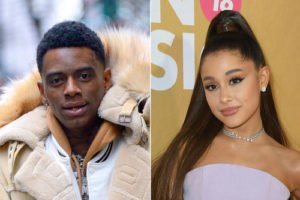 Just when you thought things couldn't get any more interesting in the most recent wave of headline-inducing Soulja Boy news.
After declaring himself to be the year's comeback king and asserting his influence over the likes of Drake, Soulja Boy had some time to catch wind of the recent comparisons being made between his "Pretty Boy Swag" anthem and Ariana Grande's most recent "7 Rings" single.
First, he took to Instagram to upload a clip in which news anchor points out the similarities during a segment, adding the comical caption, "Arianaaaa?????? Ariana?!," a nod toward his viral "Draaaake" outcry.
In another tweet where Ariana Grande seemingly responded to previous fan criticism of the similarities between the songs, Soulja Boy further wrote, "Stop stealing my swag." And in adding more, Soulja even commented on Ariana's tribute "miss u" tweet to Mac Miller and wrote, "You're a thief."
See post below:
You're a thief https://t.co/PyVaP69Jzu

— Soulja Boy (Young Drako) ??? (@souljaboy) January 19, 2019
Give me my credit. Period https://t.co/Akhp2BXcuY

— Soulja Boy (Young Drako) ??? (@souljaboy) January 19, 2019
Lol stop stealing my swag. Word https://t.co/jIMnD5m5U8

— Soulja Boy (Young Drako) ??? (@souljaboy) January 19, 2019
---