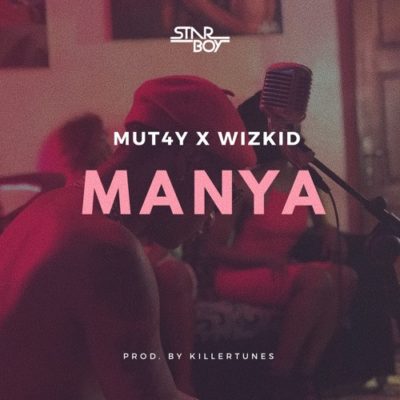 "…Baby girl follow me manyewu,
Baby girl follow me manya manya"
Nigerians followed and supported their golden boy closely, as he travelled from city to city hawking the African sound to his new audience.
After enjoying good patronage for his Afro-pop music; Wizkid is back home with an intent to entertain his day-one fans who have watched him grow into a global music superstar. Having released a couple of 'within-Nigeria-popular' songs earlier, Wizzy recently put out Manya to the delight of his fans ahead of his scheduled concerts, as he plans to close the year on a high note.
As expected, the Manya rave spread fast and wide. TooXclusive team members decided to share three essential things we really loved about Wizkid's Manya.
 1. The music sample
It's a master stroke idea to sample an African music classic and turn into a new age hit. I remember how big a song Ghanaian music group, VIP's "Ahomka Womu" was in 2003. It was my jam then and probably what Wizkid fed off for inspiration. Now, Wizzy took the piece to Killertunes' laboratory to remodel it and present it in the form of Manya. I love the idea of it because it's a way of celebrating good African music of the past. It is even more important to do that now that the world is paying more attention to our artistes, than it ever did in the past. Wiz sourced the origin to create this song and it's the best part of the song, for me.
2. Lyrical content of Manya
Usually, the Starboy is one with very shallow and repetitive lines, but on Manya, the effort put in place to write the lyrics was very visible (audible). It is popular knowledge that most Wizkid songs, if not all, are about his 'baby' but on Manya, Wiz served us catchy lines. I always look forward to the 'Oya take all my money put am for your head o' part. You can almost think someone else contributed largely to writing this song.
Oh and who knew Wiz could speak the Ghanaian language so well?
3. Producer, Killertunes!
His track record speaks volumes for him, especially with the caliber of artistes that keep enlisting his professional knowhow in producing music. So it is only noteworthy to add Wizkid to his impressive catalog which already includes songs from music topshots like Kiss Daniel, Wande Coal, DJ Spinall, and D'Banj for this year alone. The fact that Killertunes is not your regular-type music producer, is what further drove our expectation for the song, Manya.
Like a beatsmith and sound draftsman that he is, Killertunes coordinated the instrumental elements and engineered their individual output into a seamless whole; while appropriating his production skill with the musical dynamism of the Boy Wiz such that even if nothing else about this song makes you tick, then the technicality of his sound must! Unless there is something wrong with you.
---
Over to you guys, let's have your thoughts and opinions on Wizkid and the song, Manya.

"3 Things We Love About Mut4y x Wizkid's Manya", 5 out of 5 based on 1 ratings.
---