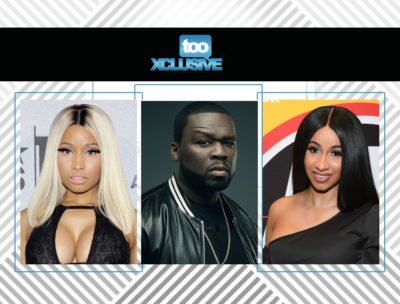 50 Cent has involved himself in the feud between Nicki Minaj and Cardi B that emerged over the weekend. The rapper has aired his own opinion on the feud after rapper Tekashi 6xnine and DJ Spinking took sides on the issue.
A footage came up online where DJ Spinking is seen playing Nicki Minaj's music in a club while Tekashi was seen dancing to it.But despite releasing a song titled; "Fefe" with Nicki Minaj, things all of a sudden just turned weird. At some point in the club, the DJ suddenly stopped Nicki's music and switched to Cardi B's "Bodak Yellow" before saying "Sorry Nicki, I'm team Cardi B on this side."
In the video, Tekashi was then seen dancing to "Bodak Yellow". This was what caught 50 Cent's attention as he feels this could create bad blood between Nicki and Tekashi. 50 feels Tekashi should completely stay out of it as it is an issue for the girls.
50 Cent in an Instagram post that has though been deleted said "No @djspinking that's female shit stay out of that, now Nicki gonna get mad at 69 for turning up, trust me."
 "She on her South Side shit."
However, it seems Tekashi's actions were just seen to be normal as it hasn't created any sort of rift between himself and Nicki after they were seen partying together moments after the event at the club.
---