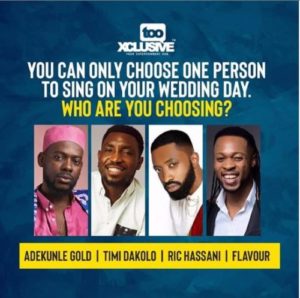 There are quite a number of vocalists in the Nigerian music industry that make beautiful songs about love and romance. And if a chance is given to identify some of these artistes, there is no doubt that the likes of Adekunle Gold, Timi Dakolo, Ric Hassani, and Flavour would quickly come into mind.
However, if it's your wedding day and you are given the chance to choose only one artiste from the ones highlighted above, who will you choose?
Adekunle Gold, Flavour, Timi Dakolo, & Ric Hassani – Who Would You Call To Sing On Your Wedding Day?