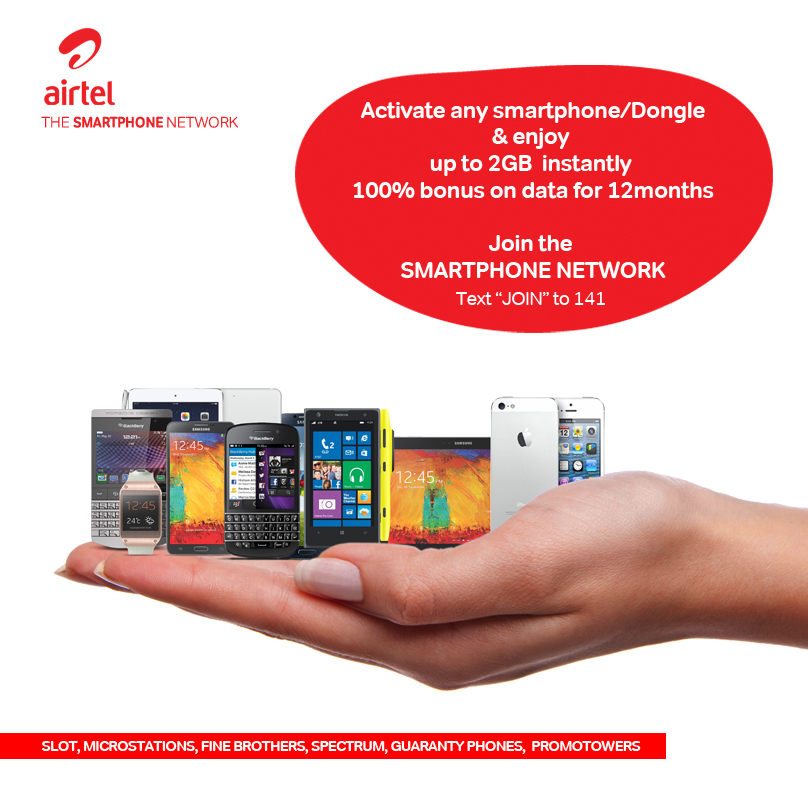 …customers get up to 2GB on Smartphone activation, 100 % bonus on data purchase for 12 months
Lagos, Nigeria; March 26, 2015: In line with efforts to strengthen its relationship with customers, leading Telecommunications service provider, Airtel Nigeria, has unveiled a new data campaign tagged "Join the Smartphone Network" which seeks to reward customers for their patronage, and also drive internet usage and penetration.
As part of the benefits, customers receive instant data bonuses on activation of smart devices with 100 percent bonus on data recharge and 25 percent discount on Microsoft Lumia 535 smartphone purchased at any of its stores across Nigeria.
Customers who buy any smart device and activate it with an Airtel SIM will get up to 2GB data bundle instantly and thereafter enjoy 100 percent data bonus on activation of data bundles from 200MB to 1GB, for 12 months.
Speaking at the media launch of the campaign in Lagos, today, Maurice Newa, Chief Commercial Officer, Airtel Nigeria, explained that the distinctive value proposition further affirms Airtel's vision to be the most loved brand in the daily lives of Nigerians.
According to him, "this campaign was conceived to delight our customers. We want to connect with them in more smarter and rewarding ways, to fulfil their communication needs in a manner that makes it almost effortless and affordable. Indeed, we are giving our customers more reasons to stay on our network."
He pointed out that as an innovative company, Airtel will continue to redefine the telecoms landscape with revolutionary products and services that will provide a rewarding experience for customers.
He said: "the introduction of this offer is an attestation of our commitment to enrich customers with value proposition tailored to create comfort and a rewarding experience."
The offer is also applicable to customers who purchase Dongles and Mifi from Airtel or partner stores. On activation, they will get a bonus of 2GB and 4GB data plans respectively, while the purchase of Routers attracts an instant data bonus of 8GB data plan. This category of customers will further enjoy 100 percent data bonus on activation of data bundles ranging from 200MB to 1GB, for 12 months.
The campaign is targeted at every customer who buys a smartphone or smart devices from Airtel and authorized retail partners. To activate the instant benefits of the campaign, customers will be required to text "JOIN" to 141.
The campaign, which is also aimed at promoting the use of internet, will provide customers wider opportunities to connect with friends, family and business associates.