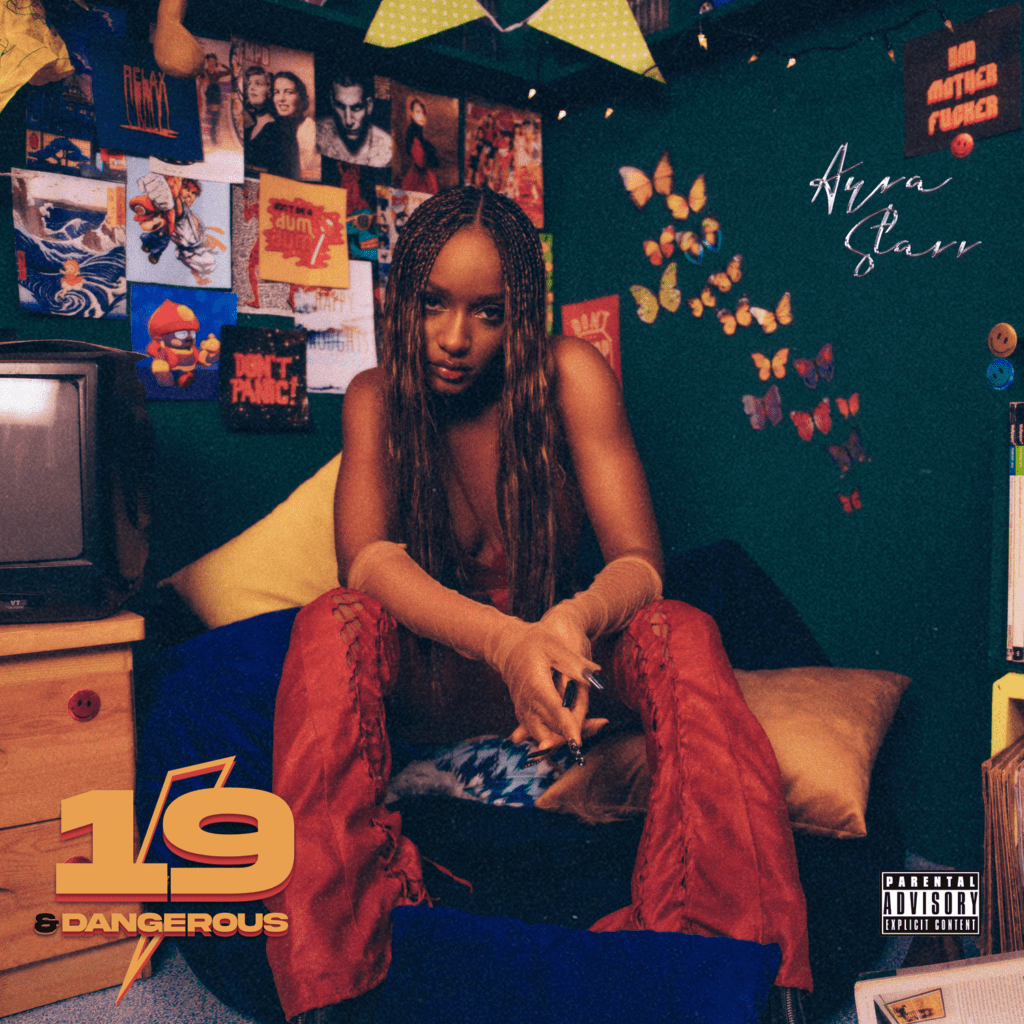 Ayra Starr highly anticipated album "19 & Dangerous" is Out!
"19 & Dangerous" album houses 11 tracks, Ayra Starr features artiste, Foushee & Ckay, And worked with producers, Don Jazzy, Loudda, London and Andre Vibez.
After an impressive, self-titled 2021 EP that placed her among the vanguard of rising Nigerian pop stars, and lead single 'Bloody Samaritan' which is currently climbing charts, Ayra Starr delivers her official debut album.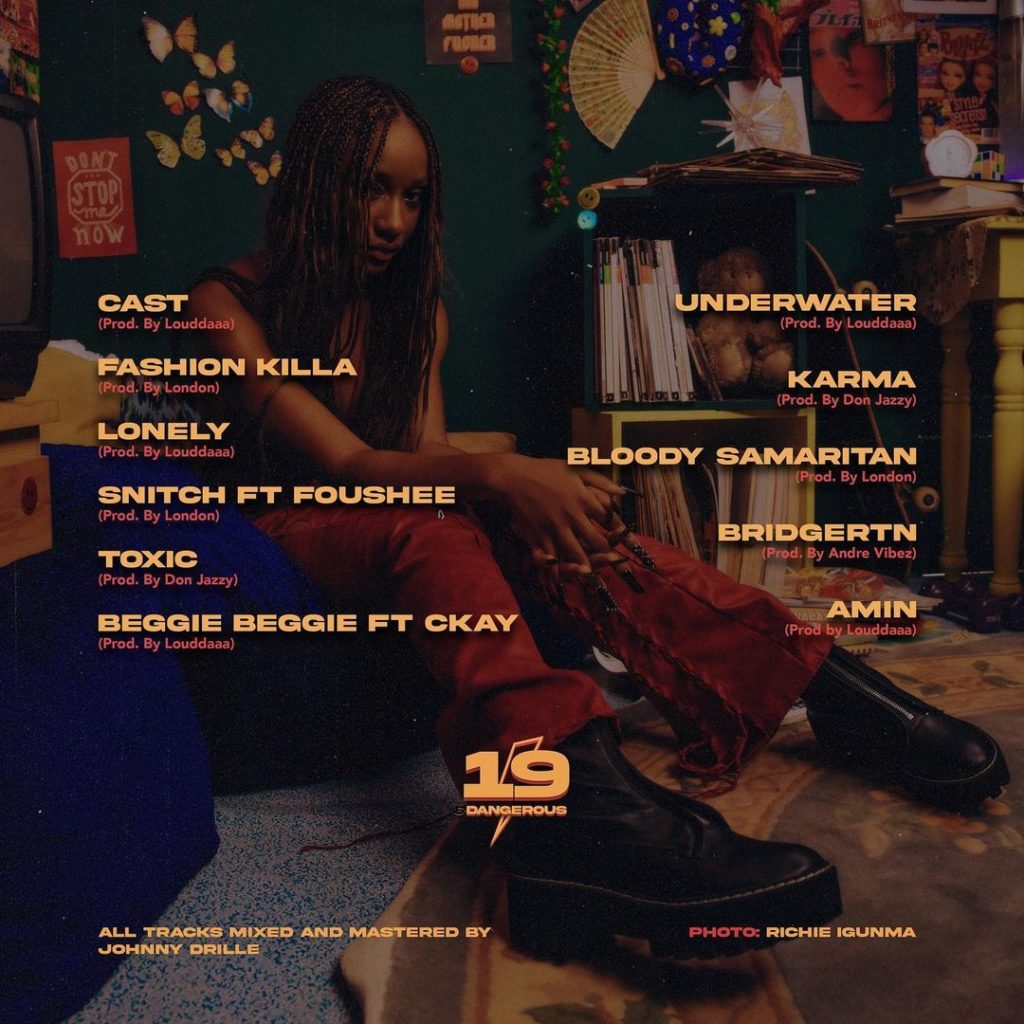 Exploring relationships, betrayal and self-assurance on 19 & Dangerous, the artist chronicles the transition from adolescence to adulthood. "One day, it just struck me that I'm not scared of failing, I'm not scared of mistakes—I'm ready to work hard to get to where I want to," she tells Apple Music. "No matter how much I fall, I'm prepared for it. When you know that you're not scared of mistakes, you become dangerous, because you have nothing to lose, really. I'm 19 and I'm dangerous. I'm ready for everything."
Throughout 19 & Dangerous, Starr remains bold and unapologetic, whether exhibiting her grandeur in banging earworms or acknowledging her vulnerabilities in heartfelt ballads. She showcases her vocal and emotional range as the project's mood shifts from sunny to gloomy when her lyrics dictate. Ranging from R&B to pop, soul and Afropop, the album features production by London, Kel-P Vibes and Don Jazzy while Ayra and her brother, Dami Aderibigbe (aka Milar), penned most of the songs. Here, she takes us through her coming-of-age story, track by track.
"Cast (Gen Z Anthem)"
"In Nigeria, when we say somebody is 'cast', it's like, 'Everybody knows her. She's been around.' So, I always get a lot of advice: 'Ayra, don't go and cast.' Even with the smallest thing, a woman has to be a hundred times more careful than a guy. She can't go to this place; she can't do that because she doesn't want to cast. The smallest thing can ruin a woman's reputation. But I've come to this industry to break boundaries. So, if I cast, let me cast. In the beginning of the song, I used an Eartha Kitt interview, one of my favourite interviews of all time. She said, 'Life is not problematic. We make it problematic.'"
"Fashion Killer"
"I wrote this song with my brother. We are fashion-obsessed. My brother is an A$AP Rocky fan, I'm a Rihanna fan, so we grew up with a lot of fashion. 'Fashion Killa' by A$AP Rocky, we loved that song. So, when London sent us the beat, we wanted something hard, something people would feel themselves, too. I could just see people on the runway to this beat."
"Lonely"
"'Lonely' is a sweet love song. The album has different moods: You have the badass, 'Cast', then you have the vulnerability—that's where 'Lonely' comes in. 'Lonely' is me telling a guy, 'If you don't like me back, remember that I'm only human. Watch the way you talk to me and all that. Let's vibe and all that.' So, 'Lonely' is like a lost-love heartbreak song."
"Snitch" (feat. Fousheé)
"'Snitch' features one of my favourite artists, Fousheé. I love her with all my heart. She's such an amazing musician. The whole song was a freestyle. She had sent me a DM that she thinks I'm dope. Just imagine me seeing a DM from one of my favourite artists of all time. I was like, 'I have this song that I really want you on.' I shot my shot and she was down with it, so that was great."
"Beggie Beggie" (feat. Ckay)
"'Beggie Beggie' is almost like 'Lonely'. It's almost the same topic. The chorus means, 'See the way I'm begging you. Do I look like those people on the streets begging for money? You're making me feel like I'm one of those people because of the way I'm begging you. And I know you are a fine guy and all the girls like you, but I'm also a badass—some other guys like me. So, don't use me.' It's a from-friends-to-lovers type of story. And I remember when I was in the studio recording it. I was like, 'I want, like, a male POV on this story.'"
"Karma"
"My brother and I wrote this song in 2018 when we were still in school. This was one of the first songs we finished writing. Just thinking about it now, back then, we didn't know that this was going to be our life. We didn't even know we were going to record it one day. It was just something we did for fun. My brother wrote the first verse, I wrote the second one. We would imagine that he featured me on the song. We would write the whole music video treatments. Then, when Don Jazzy signed me, the first day in the studio, I started to record 'Karma' and I was like, this song is such an amazing song. It's my love story with karma. Karma is such a good lover, because I didn't ask him to do the revenge—he did it for me."
Listen and Enjoy the full album below