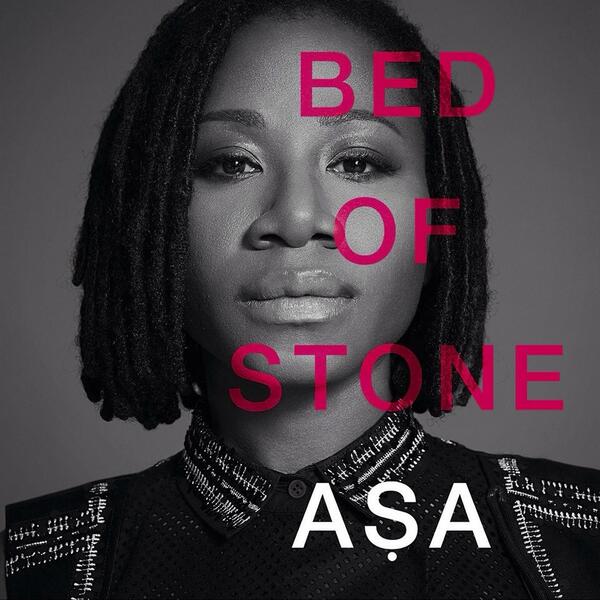 Artist – Asa
Album – Bed of Stone
Producer – Blair MacKichan
Label – Naive Records (2014)
Running time – 47:52
Emotions make for the best music classics ever to sound the surface of the earth. Asa's background had opened her early to a fine collection of soul. With her rich deep baritones and lit up heart, she found silver lining in churning out records that will outlive her physical presence and existence in the universe. 4 years after Beautiful Imperfection was received amidst streaming eulogies, Asa's come out again blazing with Bed of Stone, a beautifully put together body of work with lines that speak straight to and renders your heart.
Like Lauryn Hill, like Adele, like Erykah Badu, like Jill Scott whose soulful symphonies literally ignites a fire that burns with a passion for the world to live, Asa's Bed of Stone is like the commandments slate from the ageless Holy Book that excites, teaches, chastises and condemns. You can't but just be amazed… not only at Asa's music mind but also at the reservatory of insightful knowledge from where she muses. Not only is she a fabulous songstress, she's a lyricist par excellence – a tiny, yet you-couldn't-have-missed-it detail that reveals her prowess in musical scripting and professional direction.
The emotion-laden composé opens with the beautiful ballad, Dead Again is about a cold case love but she's having it no more! Asa's musical dexterity on Eyo has a special swing and sway to it as she switches from her baritone octaves to the zenith of her contralto range such that even Lucifer of old couldn't have had anything on her the way she dismissed him on Satan Be Gone with thronging guitar riffs and echoes from a hollow way. Strings and horns introduce the Samba-like Bed of Stone where Asa sings about the travails of a struggling girl when she lays finally at the end of day in deep reminisce. Pain is one of life's inevitable and even when that's all she can feel, ultimately Moving On remains the only resolve. But for the many little things we choose to ignore, she stays Grateful in the truest and most honest form – culturally baring her thankful heart in her local dialect spun over sonorous melodies.
The message in Society is clear; everyman for himself. Because we dey same society no mean say we get same philosophy or eternity… food for thought! How Did Love Find Me deals on a dilemma of thoughts that her lyrics explain. She sings, but why does it feel so wrong, why the tears? I always gave love, never thought I deserved to be the one to get love. So I locked my heart away, thought I didn't need it anyway, maybe somethings are meant to be… Beautiful sound, beautiful play of vocal riffs, beautiful song. Asa's reaches a climax on her ascending vocals when she addresses Ife, pleading for him to comeback after an unplanned exit. Such happunstances are scenarios of reality, a Situation is only temporary so when new beginnings come, take advantage of the new moment for new possibilities and new opportunities like we would do in a New Year. Halleluyerrr!
As the composé draws to a close, Asa makes a dulcet bant about not wanting another's love 'cos she's still strummed by The One That Never Comes. This makes her exclaim some of man's wicked desperation on Sometimes I Wonder. Having pulled off a beautiful life tale shared with enchantesque vocals and an alluring orchestra, Bed of Stone winds down with a mid tempo exhortation for you to go out into your world and Shine Your Light. Asa says to let nobody tell you you can't!
One word, Asa is amazing! And her Bed of Stone is a different flavour of a timeless record that we haven't had in music years. In this genre of soul, she sampled contemporary alternatives from funk to pop, ballad and electro with her rich deep baritones giving all the afro influence it deserved. The musical arrangement is void of any flaw whatsoever, you can literally feel the album's synergy even strengthening as you slide from track to track. Best of all, one music mind delivered all of this variety in a singular production effort. Blair MacKichan (who also co-wrote Bed of Stone) would be the other music genius who makes Asa's rhinestone shine even through bright light. I had so much fun reviewing this album as I did listening to it. Imagine loosing track of time writing just because you got too engrossed in listening? Well, that's Asa… Bed of Stone!

Reviewed by Jim Donnett
@jimancipation

"ALBUM REVIEW: Asa – Bed of Stone", 5 out of 5 based on 1 ratings.
---