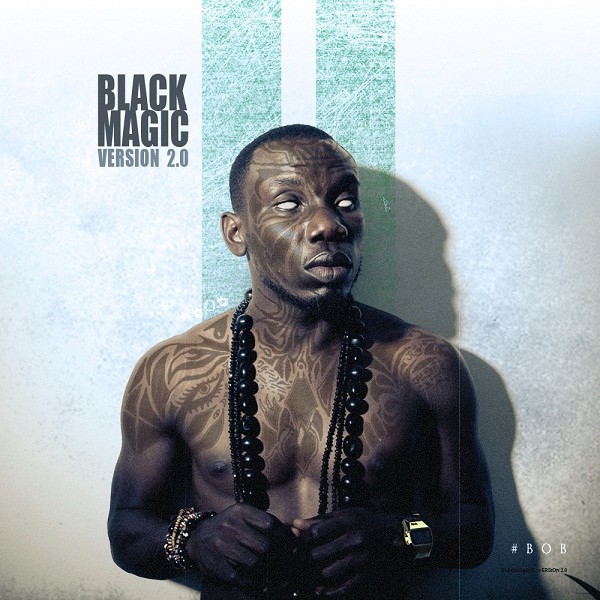 Artiste – BlackMagic
Album – Version 2.0
Features – Sasha P, Banky W, M.I, Oriste Femi
Producers – Ikon, T-Flava, Remi, Kid Konnect, Tin Tin & Xela
Label – Based on Belief (2013)
Duration – 01:02:58
Critically acclaimed alternative rapper/singer BlackMagic has decided to stay true to his art on his sophomore album 'Version 2.0'. The fine successor to 'Version 1.0'  which houses 15 tracks (standard edition) and 18 tracks (deluxe edition – bonuses) is a fantastic fusion of afro-beats, jazz, hip-hop, soul and pop music. The magician pushed his craft a bit, making this version a better, bolder, darker and finer piece than the first offering. Although it might not win the dark-skinned artiste a large pool of new believers due to poor single choices 'Version 2.0' is a solid work of art you cannot help but respect and praise.
Hoping that BlackMagic gets the much-needed and deserved spotlight, check out our track-to-track review of the album:
1.  RIP: Ejay opens the show waging war against mediocrity and made known his intentions that his LP will make you a believer with a richly T-Flava (who also has backing vocals credits) produced track 'RIP'.
2.       Jericho: The alternative afro-urban flow with a little dash of jazz continues on 'Jericho'. "If you don't know what's going on right now/We on a merry going round and round/Till the walls of Jericho comes right down…"; BlackMagic starts the T-Flava produced cut with his signature singing style before switch to his rap verses and the opener also serves as the flavoured hook.
3.       Africa: Don't be deceived by the heavy hip-hop-ish bass line of 'Africa', the third cut is a bold bouncy character-filled message driven song.
4.       Body ft. Banky W: Things gets sexual as the magician summons R&B's leading man Banky W on the erotic 'Body'. "Just wanna get next to you/Just wanna have sex with you/ Is what I told this girl and her body…"; Ejay airs his carnal desires on the chorus of the song while Banky W sings and raps to put the icing on the cake.
5.       Confam ft. Sasha P: Undoubtedly one of our favourites on the LP is the Sasha P assisted 'Confam'. BlackMagic is known for fusing and experimenting with sounds and genres and this breezy guitar flavoured afro-beats tune enriched with an attitude rap verse from the guest works perfectly.
6.       Fantasy: One of BlackMagic's weaknesses is his singing skills but thankfully he employs seasoned background vocalists to lend him a helping hands and that saves the day on the hook of 'Fantasy'. The song crafted to rock a party sounds like a left-over from 'Version 1.0' still it manages to be groovy and commendable.
7.       Repete: 'Version 2.0' will make you a believer and the magical 'Repete' housed in the album will do the job. We wonder why it is the only song produced by Xela but it is arguably the LP's strongest link as BlackMagic irresistible haunting vocals on the quietly produced cut can haunt her way to your heart and playlist regardless your taste.
8.       My Niggas: The eight track can easily serve as an anthem of the 'Based on Belief' movement as an altered voice says; "It is all based on belief but what the f**k is your belief based on?" in the opening seconds of the 3:42 subliminal song. BlackMagic addresses his split with his former record label with his edgy rap lines that goes like; "'Based on belief, in the streets it's on/Syndik8 not really, all I need is IKON" and "'Came through with the same army, I only say names that are worth mentioning/to elevate I think there are some agreements worth entering and some just wanna make me say some sh*t worth censoring/dear f*ckery to whom are well accustomed, I really wanna say truly you're not welcome/when you talking about the friends I'm with/love and loyalty, don't give a f*ck about your Benjamins/B.O.B over everything, believe".  The rap-sung also features an un-credited soulful female singer on the hook…hot stuff!
9.       Shakara: Critics and music lovers always compare BlackMagic to Burna Magic and the afro-pop tune 'Shakara' will spark this comparison all over again. BlackMagic flirts with his unwilling female guest on the chorus and changes to his normal rap style on the verses.
10.   Amnesia ft. M.I: 'Amensia' is a high-life influence afro-pop song that features a dreadfully weak and unneeded rap addition from M.I. 'Amensia' addresses 'fake' friends and serves one of the album's most commercial moments.
11.   Money:  Produced by Tin Tin, 'Money' is groovy song celebrating success.
12.   Rifle: The medicine man prescribes rightly again as he dishes 'Rifle'. Organically produced by Kid Konnect, the song is amazing to say the least as Ejay hungers for love or 'shayo' (alcohol) if he does not find love that it.
13.   Pass You By ft. Oriste Femi: BlackMagic employs Oriste Femi's street-pop flavour to help him find a commercial balance on the gospel-esque 'Pass You By'.
14.   Miracle: The afro-urban and jazzy sound that opens the album starts again towards the end as 'Miracle' kicks in. Apparently Ejay is a miracle and he wants you to believe that while featuring a female vocalist yet again on the chorus and voice clips of fans praising his craft.
15.   Feel: 'Feel' officially closes 'Version 2.0'. It is an end suiting an album of this nature, after briefing singing BlackMagic on the Ikon instrumentation; he gives a credit and appreciation to forces that has instrumental to his success thus far in a talking manner and believes. A touching finale!
Reviewed by Ogaga Sakpaide [ @Ogagus ]
Rating: 3.5/5


"ALBUM REVIEW: BlackMagic – Version 2.0", 5 out of 5 based on 1 ratings.
---