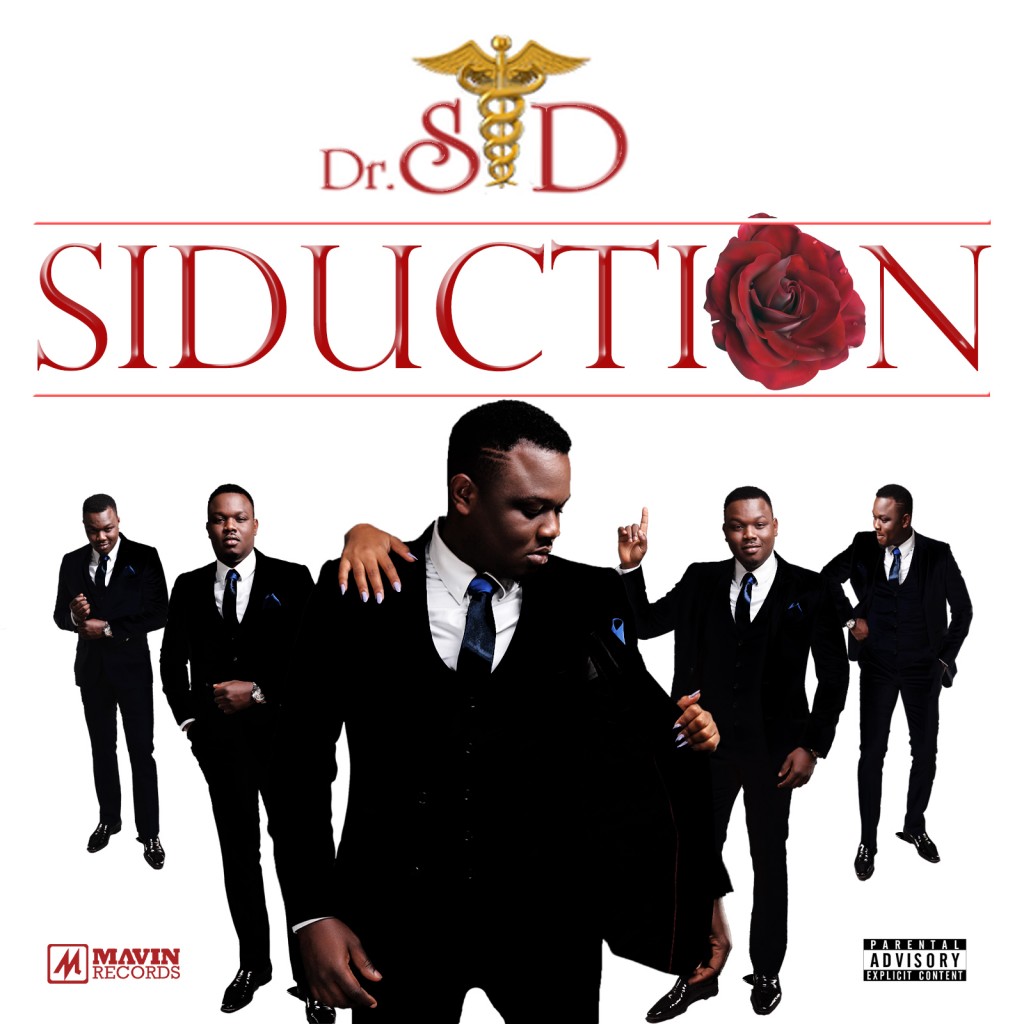 Artiste – Dr. Sid
Features – Don Jazzy, Tiwa Savage, Wizkid, Emma Nyra, Phyno, Alexandra, IcePrince Zamani, Sarkodie, IcePrince Zamani, E.L & Lynxxx
Producers- Don Jazzy, BabyFresh, AlTims, BlayzeBeats
Label – Mavin Records (2013)
After being plagued by lukewarm singles that struggled to break new grounds for the Mavin Records pop act; Dr. Sid nonchalantly unleashed his long awaited sophomore album 'Siduction'. The 20 track project tests positive for deterioration in consideration of Dr. Sid's past high octane pop singles as well as the magical production provided by Don Jazzy, BabyFresh and AlTims which failed to savage the record.
The mavin doctor fails to charm or make any form of musical statement with Turning Point's confused successor; his vocals, the delivery, length and shallow content makes total consumption of the album a cumbersome chore.
Armed with his collaborators the Dr. Sid in action on Siduction still cannot compete with his younger, hungrier, versatile and more talented colleagues on any level, nonetheless study in our track-to-track dissection of 'Siduction'.
Surulere ft. Don Jazzy: Siduction opens brightly with Surulere, a mid-tempo afrobeats gem. Preaching the gospel of the rewarding nature of patience, the Don Jazzy produced and led cut stands out from the pack making it the LP's strongest and boldest points. Don Jazzy also steals the spotlight with his rich chorus, making Dr. Sid's input almost forgettable.

Princess Kate: Dr. Sid glides on BabyFresh bouncy progressive house influenced instrumentation as he woos his supposedly Princess Kate as he says; "I be prince, you be Princess Kate eh". Just like majority of the album, the beat saves the day.

Nwayi Oma ft. Emma Nyra: Obviously built to be a groovy raunchy number, but auto-tune use and so-so vocals help ensure that the aim of the song is totally defeated. Nwayi Oma is exhausting to the ears.

Lady Don Dada: Things gets better as Dr. Sid celebrates hardworking, balling and independent women with Lady Don Dada. Excellent production and Dr. Sid manages to rise to the occasion regardless of the fact that he still lacked presence.

The "D": According to Sid he ladies love the 'D' but this song is anything but loveable. A big miss!

Talented: The Dr. Sid in his first album fights to surface on Talented as Mr. Esiri delivers on the dance cut. The call and response chorus makes up for the weak lyrics and as usual production is top-notch.

The Chicken and The Egg: A major problem with Siduction is the Dr. Sid's lack of command and presence; at difference points you are confused as regard whose vocals you are hearing. You find yourself asking; "Is this Don Jazzy or Dr. Sid?" "Is that not Wande Coal's voice in the background?" The Chicken and The Egg is very much like Talented message-wise but weaker in any other form except the production with more or less wasted.

Oyari ft. Tiwa Savage: Dr. Sid enlists afro-pop queen and label-mate Tiwa Savage for an easily likeable number. Oyari is made more solid by Savage's contribution as she laces her sleek vocals fin a flirtatious manner teasing her host on the bouncy beat meeting Sid halfway with his catchy hook and verse.

Dr Lover ft. IcePrince Zamani: Dr. Sid is might not be a doctor of music but he declares that he is a love doctor on Dr Lover. Armed with BabyFresh's production and IcePrince's fire; Sid yet again feeds on his collaborators strength without bringing anything special to the table, on a overall not Dr. Lover is a cool filler.

Baby Tornado: The Mavin doctor finally comes through on the complex popping Baby Tornado. Dr. Sid demands that his 'baby' moves her waist like a tornado, a request even a 50 year old woman might heed to all because of the infectious features of the number. Dr. Sid racy switches in delivery, the commanding production will make you whirl into this fast paced Tornado.

Kilon Wa: The tempo drops with KIlon Wa.

Chop Ogbono: This is one of those songs that is simply stupid but you will find yourself dancing to and singing the lyrics effortlessly after a couple of listens. The song screms replay; Chop Ogbono is a typical example of scenario when wack becomes dope.Affirming the fact that Siduction has no musical identity;  " Chop Ogbono"  has Ajebutter 22 written all over ,Dr. Sid's Delivery, lyrical arrangement and style to his vocal tone, everything screams Ajebutter 22.

Love Mine: The host tries his hands on a fusion of afro-pop and progressive house; as expected he fails to impress. Love Mine would be a brilliant piece if treated by a seasoned vocalist or at least would sound better if Sid put in more effort as he did on his Beneath You're Beautiful cover duet with Tiwa Savage.

Get Over Me: The singing and afro-house fusion trend continues with Get Over Me. Whereas on her predecessor where the doctor proclaims his undying love, the 14th track preaches the exact opposite seeing that Sid has moved on and wants the feeling to reciprocated. Dr. Sid did not try to flex vocal pipes that he does not possess, hence his safe singing and less use of auto-tune makes Get Over Me a stronger effort too.

Last Bus stop: Targeted at wedding ceremonies, Last Bus stop is like every other high-life influenced generic love song that preaches matrimony you find in almost any afro-pop LP.

Siduction: The title track is corned with rhymes ending with 'tion'. It is an average filler though, and we doubt anybody will feel his Siduction.

Baby Tornado (Remix) ft. Alexandra: X-Factor U.K winner Alexandra Burke spices up an already delicious musical cuisine as she cutely tackles Nigerian slangs and abandons her towering belts for a calmer and quieter Seyi Shay/Tiwa Savage reminiscent singing style. Shockingly Alex fits right in like she has a song topping the local charts.

Surulere (Remix) ft. Wizkid, Phyno & Don Jazzy: Massive collaboration as Sidney Onoriode Esiri calls on Wizkid and Phyno to join him and his producer on the remix for Surulere. Just like the original Dr. Sid remains the weakest link as Wizkid brilliantly recycles his lyrics yet manages to wow on a overall notes and with his ad libs, Phyno employs his native dialect dominated rap verse and Don Jazzy remains untouched on the chorus.

Chocolate (Remix) ft. Sarkodie, Iceprince, E.L & Lynxxx: IcePrince, Lynxx, Sarkodie and E.L join Dr. Sid and another massive remix surfaces with Chocolate (Remix). Just like the original, the song works.

Afefe: The lengthy musical journey closes with Afefe. Previously released as a single Afefe is one of the few songs on Sidction that drives home after all and is not misleading.

Reviewed by Ogaga Sakpaide [ @Ogagus ]
---