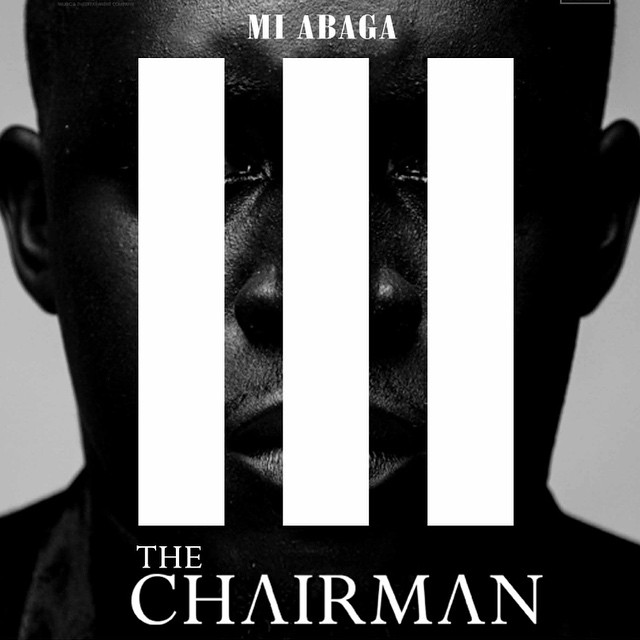 Artist – M.I Abaga
Album – The Chairman
Features – Chigurl, Koker, Wizkid, Reminisce, Moti Cakes, Emmy Ace, Beenie Man, Nosa, Milli, Olamide, I.J, Patoranking, Phyno, Runtown, Stormrex, Seyi Shay, Ice Prince, Sarkodie, DJ Lambo, Debbie, Morell, Loose Kaynon, Tuface, Sound Sultan, Oritse Femi, Frank Edwards, Nanya
Producers – M.I, L37, Reinhard, Sarz, G-Plus, Pheelz, Sammy Gyang, Vstix
Label – Chocolate City/Loopy Music
Running Time – 75 minutes
I'm just so full of confused excitement or shall I call it excited confusion such that I really don't know where I should start or start from… see what just happened there?
In order to avoid having to repeat how madt the beats and production on The Chairman turned out, lemme just state here that it was one word "AMAZEBALLS". Guy took four f***king years to brew some fine a** stinking sh*t for fans and haters… it's possible that he still has those, yeah? And then 26 features! Pheeuuww.
The concept of this "words and opposite" thang was another level of genius. The industry has never had this and although M.I had given insight as to what to be expected on the album, we really didn't think it this way. How can titles and contexts be similar and relative to each other but still, styled in such a manner that they can make sense on their own? Everything on The Chairman album really makes me believe that this 'short black dude' aspired for a post-messiah status.
1. The Beginning/Nobody: Did you have blaah-dy pessimists for mind shapers while growing up? Big dreamers who ended up as never-do-wells and went on a destiny shooting down spree? MI told this tale beautifully and in the most satirically possible way. And the message is CLEAR!
2. Monkey ft. Chigul:  Humour and wits (yes, I'm talking about the DPJ diss and the nevuurrr hexperrerits) are the build up to this celebratory tune. M.I and Chigul make you jive in 'kwenu' or 'wa do' style while understanding your you-niqueness.
3. Rich ft. Koker: Sounds preachy, yes. Regardless, it makes for a classic #TurnUp jam still not loosing the consciousness of wanting to be (or stay) rich.
4. Mine ft. Wizkid: Wiz delivered his vocal lines with an eclectic nature. I'm not the only one thinking M.I and Waje had done something like this before, eh?
5. Shekpe ft. Reminisce: First things first, Sarz is a demon. And then Ibile held it down. I was looking for M.I on the track though. No, seriously. I was. Till his verse in Yoruba and I'm like y'all better watch your backs *no names called* Olamide.
6. Bad Belle: Kussssshhh music! Baazing! And what else again? Oh yeah. My least favourite track.
7. Wheel Barrow ft. Emmy Ace & Beenie Man: Why wasn't Patoranking on this track? That's all I'm going to say. Emmy Ace was impressive though.
8. Brother ft. Nosa & Milli: The words of this well crafted motivational piece, speaks straight to the heart. Brother has soulful elements to heal. Nosa's vocal marathons were quite the appeal.
9. The Middle ft. Olamide & I.J: More punch or is it cheesy lines? I'm not sure which exactly. But the excitement of having baddo and Mr Incredible slay a track made me overlook some excesses. Speaking of which, who's this I.J dude? You like him too, bah?
10. Enemies ft. Patoranking: Oh, this is where he settled. I mean Patoranking. Nothing much here, just that it's a track for everybody not enemies alone. Go figure!
11. Bullion Van ft. Phyno, Runtown & Storm Rex: Let's call this the eastern tribute. It's obvious what they're known for… spending money foolishly! Ms Rex was breathing life on the track and then it had to end. Phyno, Runtown, M.I – the usual, they're good.
12. Always Love ft. Seyi Shay: Again, Ms Shay is such a vocal sweetheart. The tune heavily dotes on that M.I and Waje feel, only that it's better this time but still typical as 2010.
13. Millionaira Champagne ft. Ice Prince, Sarkodie & DJ Lambo: Heat. This record will light things up and burn. Prideful show off of talent too. Confam jam.
14. Yours ft. Milli & Debbie: M.I goes all Bishop Jakes on this production cut that samples futuristic sounds. This Milli kid served some madt flows and the harmonies were sick! Smooooth stuff.
15. Beg ft. Loose Kaynon & Morrell: Did Loose K just wipe down and dry chairman's hands on his own track? No thanks to M.I's cheesy/punch lines. Best to just leave it be.
16. Human Being ft. Tuface & Sound Sultan: First. True stuff of legends. Second. The best record on this album. Third. Message clear. Fourth. Nobody better than 2face & Sound Sultan to nail it.
17. The End/The Chairman ft. Oritse Femi, Frank Edwards & Nanya: I'm of the verge that Oritse Femi stole plenty shine on this track. Frank Edwards didn't exactly come through with his signature pitch sounds until the end and Nanya was relegated to doing background vocals? This closer will earn M.I a couple Oprah-style hugs. "Good for you Jude, good for you!"
I find M.I's actions in the build up to this release, quite intrepid. But errr, although M.I used his masterpiece to herald a carefully selected few with a variety of talents, the exhaustive work with 26 features puts a heavy question of his sole abilities. At best, his efforts deserve an A for audaciousness, still there was a void created of who credence should be given to especially on tracks where he got served on a platter by his supporting acts. I dare say, arguably though, that The Chairman can wrestle for the title of the industry's biggest album in 2014, a sentimental blackmail because he is Mr Incredible and we'd waited (or he'd made us wait) four years for this. This doesn't go without saying that it's some fine quality stuff that can be whipped out anywhere and it'll hold it's own with a little prodding needed.
M.I had this whole thang totally figured out and well planned all this while. In my opinion. Having to bare all his emotional selves;  bruised, happy, angry, depressed, repressed, tortured, tormented… and in their real elements but look where it's got him standing now. The album is kick a** – coming through only by a flash stroke of hope (luck, I mean).


Rating – 2.5/5
Reviewed by Jim Donnett
@jimancipation