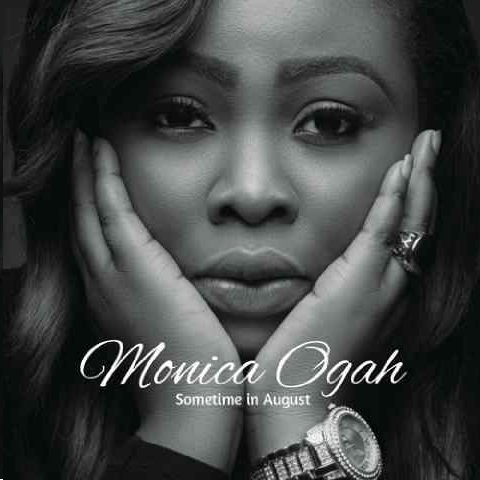 Artiste- Monica Ogah
Album – Sometime in August
Features – Chidinma &Wizboy
Producers – TY Mix, Wizboy, Del B, Silvastone, J Sleek & Suspekt
Running Time – 41:58
In Nigeria it is not very often that a reality show product releases an album, so there is cause for celebration as Monica Ogah (who stole hearts with her emotive rendition of 2face's 'Only You' at MTN Project Fame Season 4 and went on to win the show) announced the release and launch of her debut LP on the very platform that brought her fame. Armed with an engaging title 'Sometime in August' not-forgetting a handful of hit-makers and guest artistes; the seasoned vocalist comes off as a work-in-progress. 'Sometime in August' sees Ogah employ her raw pipes to treat regular subjects of love, hope and fun. It is unfortunately desperately haunted by the ghost of unoriginality and un-discovery of her sound. The straight to the point 11-track piece might not kick her to the realms where singers with her level of vocals are, like Seyi Shay and Yemi Alade but will undoubtedly put the song-bird on track.
How she fared? Check out our track to track review:
1. Tomorrow: Brilliant album opener. Carrying the message of a better tomorrow, Monica sets the pace with 'Tomorrow'. Groovy yet inspiring.
2. Body Hug feat. Wizboy: Produced by high-life royal 'Wizboy' who also features on the number, 'Body Hug' serves as 'Sometime in August's lead single. The song led by Monica sees the duo flirt on a rich high-life instrumentation filled with drums, synth and strings as they compare the love they share to 'Body Hug'.
3. Suddenly feat. Chidinma: The third groovy cut is plagued by the strikingly production similarities it shares with Kcee's smash hit 'Limpopo' which is also produced by Del B yet Monica manages to stand-out with 'Suddenly'. Assisted by friend and fellow Project Fame winner 'Chidinma', the duo sings sassily about becoming the centre of attention overnight, delivering what might be the album's boldest moment. Monica once again leads the songs making Ms. Kedike's near-empty appearance almost unnoticeable.
4. Window: A weak attempt at crafting a reggae number. Smooth singing and dynamic delivery but 'Window' drags and sounds a bit dated. Nice album filler still.
5. End of Story: Ms. Ogah and Del B have some sort of musical chemistry going on. 'End of Story' shows promise, reggae experimentation with afro-pop beat she sings about ending a relationship due to her partner's short comings. The beauty of the groovy song is made clearer when she starts singing in a native dialect, she might end the relationship but she should not stop singing in her native tongue. Magic!
6. Below: Monica lends her pipes to attack a 'J. Sleek' formulated afro electro-pop experimentation on 'Below'. After the commanding first verse she sings; "Let me show you, how to konko below/Jeje dey konko below", continuously over the pounding kick and sythm on the dance delicacy. What would have been a glorious stop on the LP declines as the bridge kicks in filled with harsh screams and belts owed to poor engineering/recording nonetheless if you are opportune to catch Monica serve this cut live, you are in for a treat.
7. Oleya!: The seventh cut follows the trend of 'Below' as Monica attempts to dish another dance number and succeeds. The stellar song starts with a chant before Monica's empowering vocals pave way for the progressive anthemic and tribal chorus. Her native tongue also features in the celebratory song to drive the message home, not over produced yet boasts enough kicks, sythns and timbres to make you nod.
8. I Wish Say: "Employers dey find the people with experiences, if you no get job how you go get experience/Our graduate dey ride okada…"; the Project Fame belter cries owing to the pain she feels because of her's country situation on a emotive island/soul influenced conscious number. 'I Wish Say' has an Amy Winehouse feel , with an easy sing-a-long chorus and light production hence highlighting Monica's voice and message we have a winner. 'I Wish Say' is that song that many singers try to create to boast of a conscious song in their discography but fall from the tree yet Ogah manages to fall close to the tree.
9. Nke Gi (Yours): Monica tries to convince her 'baby' to stop over having second thoughts on 'Nke Gi'. Praise worth afro-contemporary rhythm and blues album song.
10. Because of You: The tenth stop is basically crafted from gospel titan Mali Music's hit single 'All I Have To Give (Forward)' off the album 'The Second Coming'. 'Because of You' borrows heavily from the Mali Music signature number; from melody to arrangement, practically 80% of the love declaring cut is cut from 'Forward'. Affirming the laziness and static nature of the album, Monica manages to wow and delivers a decent vocal showing reminiscent of Omawumi at some points; overall she soars like an eagle.
11. Adanu: 'Sometime in August' closes with 'Adanu'. Bearing a very similar progression, Adanu carries the same message as its predecessor but it more original. Expect the exceptional background vocal layering

Reviewed by Ogaga Sakpaide (@ogagus)