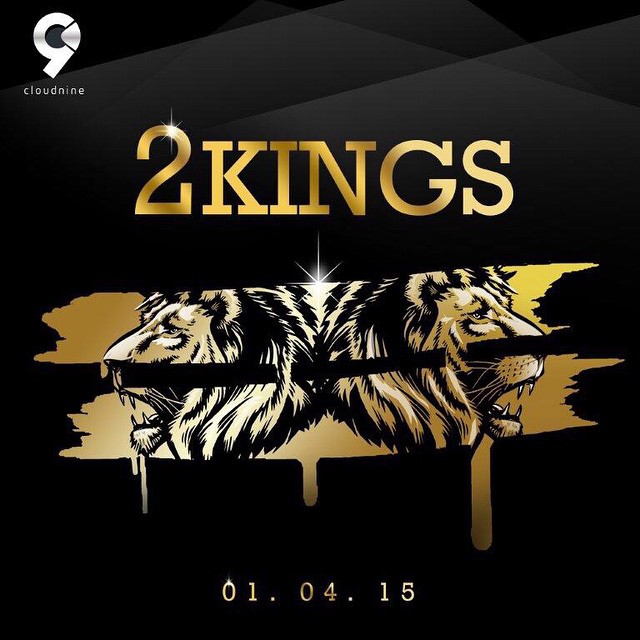 Artists – Olamide & Phyno
Album – 2 Kings
Features – Lil Kesh, Wizkid, Storm Rex
Producers – Pheelz, Young John, Major Bangz, B.Banks
Platform – Cloud 9 Music
Running Time – 37:28 mins
I can vividly recall my college days, how I sat through sweat rounds of endless arguments, tough back and forths watching men take sides on who's a better rapper – Olamide or Phyno? So now that they've released a joint album together, can we possibly rule out the argumentative factor seeing as they subjected themselves to a healthy compete? But hey! If any doubt, one thing clear is that '2 Kings' is the shiii. No, it still didn't do much to revealing who's a better rapper of them two but the stand out factor would be that Olamide and Phyno spared no ammo when they suited up for their gun duel on the battle field of rap.
It starts off with Cypher leading the LP's tracklist and was the only production by B.Banks. Olamide and Phyno lace their indigenous takes on the bars in turns with both rappers exuding appreciable confidence and not outdoing each other in a clear context. Although it's in my opinion that Phyno pulled all the score points. His composure gave him the upper margin. Koka Koba makes me want to retract that statement considering the impressive wreckage (Miley Cyrus style) Olamide does on the record. He owned almost three minutes of record play with his Drake-styled delivery (the vamp to the hook though). Phyno is proof that one doesn't need an entire track time to show his fine stuff. A third verse is just enough.
When I first heard Nobody's Fault, I had to check my playlist to be sure it wasn't shuffling. Pheelz produced that song and those sounds? Dem no be hia o. The retro style instrumentals are quite the welcoming feat and it's anthem-esque rhythm samples some sweet ol' pop grooves of the early 90's. The thirst behaviour of both rappers on the track can be likened to those of a vampire with bloodshot eyes as they drop heavy lines like arrows launched from tied bows. Phyno even dared to acclaim they're the only rappers living above the law. Like? Again, I say Pheelz is underrated. Very much. In the same vein, Major Bangz commands respect as such. God Be With Us has elements of Funk. Phyno floats easy on the electro riffs and Olamide is his ever witty but jocular self.
Ladi is the first of tracks to introduce a swing on 2 Kings. The beats have somewhat become a Young John signature, you just know it's him when you hear it. Phyno keeps finding newer ways to impress with his lyrical composure. It's very riveting! Lil Kesh may have found his thang with this school kid approach. It adds this special hippy feel, and then Olamide who you can't almost tell apart from Lil Kesh wrapped up their tuneful banter. Phyno's Une equally requires some swing action. The musical melody falls in a cross genre of afro, rap and ragga. Very tricky something Major Bangz whipped up here but trust Phyno to always live it up. Une symbolizes the test of a man's strength in handling something 'physical'… just ask Phyno if you need further clarification.
Have you heard Olamide on reggaeton beats? Well Pheelz made it happen on Real Nigga – a very smooth dance hall jam that had Phynofino and Baddo gliding effortlessly on it. Phyno did some good bits with his vocal impressions on the hook but maybe a Patoranking or Burnaranking wudda done perfect justice. Speaking of which, Wizkid is one superstar who's worth every brag. Forget his delinquencies, guy knows his stuff. Confam Ni sounds pretty much like a Wizzy kinda joint – afrobeats and sway. The full effect of a baddo x wixxy synergy wasn't toned down, they rather opted for something different; exceptionally chill but yet clubby in it's melodious feel. The LP winds to an inspiring close with the last tracks Carry Me Go and For My City. The former features Storm Rex – the diva who slays loco style – and with her beautiful high tenor. Carry Me Go is not one of those love song stereotypes that we've become used to, still it aptly fits the purpose of events that the Ibos call Ilu Nwanyi and Igba Nkwu. The Pheelz-produced track has a very rich Ibo high life flavour with extra saccharine.
For My City joins the list of those hustle streets anthem where those who made it pump their fists in the air and holler out loud as survivors that they are. Olamide depicts his hood roots when in a dramatic switch, he goes from bespoke vocals to Bariga champion. It's utterly amazing how western sounds marinade well with local influences like indigenous rap. I think one of it's beauties is that it's such a creative sport and can be applied to just about anything. R&B, pop, house, afro, dance, reggae, folk, contemporary… you name it; Olamide and Phyno will bring it so good that you can take it to the bank and cash it out, literally. While sediments remain unsettled about their prominence as local rappers, they've succeeded in brewing very classy stuff from out of 2 Kings. The album is fun and shows the mind versatility of both acts – Olamide trying out the Ibo dialect, Phyno doing same with Yoruba, fusing in a mesh of sounds from popular genres, language transitions that do well to almost defying tribal barriers and with lucid images of aspirations that will ultimately be.
The hip-hop culture suffers because first, we're yet to deeply comprehend and have a firm grasp of it then secondly, the rapid growth of borrowed influences tend to stifle it's break out. But 2 Kings is more like the battle axe, crafted and fashioned for the reawakening purpose. Olamide and Phyno broke the fetters and toed in the direction they reign supreme as kings. Thus as dawn approaches, one can only stay earnestly expectant for what's next. Who's picking up the baton or will it be left lying on the floor?
Rating – 4/5

Reviewed by Jim Donnett
@jimancipation