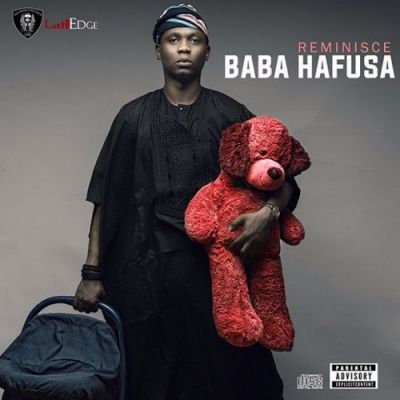 Artiste – Reminisce
Album – Baba Hafusa
Guest Appearances – Sojay, Sean Tizzle, Phyno, Olamide, Ice Prince, Vector & Sossick
Producers – Jospo, Tyrone, Sossick, Chopstix, KimzBeatz, Young John, D'Tunes & Sarz
Label – Les Roses Rouges/Edge Records (2015)
After the breaking into the music stratosphere with his debut album "Book of Rap Stories", rising higher and digging deeper with the sophomore "Alaga Ibile"; Reminisce seeks to make a statement with his third studio album titled "Baba Hafusa".
Did Reminisce take his sound to another plane? No! But he served a strong LP, showcasing his strengths without taking risks and growth without provoking deep emotions. "Baba Hafusa" sees Reminisce in his comfort zone from a lyrical and production view.
Digest our track-to-track review for a deeper insight;
Grind feat. Sojay: "Baba Hafusa" album opener is an emotional Tyrone produced street motivation rap-sung featuring the honeyed vocals of ex-Trybe Records tenor Sojay. Now signed to Reminisce's label, Sojay led majorly by a piano which builds up to a fuller and rich clapping instrumentation sings, "I've been grinding all my life yeah so that I can be better/I dey hustle everything wey I dey get yeah/I pray to God so I fit make am out here." The dramatic instrumentation allows Reminsice to convincingly and confidently deliver his "hustle" inspired lyrics in grand style.
Baba Hafusa: The album's title track "Baba Hafusa" is the second track on the LP; it can be described as a sure head bumping and fist pumping celebratory street hip-hop banger.
Saida: "Saida" is a definitely a weak link; as "Alaga Ibile" experiments with high-life once again in his discography but this time fails to deliver desired result.
Skilashi: Sarz produced "Skilashi" picks up from where the second track "Baba Hafusa" left off. A slightly weaker street banger but is fated to get a party started.
Gbamilago feat. Sean Tizzle: The second collaboration of "Baba Hafusa" brightens up the LP's track-list, as Sean Tizzle joins Reminisce to create a super decent high-life cut with production credited to D'Tunes. "Gbamilago" is infectious, radio friendly and boasts a groovy instrumentation; in summary it is a potential hit.
I Need A Girl: Reminisce shows depth and lyrical prowess on "I Need a Girl" as he intelligently raps about an unfaithful spouse. "I Need a Girl" is one of the exceptional tracks on LP but it would have been better he employed the services of Sojay or a seasoned vocalist on the hook instead of pushing his vocals and unpleasing the
Olomoge: Another high-life inspired track that falls very far from the tree.
Local Rappers feat. Olamide & Phyno: Reminisce enlists Olamide and Phyno for a massive track titled "Local Rappers" that leaves much to be desired. Created to celebrate the astounding success of indigenous hip-hop in the Nigerian music scene, "Local Rappers" features a mammoth-sized beat and hook produced by Tyrone but the trio fails woefully to deliver an iconic piece as expected.
Tesojue: Reminisce shows his dirty side on "Tesojue", the hit lead single of the album. On the attention-demanding track, the self-acclaimed layon brags about his love-making skills to impress his love interest.
Alagbara feat. Sossick: Assisted by Sossick on the production side and with an enchanting hook, Reminisce takes us to the religious realm on "Alagbara". Reminisce reminisces and acknowledges the unending nature of God's blessing.
Otiya: Finally a decent solo high-life number on "Baba Hafusa".
Kokoshi: Decent filler about the ladies to satisfy his core fans.
Busayo ft. Ice Prince: Ice Prince brings the "Fire of Zamani" as he couples up with the host to deliver a banging heavy rap number titled "Busayo". The duo exchange bars, doing it for the ladies at the same gliding on the Young John crafted beat.
Nothing feat. Sojay & Vector: Sojay makes a second appearance on "Baba Hafusa" alongside Vector on the mid-tempo "Nothing". The Sarz production ensures that the trio shines.
Outro: The beat of the closing number is sick. Nonetheless Remi closes the LP as he thanks the fans, gives Sojay a shout-out and tells the listener to expect his fourth album soon.
Let It Be Known feat. Sojay: A stellar cut with Sojay found at the wrong place at the wrong time.

Reviewed by Ogaga Sakpaide [ @Ogagus ]
Ogaga Sakpaide is a music enthusiast and digital public relations expert.
---