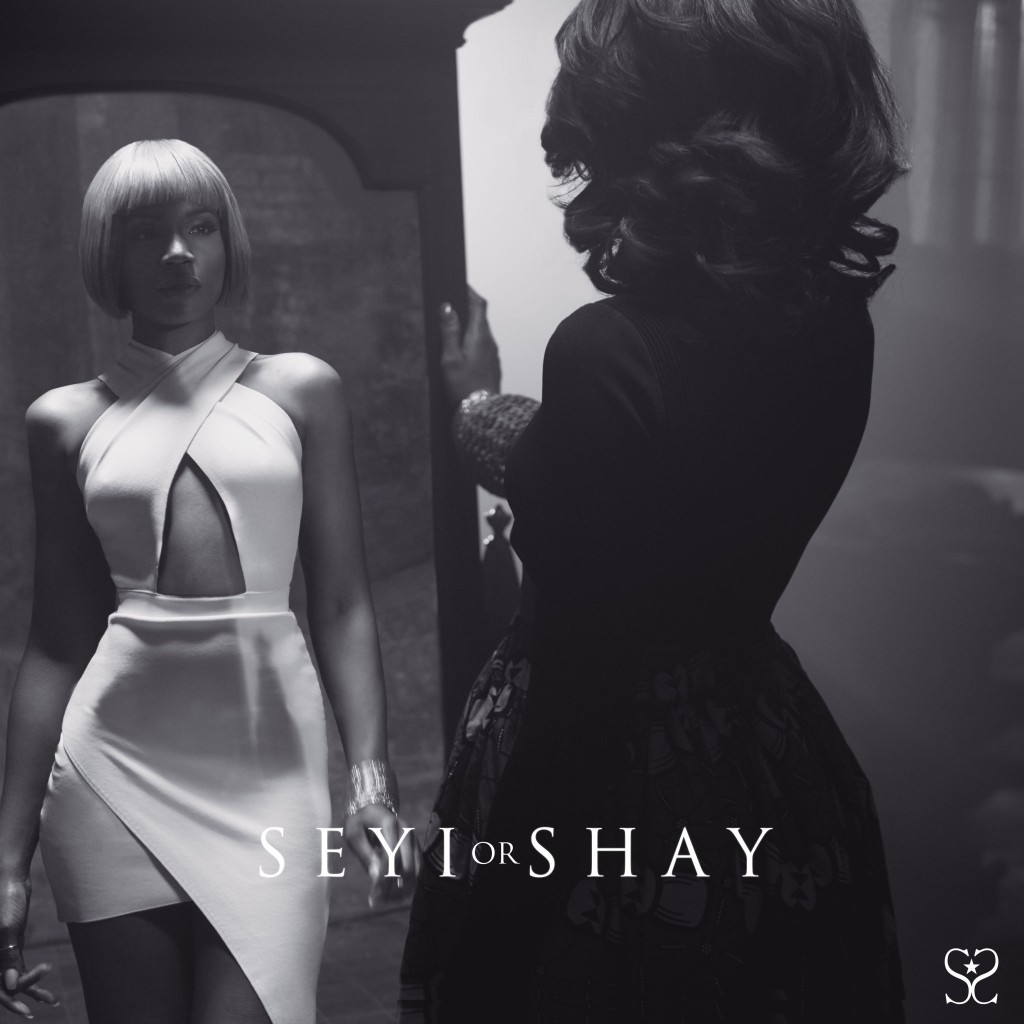 Artiste – Seyi Shay
Album – Seyi or Shay
Guest Appearances – Cynthia Morgan, Phyno, Sound Sultan, Wizkid, Patoranking, Shaydee, Timaya, Femi Kuti, D'banj, Iyanya & Banky W
Producers – Mike Okoigun, Harmony Samuels, Jerome Williams, Otee Beatz, Legendury Beatz, Tee-Y Mix, Pheelz. Dokta Frabz, Johan Hugo, Princeton Beatz, Del B, Phame, Spax, DB Records
Record Label – Stargurl Limited (2015)
Duration – 01:03:48
Ex From Above singer Seyi Shay has dissociative identity disorder as she combats two identities in her drastically over-due debut album "Seyi or Shay". After countless singles and management changes; "Shay", a fierce, sassy, eccentric, edgy persona manifests to counter, "Seyi", the traditional, homely, sultry, sleek, sexy diva exhibited in her debut single "Loving Your Way". Diamonds are formed under pressure; with Tiwa Savage championing the afro-pop/beats genre and Yemi Alade governing the world and highlife music realm, Seyi did not break, rather the contralto created an alter ego to aid her find sonic balance between her western music influences and afro music to ensure that her "slayage" was supreme.
Did Seyi Shay deliver on her debut album? Yes, it is what the career doctor prescribed! Although Shay painfully dragged tons of male afro-pop giants to bless the set with "street credibility" at various stops; Seyi shines like an "Irawo" vocally, tackling various societal issues facing females and serving a near-perfect blend of ragga, afro-pop and highlife. Amidst the constant struggle between the different characters of "Seyi" or "Shay", she tackles each number with emotional precision, skill and exceptional singing. Seyi Shay might not have the most expansive vocal range or be a vocal powerhouse yet she one of the most technical vocalists Nigeria has to offer.
For deeper insight on the album, digest our track-to-track analysis of "Seyi or Shay".
Intro: Having dealt with her alter-ego first hand, Seyi introduces us to the care-free Shay, so that we are not caught off guard by her larger-the-life personality.
The Mic: Over a pop rock inspired instrumentation, Shay talks about Seyi's struggle and the constant pressure she faced from society to rise to the occasion and succeed; she also gets cocky about the success she has attained as she sings, "I got the mic now, I guess I'm famous…I won't use a gun, I kill them with my mic now, right now.." on the electronic guitar enriched chorus.
In Public (feat. Cynthia Morgan): Attention demanding synths, claps and kicks explode as Shay and the controversial Cynthia Morgan sing about the battle of not being the "side-chic" and wanting to be seen "In Public" with their lover. A perfect collaboration simply because Cynthia Morgan has the same persona with Shay.
Mary (feat. Phyno): Seyi Shay enlists indigenous Igbo speaking rapper Phyno on Otee Beatz produced hip-hop influenced "Mary". She sings about the song's character, a girl with a bad reputation; not the strongest song on the set but it just slides in. It is very safe to say that the said Mary, Shay sings about is Marijuana.
Right Now: The sultry "Right Now" is a mid-tempo reggae/R&B fusion that expresses the singer nostalgia about a former lover. She takes the bull by the balls proceeding to tell the said lover; "Touch Me Now, Right Now, now, now…" on the explosive chorus. She wants to recreate the relationship that happened in the past; that said the sexy number sprinkled slightly with Pidgin English is a lush ear candy.
Healer (feat. Sound Sultan): Seyi plans to heal the world with love accompanied by Sound Sultan. Just like "Right Now", the ragga inspired "Healer" produced by Harmony Samuels is a sure winner.
Crazy (feat. Wizkid): Shay takes centre stage, as the seventh track kicks in. A thumping high-octane afro-beat duet with Wizkid, on the production angle by Lgendury Beatz.
No Vacancy: The Tee-Y Mix produced "No Vacany", sees Seyi return to the musical stylings of her debut singles "No Lele", "Loving Your Way" and "Irawo". Seyi sings about out-growing a past lover from a hazardous relationship who is seeking to return. This is a captivating afro R&B gem, packed with brilliant vocal layering, background vocals and ad-libs. "No Vacany" is a personal favourite from the LP; it showcases various shades of Seyi's vulnerabilities and strengths.
Pack and Go (feat. Olamide): Aimed at gaining Shay, a street-hop base and give the LP some street cred. Olamide guest stars on "Pack and Go". Despite the annoying use of effects on Shay's vocals, "Pack and Go" talks about domestic abuse in an interesting manner. The returnee vocalist wants out of an abusive relationship, while the street-hop titan wants to make it work; in all the Pheelz produced rap-sung track
Murda (feat. Shaydee & Patoranking): Easy, breezy, and beautiful! Seyi Shay feeds off Patoranking ragga style and Shaydee's distinct vocals to deliver a clean mid-tempo summer ragga number.
Higher: Seyi flips the coin as she brings her stellar pipes, hunting instrumentation on a powerful message that rises to unexpected heights vocally and musically. "Higher" showcases Seyi's amazing singing abilities, even more than the previously leaked "Air Brush". Spiritually themed, "Higher" is arguably "Seyi or Shay" brightest moment.
Everlasting Love: Although it becomes likeable when not fully paid attention, the lukewarm poppy "Everlasting Love" drops the bar.
Killing Me Softly (feat. Timaya): Reworked and slightly different from the version released as a single in 2013; the album version of the Timaya assisted "Killing Me Softly" is very likeable and easy to digest. "Kiling Me Softly" glides into the set without hassle.
Church (feat. Boj): Seyi plans to take her haters and enemies to the church with this infectious, smooth and groovy mid-tempo duet with underrated alternative artiste Boj. Seyi exercises restraint allowing the calm melody and message do most the work although we would have loved to hear Seyi go big on the chorus like she did on "No Vacancy" or "Higher".
Loud (feat. Femi Kuti): A Seyi Shay and Femi Kuti collaboration sounds fabulous on paper but not so much in reality. "Loud" is average at best as Shay employs the eldest son of afrobeat pioneer Fela Kuti, to bless her afrobeat inspired track with his Saxophone; Kuti delivered but Shay's lyrics and delivery missed the bull's eye.
Tina (feat. D'Banj): Featuring D'banj to tap into his fanbase has it pros and Listeners might end up being torn between D'banj drowning Seyi with his vocals and the beauty of the harmonica enriched highlife instrumentation. On "Tina", D'banj fails to compliment Seyi's vocals or arouse any goosebumps.
Love Wan Tin Tin: Seyi gets back on her feet with a racy delivery on "Love Wan Tin Tin". Where did you go? The 3 minutes R&B and high-life fusion is short and sweet. "Love Wan Tin Tin" is the album filler the doctor prescribed. More Seyi and Tee-Y Mix please?
Jangilova: Ending the musical ordeal is the Del B produced high-life romantic number "Jangilova". Seyi's shakes off her western musical styling and sings like a foreigner trying to impress a villager and tries to embody the "highlife diva" on "Jangilova". Not the most epic album finale to be experienced, yet a Seyi Shay and Del B combo is a meal not to miss.
Right Now (Remix) [feat. Banky W & Iyanya]: Iyanya and Banky W did not push right now to new boundaries; the original slays this remix. Camp Shay should have treated us to bonus tracks from previous released singles richer than this so-so remix; they could have picked from "Ragga Ragga", "Chairman", "No Lele", "Loving Your Way", "Irawo" or "Air Brush".
Rating: 3/5

Reviewed by Ogaga Sakpaide [ @Ogagus ]
Ogaga Sakpaide is a music enthusiast and digital public relations expert.
The thoughts expressed in this article are solely the author's. They are not in any way connected with, or a representation of tooXclusive.com
---