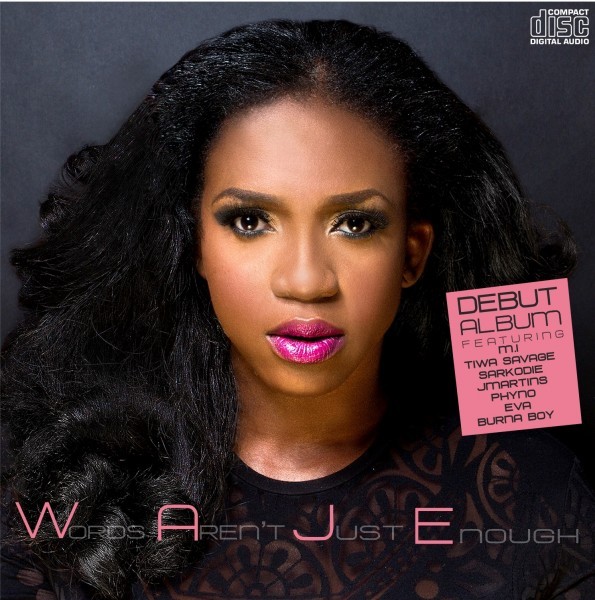 Artiste- Waje
Album – W.A.J.E (Words Aren't Just Enough)
Producers – Del B, Spellz, E-Kelly, Sizzle Pro, Cobhams Asuquo, J. Martins, Pappy J, Leriq, M.I
Guests – Tiwa Savage, Burna Boy, M.I, Phyno, Eva
Label – Waje Music Entertainment (2013)
Waje made fans and the music empire wait tirelessly for her debut album; but while at it, the diva worked her way to the top of the Nigerian music food chain and earned her placed as one of the best and highly respected female vocalists in the industry. A little reminiscent of her previously released body of work 'The Singles EP' which containing tracks ranging from motivational 'So Inspired' (which features Muna) to the R&B gem 'For a Minute' to the poppy 'Kolo'; 'W.A.J.E' which is an acronym for 'Words Aren't Just Enough' boasts a number of mid tempo ear candies crafted by experimenting with electro, afro-pop, high-life, world, R&B, jazz, alternative and soul music. Now we access what the award-winning songstress took what seemed a lifetime to cook:
1)  Oko Mi: W.A.J.E opens with the 'call and response' 'Oko Mi' majorly built by Del B. The opener is a solid single song (even though the verses are not as magical as the chorus), but the number builds up to a grand climax as Waje soars on the wings of the stellar production, while proclaiming that her man is 'sure'.
2) Onye (feat. Tiwa Savage): Mavin songbird 'Tiwa Savage' features on 'Onye'. If you were expecting the duet to be a power ballad, I bear bad news and good news. You already know the bad news but the good news is that the collaboration is a memorable, catchy mid-tempo and dancaeable track heavily with high-life music. We predict this will be the next single.
3) Ijeoma: Think an eastern ethnic electro-pop female inspirational number, think 'Ijeoma'. Waje glides effortlessly as she belts out lyrics in both English and the Igbo language as she aims to empower women, YASSS!
4) Fine Girl: Again picking the hammered lesson from Beyonce's testament, Waje preaches female empowerment on 'Fine Girl'. Just like the third track, she plays with the electro pop while making it known that girls run the world or should we say pay the bills. Commendable, and fueled with energy, we give this a pass mark.
5) Grind (feat. Burna Boy): We thought of calling the paramedic not because of Leriq's stellar production, but imagining a scene with Waje grinding on Burna Boy almost stopped oxygen from reaching our brain. Flirtatious, sweaty, sexy and a slightly pleasing to the ears, only we would have opted for Yemi Alade or Seyi Shay as the female lead.
6) Time Na Money: Our personal favourite off the LP, is the afro hip-hop soul influenced 'Time Na Money'. We cannot recall when last a Nigerian female singer demolished a hip-hop influenced instrumentation, which is what Waje accomplished. Delivered convincingly with attitude and sass, Waje starts with a 'hiss', to tell him that she is tired of wasting time on love before wowing us with her ad-libs, runs and riffs…a guest rapper would have not been a bad idea.
7) I Wish: Produced by 'Alingo' producer 'Pappy J', is the guitar driven and reggae inspired 'I Wish' which also serves as the project's lead single. "Oh I wish that I didn't have a heart, say na only stone fill deep inside…", as Waje chants out her delicate heart, (incorporating pidgin to ensure it hits home) and the lush piano break-down in  the bridge seals the deal.
8) No Be You: Classic! Unarguably Waje's best vocal performance till date; might even be the best vocals from any female in recent times. The moving love ballad fits into the Motown era, and Waje's pipes meets the requirements to ace a number of that nature. This song will make you want to break down and wail with Waje especially towards the final seconds of the gem, when she puts her voice in full emotional throttle.
9) Higher: How to follow up a big song like 'No Be You'? The uplifting power ballad 'Higher' (which is also produced the iconic Cobhams Asuquo) is definitely the perfect choice. With stirring lyrics like "…cause I'm flying higher, take me through the wire, me I no go tire, take me through the fire, this is my desire, hold my head high…", the self-proclaimed 'African Soul Diva' and her voice, soar to unexpected and highly impressive heights. 'Higher' might be the most personal song on the album; the lyrics see Waje speaking about her dreams, achieving these dreams as well as fighting and defeating forces battling against her reaching the glorious end.
10) Black & White (feat. Eva & Phyno): A melodious revealing alternative rap tune with Eva Alordiah and Phyno as guests. Easy to listen to and perfect pleasure for the auditory system, with Eva stealing the show with her usual swagger as she sheds light on some dark issues, and Phyno shines also while addressing the same issues as Waje and Eva in Igbo and English language. "In a world of black and white pictures, your true colours must to show…" at this point we have to say Waje is a brilliant song-writer.
11) Only You (feat. M.I): Opening with a hilarious skit, a catchy afro-beat production, crafted by the talented 'M.I' starts the foundation for the mellow love tune 'Only You'. Although it might not be the strongest link, Mister Incredible wows with his production which features his vocals and he also drops a few bars on the beat.
12)  Na the Way (Remix) feat. Sarkodie & J. Martins: The mid-tempo high-life number was originally featured on Waje's first EP. The remix has Ghanaian heavyweight rapper 'Sarkodie' as well as J. Martins, (also responsible for the groovy production) featured on it. Very similar to the original, Waje and J. Martins showcase their creamy mid-range and Sarkodie brings his tongue-wagging new rap verses as additions into the new mix.
13)  No Tomorrow: Sadly we stumbled into an electro-pop dance filler created with the dance music at heart. We can easily throw this song in the dust-bin without having second thoughts.
14)  One More Time: Ending on a high note, as W.A.J.E closes with the David Guetta-esque 'One More Time'. Love is a battlefield and Waje delivers like a warrior queen of the dance-floor; armed with her expansive range she attacks the progressive dance pop instrumentation like there is no tomorrow wailing to her lover "…We gotta try one more time…"
… We have to listen to this album 'one more time' whenever we get to the end.
Unquestionably we cannot crown Waje as the African Soul diva but W.A.J.E is a revolutionary debut LP for her career worth every year of the wait.
Reviewed by Ogaga Sakpaide [ @Ogagus ]

---
---