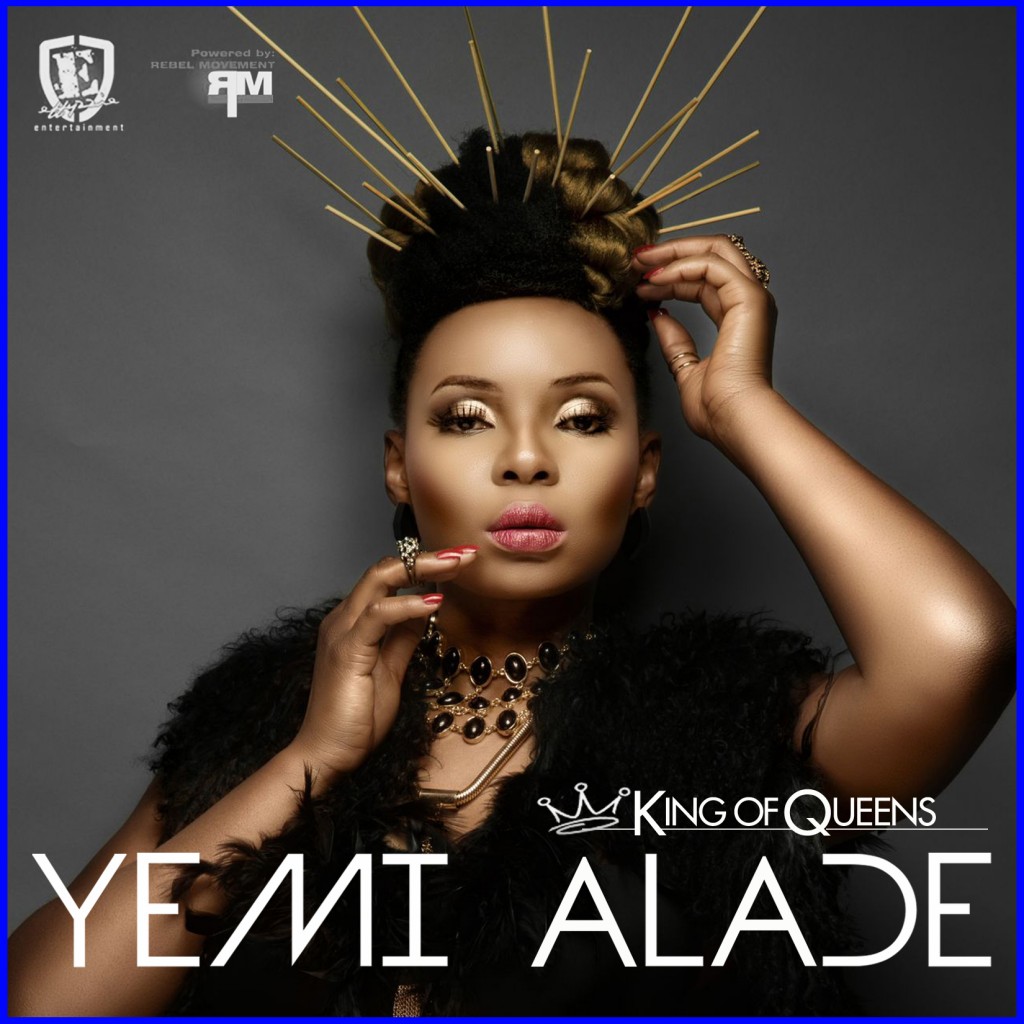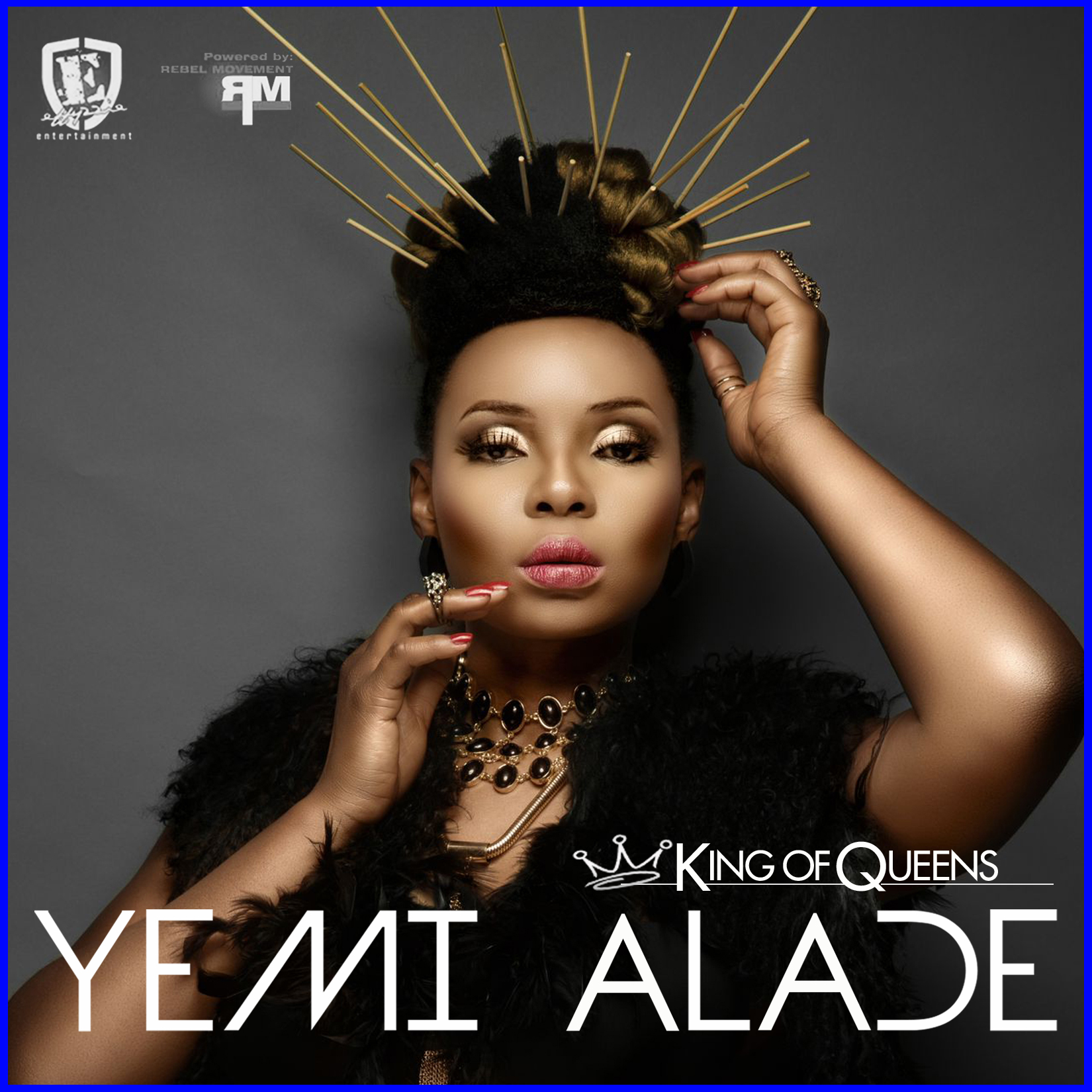 Artist – Yemi Alade
Album – King of Queens #KOQ
Features – Bovi, R2Bees, Phyno, Chidinma, Dil, Selebobo, Diamond
Producers – Selebobo, Gospelondebeatz, Dil, Young D, OJB Jezreel, Sizzle Pro, Shady Bizniz, PhilKeyz, Mr Chido, Fliptyce, EL MCEE, Beat Nation
Label – Effyzzie Music Group
Running Time – 1 hour 10 mins
Yemi Alade came into prominence when she won the Peak Talent Show in 2009 and shortly after that she released her first single, Fimisile featuring eLDee. Yemi Alade has thrilled fans with lovely songs and more is highly anticipated in her debut album King of Queens. The album title suggests her kinging nature having to be happy and comfortable with who she is (or has become) regardless of experiences that she's been through. Yemi Alade believes that if you have reason to love… or not (born out of life's experiences), then #KOQ is for you. At Yemi's debut level, titling the album King of Queens hitherto advocates that she's ruler and perhaps over other females artiste in the industry. Or maybe not exactly but still, that's quite huge a title to self proclaim, if you ask me. Care to find out? Leggo!
#KOQ begins with a strangely hilarious skit, which features Bovi the comedian that introduces the popular hit single Johnny. It's pretty much the same single that revolutionized Ms Alade's musical career. The album continues with the reggae Why Me. King Yemi shows her versatility on the reggae beat. Although it's a love gone wrong song, it has a nice tune and was well delivered. Next is Pose it features Ghana's R2Bees and it was hard to shake off the feeling that Selebobo's Selfie inspired this song… Just saying! Duro Timi is next on the playlist. Mehn! Ms Alade murders Sizzle Pro's electro sounds with her on-point vocals. Those harmonies and her crescendos? You literally won't stop nodding your head. It's pretty much the flawless effort on #KOQ. Singing about a lover she misses but just isn't able to hit the call button, explains the concept of the Pop/R&B joint Catch You. Shady Bizniz' production is clean as he does a nice job on the beat and then the vernacular slangs like kasala and wallahi tallahi makes the naija bad guy almost feel-able on the song.
The interlude K.I.N.G (KOQ), Yemi ascertains her kingship as she hollers out "all hail the king" on some fine Fliptyce hip-hop beats. Not bad. Money is one for the clubs. She might be king but who doesn't need more money? That aside, her lack of genius in the writing was made quite obvious (no thanks to the repetitions) but you'll enjoy this one for the beats alone. Still on the money, I Like is a feel good song you'll enjoy listening to. The Hausa vibes 'aye yaro' are nice too but guys, you wouldn't love your bae to listen to this song. Why? Find out for yourself. Phyno opens Taking Over Me. See groove! Everything about this song just feels right. It's perhaps the most effective collaboration on #KOQ. Sugar doesn't exactly relay any distinct meaning but if you want to dance, the Philkeyz-produced track will get them ladies to shake those sexy hips. King Yemi and Ms Kedike whip up another club jam, Selense. This tribute to well-endowed queens will get you to display your dance skills. Fall In Love reminds you of the Destiny's Child in their early millennial era. No doubt, Ms Alade can saaiiinng! The soaring percussion and strings are something else. I can't explain.
Temperature continues the love-theme that #KOQ just entered. It's a beautiful duet with Dil who also produced the track. Yemi's command of the Igbo dialect is impressive. #KOQ steps up to an afro pop cum high life level with Kissing. To be very honest, it's a there-there kinda song. The beat clearly promotes the song. Tangerine reveals this enviable chemistry that Yemi enjoys with singer-producer, Selebobo. You (still) love this song, don't you? Enough said. Daddy Oyoyo, seriously Yemi? It might not be my place to say but this sounds very much like an unfitting God-appreciation song. Aside infusing the popular gospel chorus "Jesus na You be Oga", I wonder if she was truly inspired by the Holy Ghost? Nah mehn! This chic could have done way better. The French version of Johnny is pretty much the same only that she wows with her excellent command of Français. Good stuff! Kissing Remix features Tanzania's afro pop crooner, Diamond. Apart from his Tanzanian flavor, there's no difference from the original version. So can we still call it a remix? Hell-to-tha-NO!
#KOQ closes with Looking At Me. I can't help but agree that she pulled off a "Shabba" on this party jam and quite well too. Even more, there's a message on human equality and saying no to racism, which hopefully you don't miss. At this point, there's only one question drumming on my mind. Is Yemi Alade truly a King of Queens? It's not a bad debut to be very fair but Yemi not only looks like she's got better stuff to give, she's actually given better stuff in the past. Pressures and some careless choices might have swayed a couple of decisions on #KOQ. Notwithstanding, it takes more than a self-acclaimed title to wrestle music's big three divas (no names called) to the actual royal throne. You be the judge.

Rating – 3/5
Reviewed by aL Yhusuff & Jim Donnett
@aladin_yhusuff @jimancipation

"ALBUM REVIEW: Yemi Alade – King of Queens #KOQ", 5 out of 5 based on 1 ratings.
---