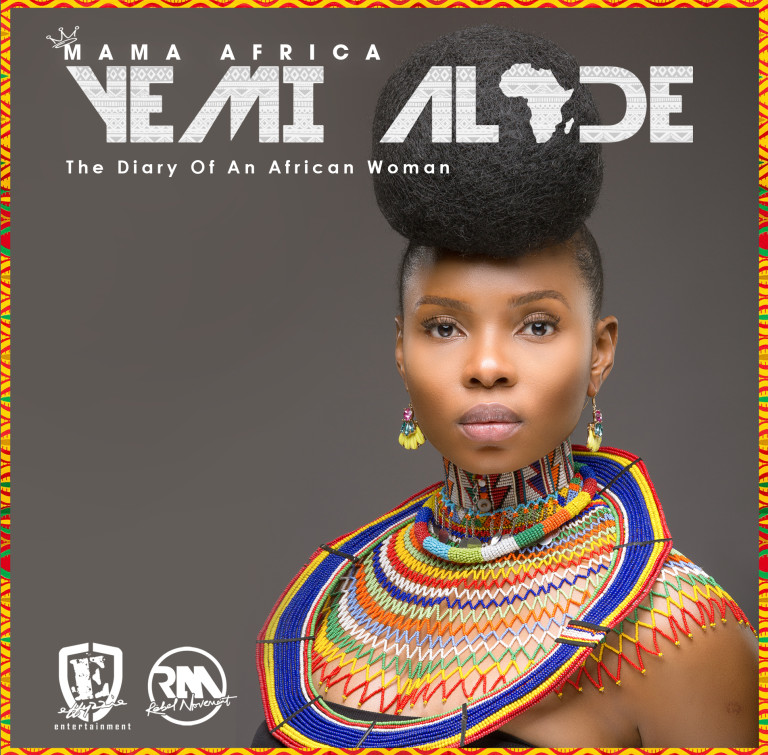 Artiste     –     Yemi Alade
Album     –     Mama Africa
Features  –     Psquare, Selebobo, Sarkodie, Rotimi Keys, Sauti Sol, DJ Arafat, Flavour
Producers –   Selebobo, GospelonDeBeatz, Masterfraft, Rotimi Keys, DJ Arafat, BeatsByEmzo, Mr Chidoo, Philkeyz
Label –            Effyzzie
Running Time – 54 Minutes
The reason for her naming her album "Mama Africa", isn't far fetched, it's simply due to her continuous travels all over African countries and maybe her absorbing some sounds from these locations (I stand to be corrected) having said that, we all know what African music is right… it just wants to make us shake our heavily yet delicately endowed behind and am guessing that was what Yemi Alade was going for. Her snicker inducing album title was an obvious nod to self-awareness in making sure her staggering pop career is pushed to the forefront once more.
We have seen Yemi star in roles that range from the heartbroken girl, to a 'No Scrubs' lady down to an all loved up lady before finally settling to be the mother of 'em all heart related issues with this new album. Perhaps she decided why go through all 'em issues and remain heartbroken when I can go the cliche way (put all your love into your work) and just thank God while also dancing the pain away.
Yemi's intriguing and inoffensive persona, which has been visible in virtually all her songs was no where to be found on this album. The production of the album does nothing for this beautiful artiste who had us dancing to Johnny, Kissing and the rest. The production did nothing to the sassiness and depth we have come to know Yemi Alade to have.
The album starts with the popular Nagode, which has been sang in a million other African languages. It suggests a rationale to stringing along other Africans who might be in doubt of how strong she has nurtured her artiste profile to become and why she deserves to be called mama Africa. The beat on this track is mellow, giving us a laid back, thankful yet party kinda feel, which was really just fine until she dived into track 2.
Tum Bum, a track I believe was her way of taking us back to our kindergarten days when we rummaged through the sands, playing 'mummy and daddy'. The beat was vapid which one can say is a poor attempt at holding our attention and reminding us that the sexy Yemi Alade is still somewhere in Africa. This track only had me yearning for the musical intelligence displayed on Bez and Praiz' Stupid Song. Yemi Alade, once more made it clear that she is indeed a strong woman and would not be played, so no tum bum tum bum.
Tonight featuring P-Square, yes, showed us the hair down and groovy Yemi whom I expected from the beginning of the album. She said it herself, '…it's been a long time since I came out to dance'. Production on this was poor as she sounded like she was trying so hard to keep up with the beat. Lyrics was lazy, not at all expected from this beautiful artiste. P-Square, brought their a-game on this, and in their mighty way, made sure that those of us listening to the track did not fall asleep on the dancing floor.
Kom Kom features high life maestro, Flavour. Only him could have helped salvage this track. From her upbeat Tonight, Yemi decided to slap us with a changing beat pace, making you lose control until Flavour comes on the mic. Again, another rendition and explanation as she is a no nonsense lover… show you are man enough to take care of her or just go sit somewhere dude!
On Baby's Back, mama decided to do a song to prove that even as she is mother hen, she can still love like mad. She further reminds us all that in whatever situation, she's got his back. Cool music, beautiful vocals and average lyrics. This track did a good job in lighting up the otherwise gloomy collection of the album.
Marry Me..oh well…..
Sauti Sol brought their soulful garnish on Africa. Beautiful song, beautiful collaboration on this one.
Ferrari was a successful attempt at proving that she is a diva, and only works well with the good things of life.Loved the production on this track. Beautiful and smile hugging lyrics.  If truly you love her you will show it by buying her a Ferrari. Yes, I love this one, good music and for that 3 minutes she tried to persuade me that all her promises of good music had not been squandered elsewhere but then she trashed hopes again with the next track.
Do As I Do is a fairly executed showoff at trying to be gangsta. Right off the start of this song to the Swahili version of Nagode, Mama Africa became a painful and heart breaking experimental journey spanning slow paced to vapid and finally, downright ugly. Her way of showing us that she can be a jealous lover, broken-hearted girl, material chic, mother hen to Mama-floor-stomping-Africa is tiring and way too much to process in so little time.. I mean she even tried to put a comic strip to it by doing a bit of rap with the popular Ghanaian sound on Kofi Anan..like really…why!!!!!!!!
Kelele ft Rotimi Keys, again truing to pull off the African sound could only make my heart literally cry out due to the morbid fear of suffering an heart attack and no one would notice as I was mute all the while listening to her unapologetic sad compilation of songs from the start of the album itself. Her obviously painful and hard attempt at trying to keep up with the pace and lyrics is downright insulting for an artiste like her.
Ego ft Sarkodie….nuff said about wanting your man to be fully loaded…..We get it, you are into all the 'My Man must be buoyant enough to buy me lunch or even a ferrari' we yaff hear…but biko Miss Yemi…'Say Baba' bawo…..ontop wetin na. If you are so into a man having enough to cater for your needs, encourage him and buy a fridge you can at least store your food in case he goes broke and you need food.
Mama: I guess if she omitted  a song like this, people would come for her, so her lame and lazy attempt at showering love on mothers (Who we all know deserve it all, like they are the ones that should even task us to come up with the most insanely creative words to describe their love for us) is….no need looking for the perfect adjective for this.
Dorcas: Another Johnny inspired track…but this is just the unnecessary version of that hit track. All I heard asides the name Dorcas was her using words that sounded like she was too scared to address the issue face to face and instead chose being  a Tonto Dikeh at an AY concert on this.
Nakupenda: Phew!!!! I can handle one last cheesy track about boy and girl loving ish…loved the vocals on this though. Amazing work on this. Her vocals here were so hungry and yearning for more ways to show off her vocal prowess.
Kofi Anan remix: That's it, an extra yard to lengthen my criticism of the original version, but huh…no. Nuff Said already right?
Having reviewed the album track after track I am tempted to ask if this is Yemi's way of telling us that she is tired and did not have the right amount of time to cook her music well before putting it out for consumption? Save for her vocal prowess and some few collaborations on the album, this album is a far cry from what was expected from this brilliant artiste. It was an unnecessary way to show that you care so little about the kind of sound you put out there. It was boring and Miss Yemi, truth be told, you have never been known as such.
Grade: 2.5/5
Reviewed by: Tope Delano