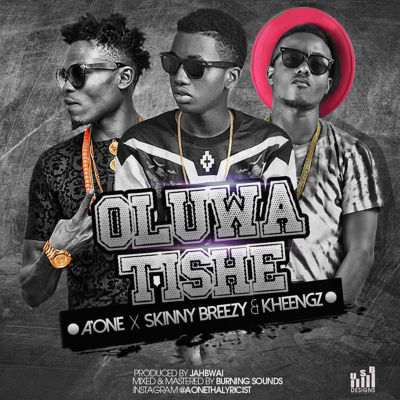 Let me know what you think of "A'One's"new single "OLUWA TISHE". All constructive criticism is welcomed, We immediately forward all constructive criticism to help build our artist in order to work harder in achieving their dreams of becoming superstars.
So thank you in advance for taking the time out of your busy day to push play and write down your thoughts.
New Music: A'One Ft. Kheengz and SkinnyBreezy – OLUWA TISHE
A'One is a fast rising rap artist from the north who made his first appearance into Nigerian Music Scene by participating in D'Banj's #TheKingIsHere Competition.
The young and talented artiste came into the industry playing his own kind of music, putting much creativity to showcase his uniqueness.
Now, he teamed up with tw?o northern rap titans; YFK's Kheengz and SkinnyBreezy on the track which he entitled 'OLUWA TISHE', produced by ace producer Jahbwai.
A'One – "Oluwa Tishe" ft. Kheengz & SkinnyBreezy

"A'One – "Oluwa Tishe" ft. Kheengz", 5 out of 5 based on 1 ratings.
---