Last Updated on Nov 18, 2014 | 15:08 by Jim Donnett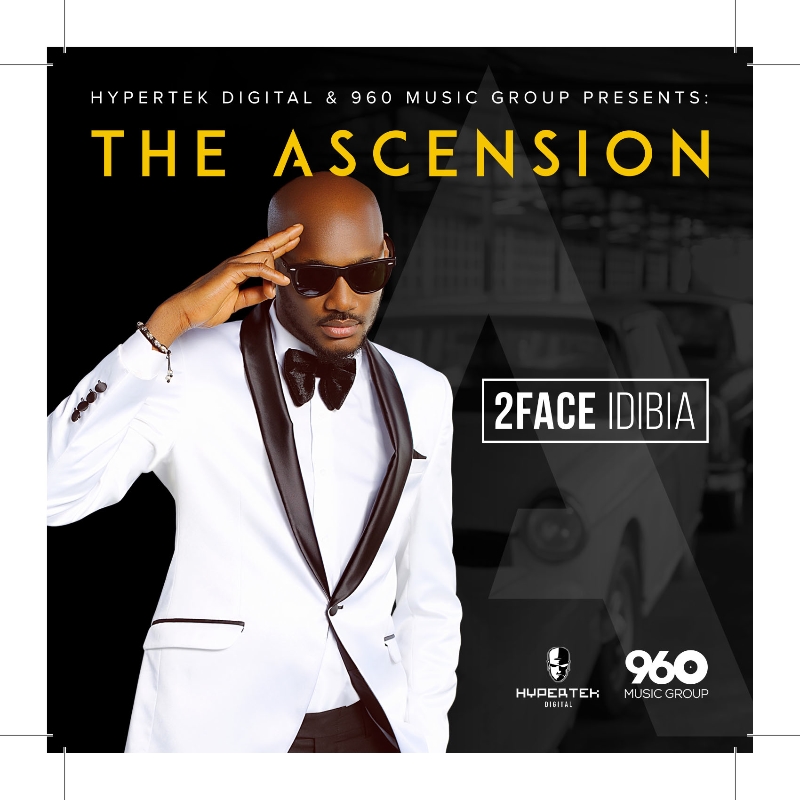 Artiste – 2face Idibia
Album – The Ascension
Features – Machel Montano, Vector, Iceberg Slim, Rocksteady, Bridget Kelly, Dammy Krane, Kim Almarcha, Shurwayne, Fally Ipupa, Sir Victor Uwaifo and Tony One Week,
Running Time – 65 minutes
Record Label – Hypertek Digital/960 Music Group (2014)
Ain't nobody else doing this business of music the way afro pop/R&B legend, 2face Idibia does his. Tubaba raised the stakes when he pushed himself past his limits on The Ascension album. New sounds, new collaborations, new concept… new everything, and the title fits perfectly because this new take to his music art is so not the usual. It's a gravitational shift away from the tailored style of making records that have become all too popular in the industry.
The genres in which the album was built showed how much room for diversity 2face had allowed. He's not resting on his oars having bagged the title of afro R&B king. He's launched into the deep in a new market by crossing international boarders whilst delivering with a flavour that keeps him endeared.
2face opens The Ascension with Machel Montano on Go – an all vibe and groove track that messes with your music mind, shakes your spirit and stirs up velocity flowing through the ends of your body. You may want to tread with caution here especially when blasting it's sound from a properly tuned system otherwise you may have damaged the repeat button before exhausting the album.
#Aproko is Tubaba's gift to all them Twitter haters and detractors. The track has the signature of beats savvy Leriq – loud claps, pounding kicks and an eclectic mix of sounds. Only 2face can pull off a melodious rant like this without sounding any bit pained or personal.
2face didn't miss out on the opportunity to deal his fans some chilling music. Holiday will not exactly be everybody's favourite but for those who wanna take a breather off life's worries, it can manage to do some justice.
I Can't Hear You with Vector is one of those tracks on the album that you just have to ask, what is this doing here?
It's an all strings affair on Best I Can Be. Tubaba swagged his lines off the beat and bass kicks. Iceberg Slim's decent rap delivery deserves an applaud for being the icing on this cake. When you add that with Rocksteady's vocal cut, you have all the cherry topping you need on this cake's icing. A live acoustic version would totally ROCK!
On the love-themed tracks, there's Hate What You Do To Me and Close To Where You Are – a sample of songs that have defined the standard for 2face's music art in the R&B genre. Kiss of Life is like a chill pill off all the energy that The Ascension brings. Here, he tones things down and serenades you with vocals that shine on a love ballad.
2face brought the best of his lyrical a-game on Let Somebody Love You with Bridget Kelly. While his lines dissected issues on relationships and alone-ness, Bridget on the other hand sang with such emotioned vocals; a clever attempt at showing the deep and intense sensitivity of the lyrical subject being portrayed.
International Loving is perhaps the most beautiful duet ever. 2face sure knows how to pick them girls for his features. Kim Almarcha's contralto (although soft and somewhat airy), comes out quite audibly as she delivers her lines in français while keeping her vocal embellishments to a professional standard. Together, their harmonies can literally take you to a world where love indeed has no language barriers.
Confessions with mentee, Dammy Krane is another lovers' favourite. Leriq wired so much bass and claps alongside swirling effects into the reggae-inspired number, and then Rocksteady really began to sound so much like Burnaboy. Beautiful song, beautiful vocal delivery!
2face returns to showing off the African genres with Shurwayne on Boulay Boulay – a typical happy song with some electro-fusion at the end that made for quite a dramatic close. The Zouk-styled Diaspora Woman with Fally Ipupa will fail in appealing to his Nigerian fans. Rather, it's a quick sell for his other African fans who savour sound treaties like this. Quite a bold strategy for cutting across francophone markets. He goes on to paying tribute to legendary musician, Fela Anikulapo-Kuti on his self-styled afrobeat-inspired number, Jeje where he sings with a sass attitude on doing his 'tin' and not showing himself. Impressive!
2face pulls a weak attempt at high life on Lesse Passe with Sir Victor Uwaifo. It'd be totally understandable if you press skip on this one but the tingly feel of those melodies from the lead strings, made for an almost close save. He redeems it on Ife Dinma with Tony One Week. It's a track that gets you wriggling your waist from side-to-side and boogey-ing down the African way.
He closes The Ascension with the chant-esque Not A Surprise. It will get you pushing your hands up in the air and going "hay-hay" before you finally realize you're already up on your feet. Simply put, don't get tired of hustling. When you fall down, pick yourself back up and try again again again!
The Ascension album is everything an original African album should boast of, and I'm not just talking about features or titles alone. It's evident in the album's content and musical instrumentation – totally African! With 17 tracks that feel like 7, 2face successfully whipped up an album that reeks of energy from start to finish. While he never falls short with his lyrics or vocal styling, The Ascension is a test of his creative prowess which saw him come out with blazing guns proving that he is indeed, a musician at heart. He is 2face Idibia and he's still king of afro R&B.
Rating – 3.5/5 
Reviewed by Jim Donnett
@jimancipation