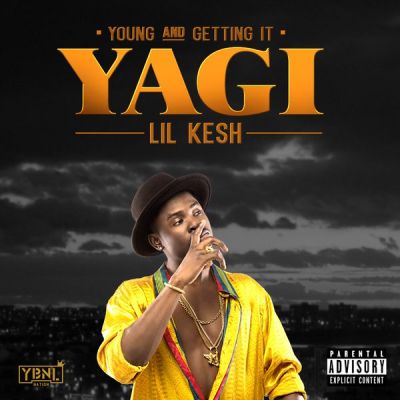 Artiste – Lil Kesh
Album – YAGI (Young And Getting It)
Features – Ycee, Phyno, Chinko Ekun, Patoranking, Viktoh, Wale, Olamide, Adekunle GOLD, Davido
Producers – Pheelz, Young John, Shizzi
Label – YBNL (2016)
Running Time – 1 hour 05 minutes
Core fans of the street have been rummaging  shocking marvel especially since the last time Lil Kesh was rated turned out irrepressibly bad. Thus, this review is simply a honest assessment of Keshi's debut album, YAGI (Young And Getting It) with consideration emphasized on proper and unsentimental rating of the constituent songs of the album, as with the overall arrangement. Like you guessed right, Kesh's debut is another one for the streets, just as his previously released records are trailed by the same evidence of his M.O.
I would also like to add that this album belongs not only to Keshi, but to Young John and Pheelz as well. Shizzi gave a good account of himself too. They certainly deserve commendation for the nifty work done on the album. Now digest the epoch review based on a track-by-track analysis.
FSU (F*CK SH*T UP)
If you've been waiting for Lil Kesh to address the Headies snub, he just did. In F*ck Sh*t Up, Lil Kesh called himself best rated rather than next rated. "They say Kesh is our next rated, f*ck that! I kind of feel like the best rated". This proclamation defines the song, and was a sure torque starter for the YAGI experience.
ISHE
Lil Kesh was obviously not in the mood when he recorded this song. He trotted out the lines and hook. This is one of the songs you'd skip. I thought Kesh should have featured some other artiste here. But no.
SEMILORE
Semilore is a personal favorite. This song is a prospectus club jingle bell. Composed of melody by Young John & Lil Kesh's story telling rap lines, this duo are good at getting us to dance. The well-produced song has a blend of flute playing and gan gan which gives the song a wonderful tune. Warning, you might have started dancing before Kesh starts to sing. Yeah! The beat is that dope. Great song!
CAUSE TROUBLE ft. YCEE
Several Yoruba traditional rhymes were used in this album by the producer extraordinaire, Pheelz. I heard gbam gba la gigi gigi, a war theme song in the background of Cause Trouble. Well done Pheelz! Very ingenious stuff. I also heard an in-the-mood Lil Kesh on this track. Ycee laid some cultured rap lines on Cause Trouble. Nice collaboration. Watch out for part 2.
ABIJA WARA ft. Phyno, Chinko Ekun
Title claiming Lil Kesh decided to send a message to the league of rappers, those he called 'Dangunro'. In clear words, Kesh told rappers to give way for the Kesh era. With lines like abija wara 1! abija wara 1! Dangunro wa at alert, the message was well passed.
It might be too early to tell, but the Lil Kesh on this track sounds ready to take over from Badoo, Olamide. Chinko Ekun featured on this track with his usual humorous flow. As for Phyno, let's just say he did not come. An ordinary outing for the Connect crooner, I expected something better from Obago.
IS IT BECAUSE I LOVE YOU ft. Patoranking
I can't say otherwise. The music fans have already accepted this one. Is It Because I Love You is an already a confirmed song. Patoranking is one of the most consistent artistes around, so featuring on a raving Lil Kesh's sound was always going to bang.
JABO
Honestly, Jabo is a below-average song. Lil Kesh tried to do everything on this song, sing, rap and even some hailing. This burden brought boredom to this song.
ITUMO
Lil Kesh started with a Drake-like flow. Yeah! Lil Kesh, Drake. I was already getting excited, and then came a lazy Keshi. My excitement just melted. I would call it the lazy song (shout out to Burno Mars!)
FOR YOU
Lil Kesh did not know what he was doing on this track. A romantic song? No! Keshi stick to your niche please and we won't have a problem.
EFEJOKU ft. Viktoh
Kesh told you, you would not stop dancing. We both know he said the truth. We have been dancing to Efejoku ever since. The song has this aura that makes you want to dance and it comes with a special order of wizardry given to it by Young John, the wicked producer. I still have not figured out what Viktoh said on the track, regardless it was danceable.
CAUSE TROUBLE 2 ft. Wale Folarin
Really, Wale Folarin? Well maybe as some sort of foreign injection yes, but I would have preferred a Reminisce on Cause Trouble 2. Wale just scratched the surface, nothing concrete added to Lil Kesh's already familiar Cause Trouble sound.
PROBLEM CHILD ft. Olamide
A debut Lil Kesh album without Olamide on it? Most unlikely. Lil Kesh featured Olamide on Problem Child and they gave birth to a playful track.
LIFE OF A STAR ft. Adekunle Gold
Pick Up part 2! Adekunle GOLD lured Lil Kesh into recording a sister track to Pick Up. The song gives an insight into the ugly side of stardom. Sound wise, the song was okay. Lyrically, Keshi was sloppy.
IGBA IPONJU
Strong hip-hop beat; the production was super clean, well-laced kicks and emotion calling rhythm. This is a song borne out of retrospection, Lil Kesh was steady with his delivery and reflective lyrics. "To those that can relate to this…" this is Igba Iponju, troubled times.
IBILE
Since the street has taken over, the kings have been busy with the constitution of the street. The street demands an anthem and Lil Kesh had the courtesy to compose it. Ibile is a street anthem that dotes on the whole street experience, and lore formed the body of this work.
Ibile people love it.
YAYA OYOYO ft. Davido
Perhaps the most euphonious track on the YAGI album and it's easy to guess why – OBO is on the track! I talked about Shizzi doing a good job earlier; this is where you would agree with me. Nice song.
LYRICALLY
This song needs no further introduction. Listening to Lyrically again reminds me of the promising Lil Kesh. He is now a superstar with back-to-back hits, just as he had earlier promised when he waxed this track. In every of Keshi's hit song, he is simply fulfilling the Lyrically promise.
You probably know all about Lyrically by now. Perfect album closer.
In general, YAGI is a good album. Though the lyrics were spread over here-and-there, the body of work was well targeted at the street audience. It may not exactly be a contender for album of the year, but the songs in the album would most likely enjoy wide acceptance. Shebi it is Kesh.
The quality of production is the selling point of the album, not the lyrics, and definitely not the choice of featured artistes. As per the theme, YAGI (Young And Getting It) is well spelt! How else would you name the hubris of a young kid making waves in the music industry? In other words, Lil Kesh should have done some surprise collaborations. Maybe Reminisce, Wande Coal or even Wizkid could have shot the album to an A-grade. Save for that, YAGI settles somewhere in the ranks of a B minus.
The bottom line point is, YAGI could have been a great album with lucid critic silencing qualities, but no. It turned out an average album with a lot of flavour for club acceptance.
Rating: 3.2/5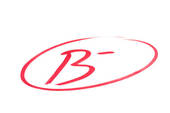 Reviewed by Oluwatobi Ibironke
@ibironketweets