Last Updated on Nov 18, 2014 | 15:16 by Jim Donnett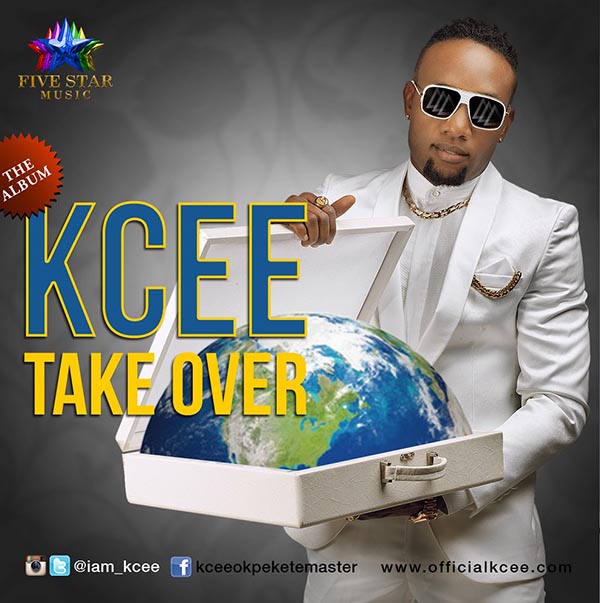 Artiste – Kcee
Album – Takeover
Features – Wizkid, Timaya, Mr Songz, Ajebo, Davido, D'banj, Skiibii, Phyno, Don Jazzy & Flavour
Producers – Black Jersey, Del B, Jo Pee & Soso Sobrekon
Duration: 1:11:42
Label – Five Star Music (2013)
Kcee finally comes through with his solo debut album which is star-studded by the way featuring giants D'banj, Davido, Wizkid, Don Jazzy, Flavour and Timaya. Kcee's vocal prowess is not his greatest strength but it is bolstered by his army of producers and ghost song-writers to fabricate likeable porous fast-food pop numbers on his quest to takeover.
How he fared? Bask in this track to track analysis of the LP.
Hustle Your Way: Kcee's Takeover kicks off with the safe 'Hustle Your Way'. The ex-KC Presh member borrows the battered chapter of "hard work pays" from highlife music bible; the solo instrumentation of the first 12 seconds of the groovy spiritual themed song is bound to steal your attention, the remaining 3 minutes and 21 seconds will manage to keep it.
Ogadinma: Kcee dives into the highlife realm with 'Ogadinma' and impresses with his vocals. Expectations from Kcee are never high so the song will be solidly commended.
Hakuna Matata: Black Jersey creates a guitar enriched beat for Kcee to play on leading to 'Hakuna Matata'. Like most of the LP, Hakuna Matat lacks originality, sounding like Iyanya's Flavour or something you heard in Flavour's discography nevertheless the cut is a generic party cracker.
Pullover (ft. Wizkid): Aided by Wizkid and magic producer Del B, Kcee lands himself an infectious and intoxicating pop candy. The catchy hook laced by star boy goes; "Park baby o pullover/ Reverse baby o pullover/Show me your particular baby o pullover…"colliding with Kcee's paced verses that rise to the occasion making 'Pullover' almost irresistible.
Do It (ft.Timaya): Targeted at the disc jockeys' playlist, clubs and dance-floor 'Do It' joins the seemingly endless list of generic party crackers on the album. After all is said and done, the Timaya assisted cut will fulfill the intended goal.
Adaugo (ft. MrSongz): Kcee's longtime behind the scenes collaborator Mr Songz a.k.a Harrysongz surfaces on the sweet eastern highlife influenced 'Adaugo'. Kcee's declares his love for a certain Adaugo; describing her with local dramatic adjectives, likening her to Egusi and Ogbono soup and urging her to come dance for him. 'Adaugo' would fit perfectly in the soundtrack of a Nollywood movie and has the tendency to be effortlesslyneglected by listeners yetit is arguably the album's best moment.
Skit by Ajebo (ft.Ajebo): A hilarious skit featuring comedian Ajebo where Kcee takes over and annihilates competition with the 'Limpopo style' in a fight.
Ogaranya (ft. Davido):Featuring HKN Music front-man Davido, Kcee and the Skelewucrooner meets halfway and wows with the thankful and celebratory cut. Ogaranya an Igbo word which literally means 'big man' in English is laced in a Don Jazzy-esque manner on the terrific mid-tempo beat making the song a potential music epidemic if treated right. Furthermore the host shout outs a brief list of Ogaranyas ranging from Senator Ugochukwu Uba to Davido's father; smart move!
Limpopo: Kcee strikes gold as he goes crazy and wants to take his love to Limpopo located in northernmost province of South Africa. The massive success of 'Limpopo' owed majorly to the producer, created a production blueprint for a couple of songs on the LP as seen on Ogaranya and Okoso. Addictive, highly contagious and spell-binding, one might board a flight with Kcee to Limpopo if caution is not exercised.
Totori (ft. MrSongz): Male duet of the year hands down! Kcee and MrSongz once again prove that there is power in numbers on the sultry Soso Sobrekon produced baby-maker. 'Totori' is simply an audio delight about the sweetness of a girl; Mr Songz digs deeper and steals the show with his spirited, emotive and convincing performance, it is sad that he is utterly underrated.
Emmah (ft. D'Banj):Expect the unexpected as Kcee teams up with international superstar D'banj on 'Emmah'.  This has to be the best feature of D'banj in a while, he brings his strangely impressive voice and larger than life persona complimenting Kcee on the drums and synth driven orchestration of the love preaching song. Unlike most of the generic party rockers on the album, Emmah has depth and will make you go gaga.
Had It Been I Know: Kcee strays from the afro-pop and highlife genre that plagues Takeover and tries his hands on reggae successfullybirthing a stellar love song. This song has Mr Songz song-writing imprint all over it although it is not confirmed; be that as it may, 'Had It Been I Know' is a champion.
Ifeneme: Things goes downhill on 'Ifeneme' as Kcee once again taps into the highlife sound that dominated the first tracks on the album.
Okoso: Tailored after Limpopo, Kcee manages to impress with 'Okoso'. Flogged because of the undeniable glaring similarities it shares with the album's ninth track yet we cannot help but love the mid-tempo number.
Chineke Di Mma: Sadly the highlife gospel aria materializes again on 'Chineke Di Mmma'.
Ajibole (ft.Skiibii): Reminiscent of great hook lacers Wande Coal and YQ, Kcee's label mate Skiibiigets introduced on the pre-hook, excites and saves 'Ajibole' with the short time he gets on the album. The Black Jersey produced afrobeat inspired banger is about a girl who stole his 'heart and gold' and it works perfectly.
Vitamin C (ft.Phyno): 'Vitamin C' is one of those cheesy songs you cannot help but love, so should we say this is one bittersweet vitamin C you cannot resist licking. The beat and Phyno's contribution is heavy.
Pullover Remix (ft. Don Jazzy &Wizkid):An unnecessary Don Jazzy verse on the remix of the Del B produced joint weakens the strength of the song, Kceemakes up for Michael's shortcoming.
Give It to Me (ft. Flavour): 'Give It to Me' featuring highlife royal Flavour closes the album. Another stellar song-overall highlighting Del B's production. If this song was released after the album was released it would have been a bigger hit than it already is.
Rating: 2.5/5
Reviwed by Ogaga Sakapide