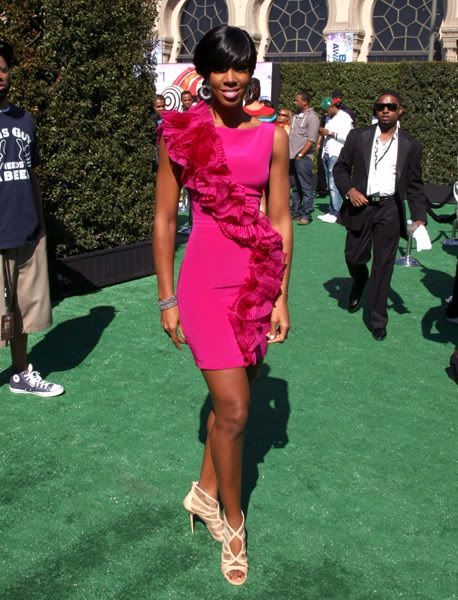 The fabulous ones (well, most of 'em) hit the red (green) carpet tonight at The Shrine Auditorium in L.A. for the 2011 BET Awards.  And we've got everybody's looks from tonight's red carpet inside
Oh Ms. Kelly.  WRITE A BOOK.  Because this much fabness should not be kept a secret.  She hit tonight's carpet before her slay-worthy performance on stage in this hot pink Marchesa dress.  Loving the petal detail from shoulder to hem.  Perfect swept up hair too.  Fab.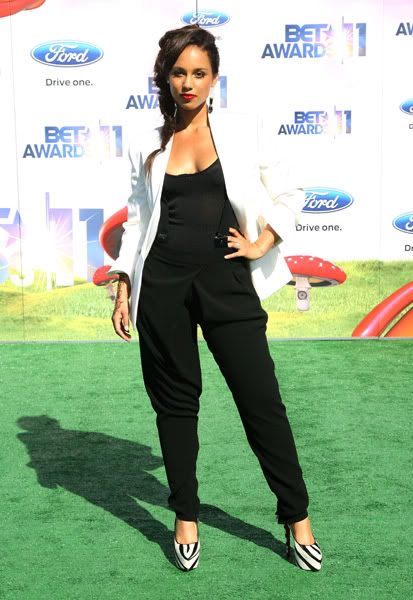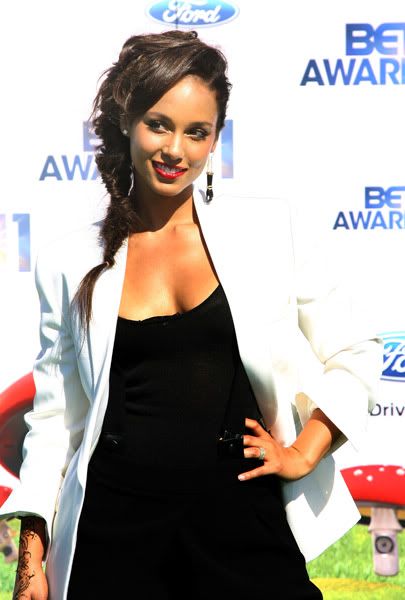 Alicia Keys–in a black and white suspenders inspired look by Dolce & Gabanna–and Swizzy worked the carpet separately, and Swizzy brought his sons Kaseem Jr. and Nasir along: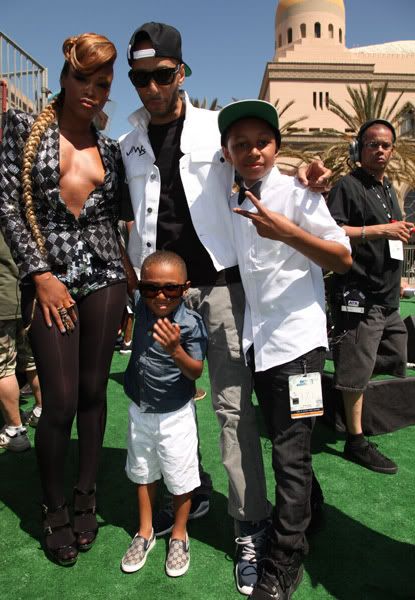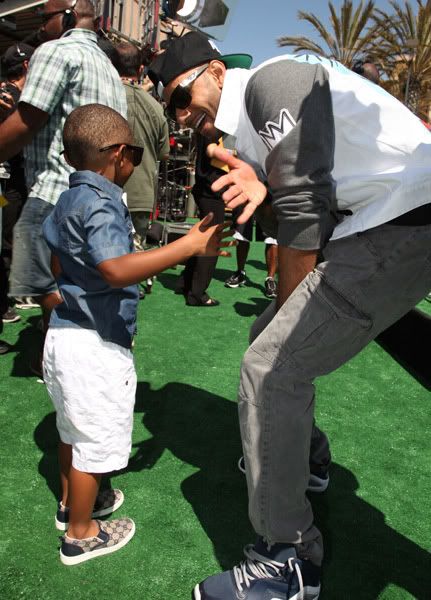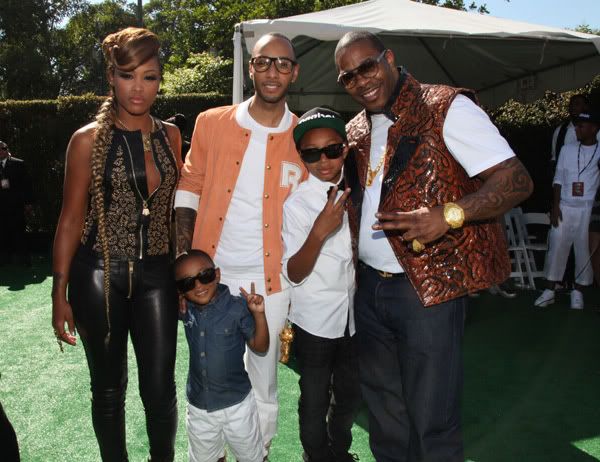 Even Uncle Bustaa and Auntie Eve were there to kick it with them.
Ashanti hit the carpet in this blue Jean Fares Couture gown and Giussepe Zanotti shoes.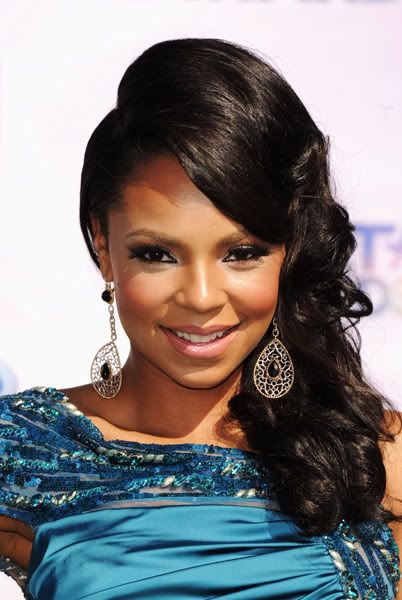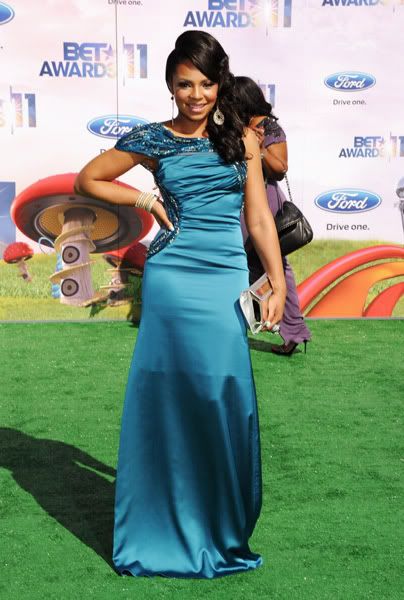 Pretty as usual.
The Smith kids–Willow and Jaden–tied for the Young Star Award: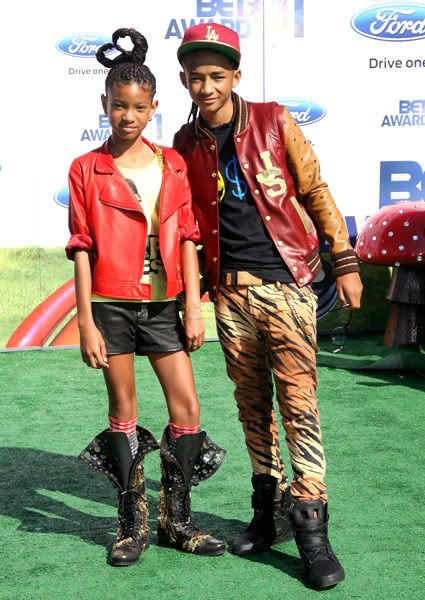 "Fresh Prince" & Mrs. Pinket-Smith taught them a great work ethic.  And they were such proud parents tearing up in the audience.  Gotta love it.
Tika Sumpter hosted for Bet.com and she rocked this mini-slit white dress by Herve Leger which revealed just enough.
Diddy, Dawn, and Kalenna worked it out in all-white everything.
Nicki Minaj and her assets hit the carpet in this interesting deep pink dress with piled looped sleeves and hem.  And her grey tights and short bob to top it of.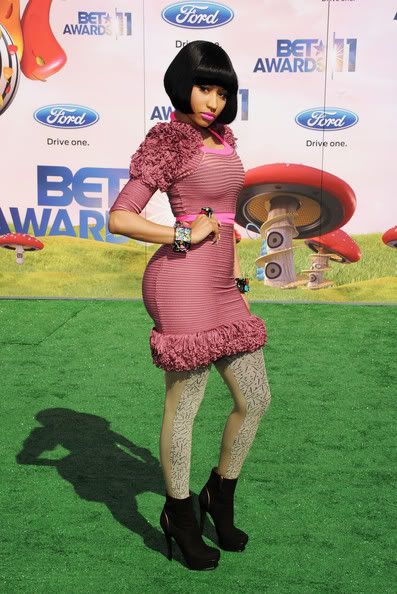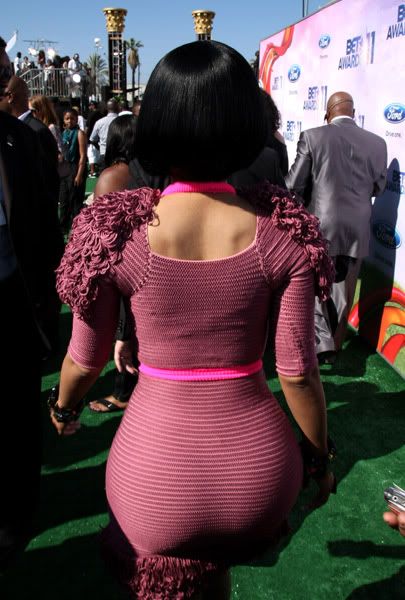 Alrighty.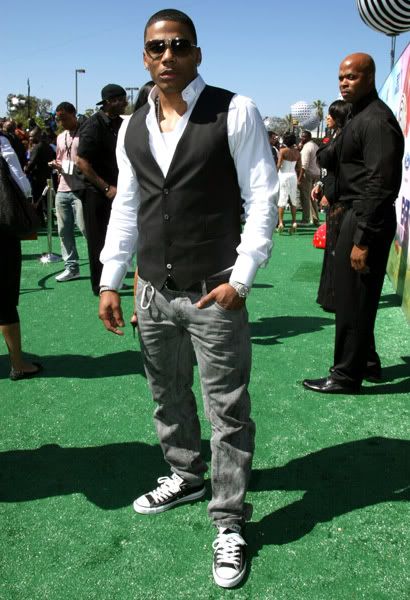 Nelly's sexy self looked nice and hot.
Leon made an arrival with his daughter (with "ATL Housewife" Cynthia) Noelle.
Tyga looked like he just rolled in from last night's party at the Playboy Mansion.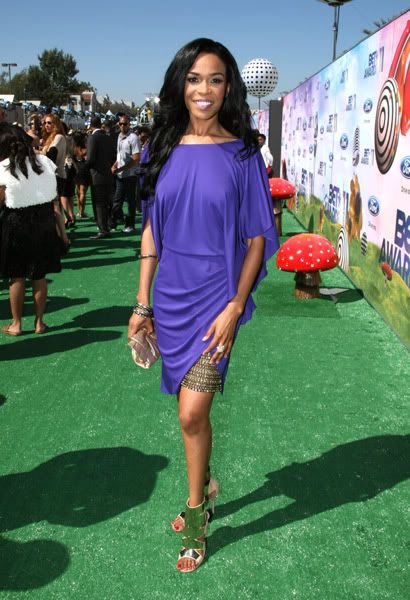 Michelle Williams rocked a great color for her skin and cute mirrored shoes.
New mom twice over Laila Ali hit the carpet in slacks.
Game looks nice…that's a change.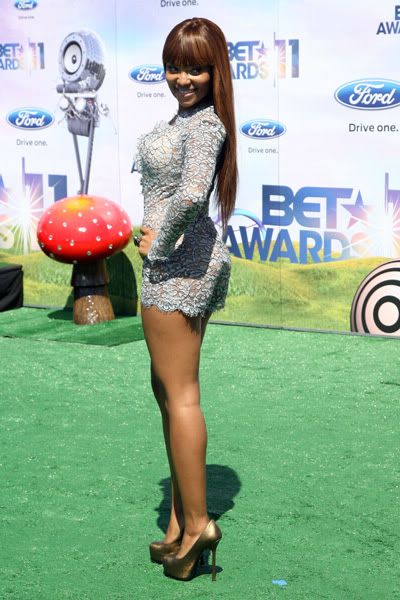 And Teairra Mari made an appearance in this long sleeved lacy short jumper.
Something's….off.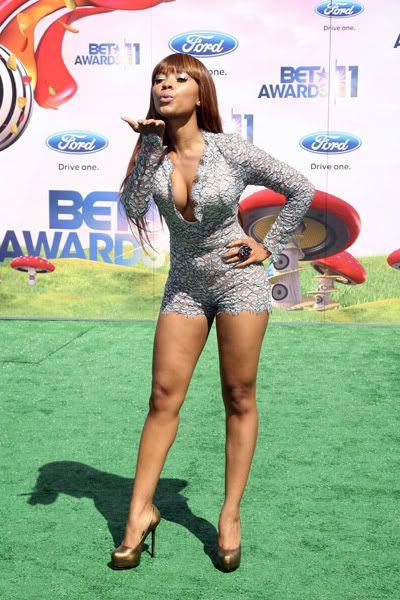 But do you boo.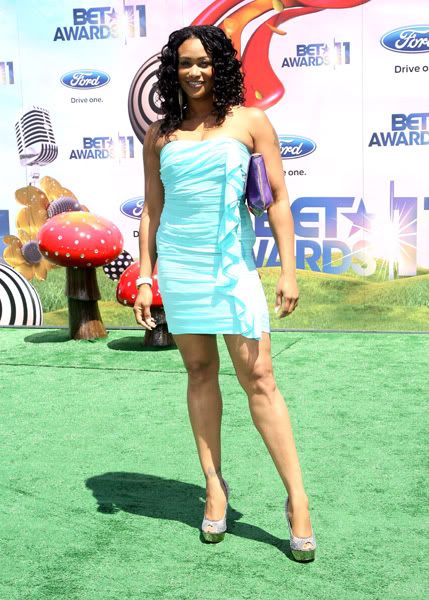 "Basketball Wife" Tami Roman hit the carpet in aqua blue.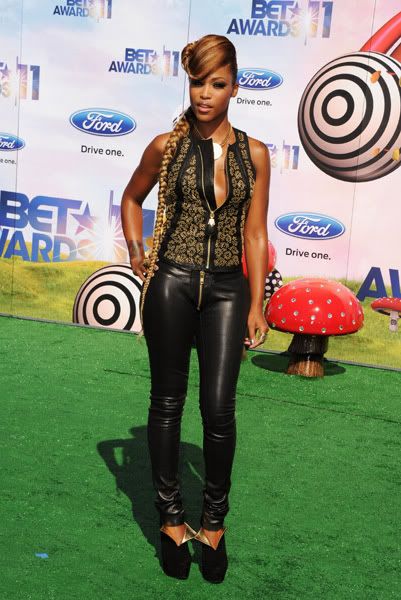 E-V-E opened the pre-show with Swizzy performing "Coolin'".  Loving her look these days.
And she stopped to say wassup to Drake.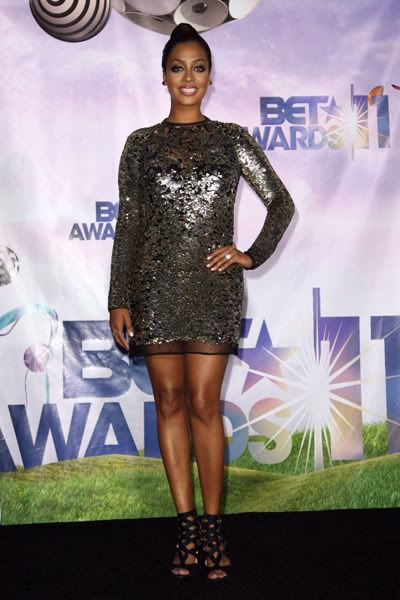 LaLa went back to her tv hosting roots to handle the backstage Ford announcements for the show.  And she rocked this long sleeved Tom Ford dress for the ocassion.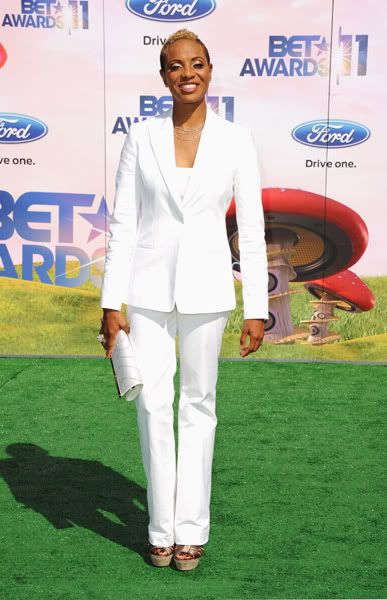 Announcer MC Lyte looked great in this Elie Tahari white suit.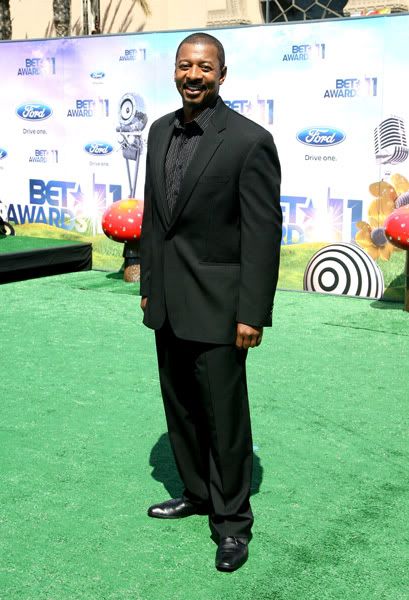 Hey Mr. Townsend.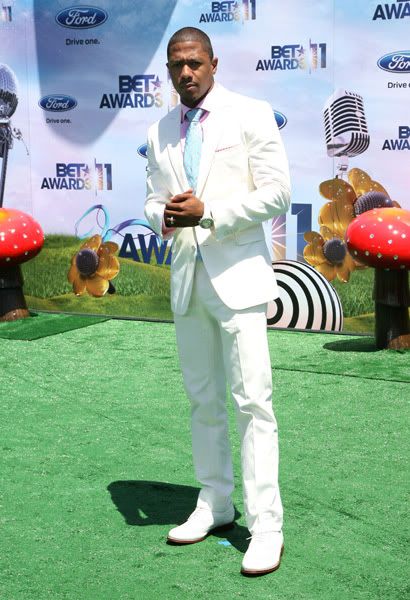 Nick Cannon is in that gym I see.  Pulling off the head to toe white and pastel tie and shirt nicely.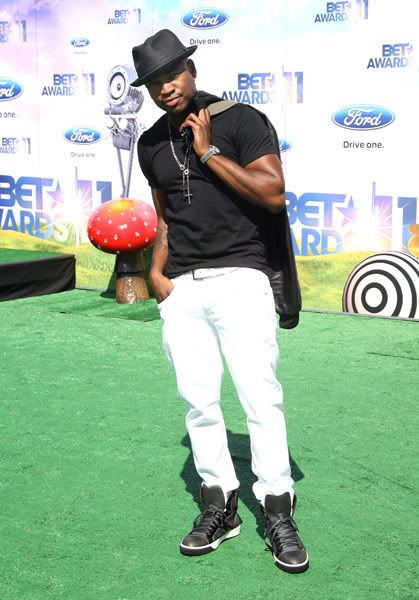 Yes for Ne-Yo and his hat.
Sigh.  This isn't prom Meagan.  Your bod is too hot and petitie to wear something so overpowering. If you got it, flaunt it.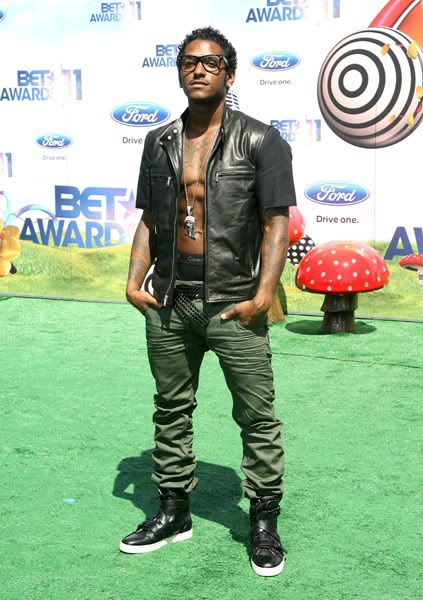 Oh, hello Lloyd.  He rocked this leather Marc Jacobs vest and green army pants buy Diesel to show off his cut chest. And paired it all with Loboutin sneakers.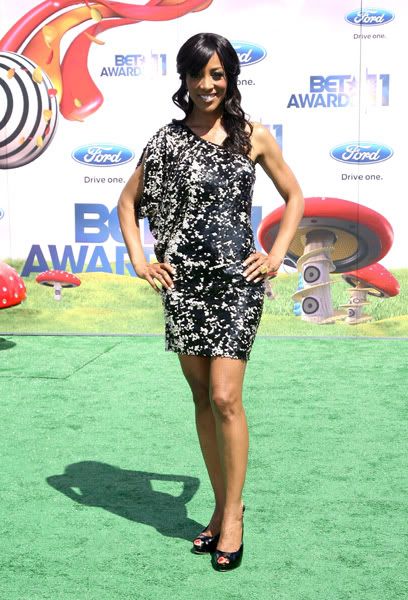 Shaun Robinson was there in a simple cocktail dress.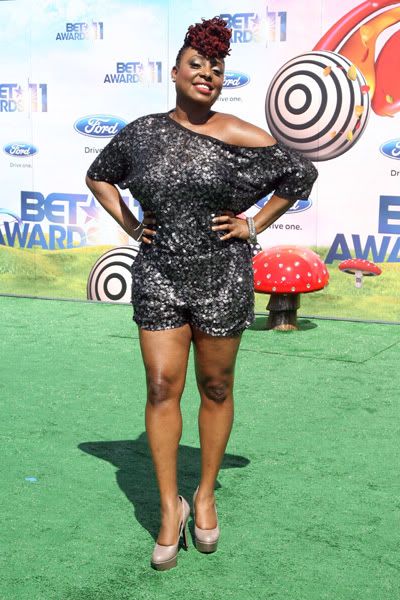 Ms. Ledisi was there to participate in the Patti Labelle tirbute.
Mr. Laz Alonso hit the carpet in an all black suit.  Could have gone shirtless.  We wouldn't have minded.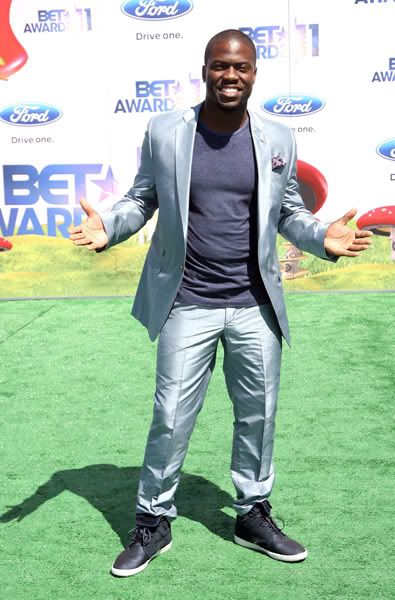 Host Kevin Hart rocked this sateen YSL suit with a tee to make it more casual.  And it works for him.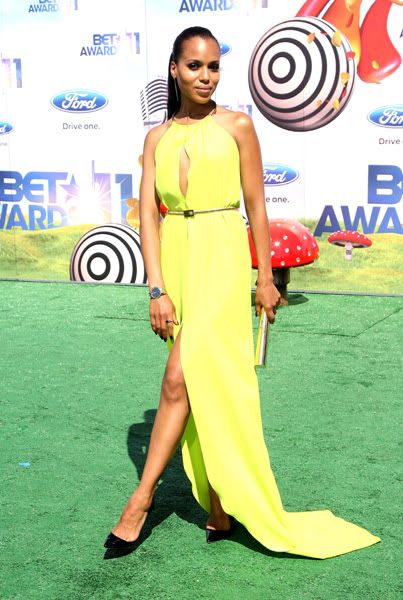 Kerry Washington brought summer even harder in this bright yellow Michael Kors Resort 2012 Collection floor length dress with a high slit.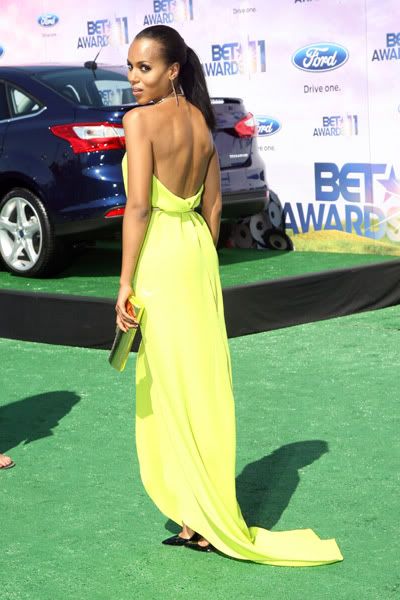 Very nice.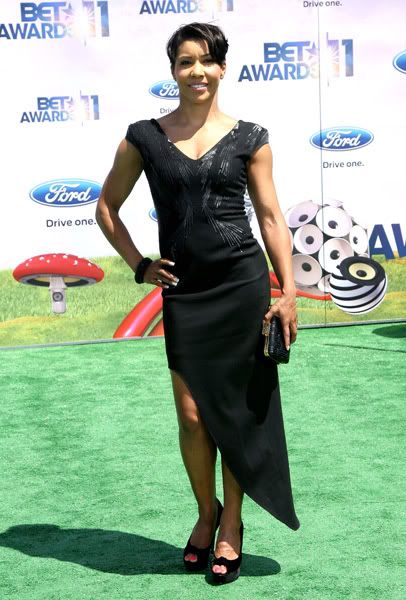 Celebrity fitness trainer Jeanette Jenkins hit the carpet in this look.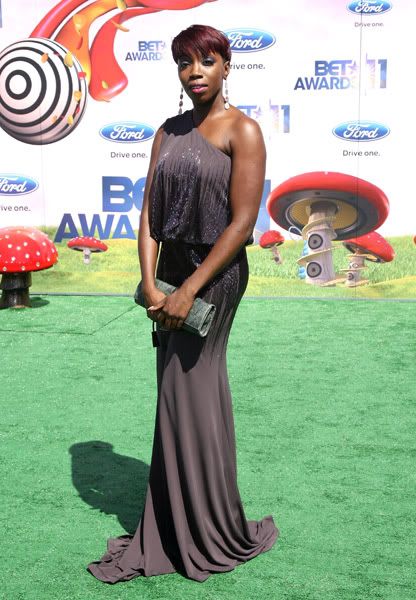 We're actually feeling Estelle's deep grey dress.  Very flowy and good sparkle embellishments.
Elise Neal rocked this yellow BCBG dress.
BET actress Joyful Drake rocked a gorgeous white gown and Report Signature shoes for the occasion.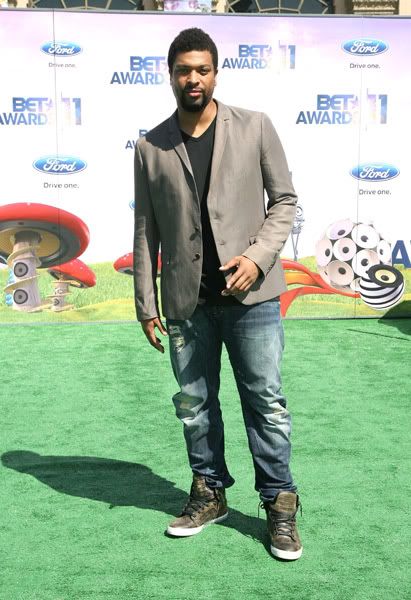 Dallas Austin….alrighty then.  He brought his singer "Alex" along.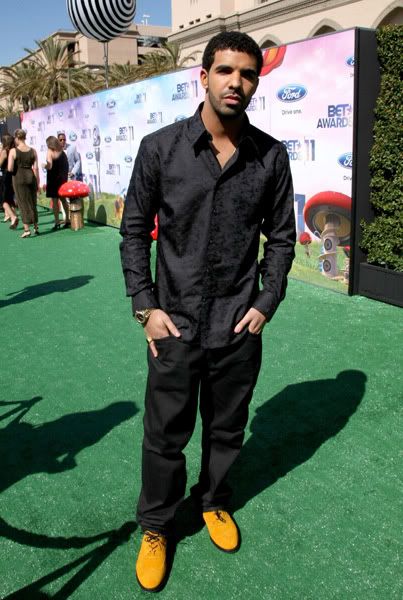 Drake Drizzy was there to hit the stage.
And Keri Hilson toned her look down even more with this purple and black pants look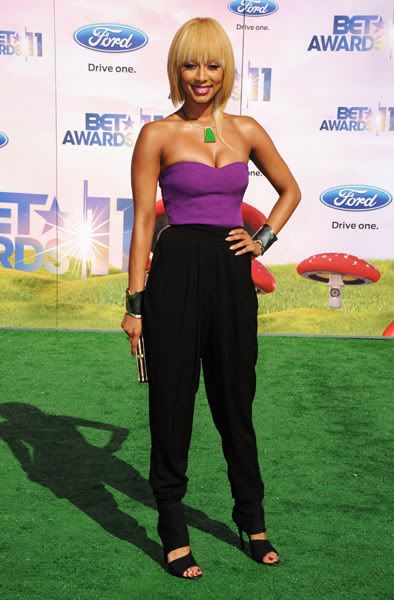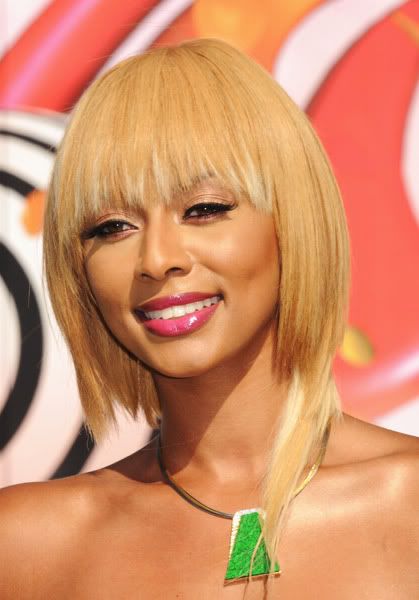 She held a sparkling Judith Leiber clutch all night.  Nice.
Amber has a thing for catsuits on red carpets while she's tonguing down her man: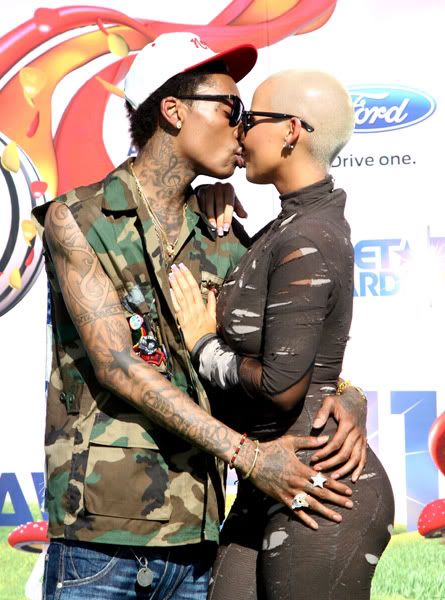 First the infamous Kanye leopard catsuit.  Now…this.  She and Wiz Khalilfa really should have gotten a room.  Their make-out session during Patti's tribute was also just ridic.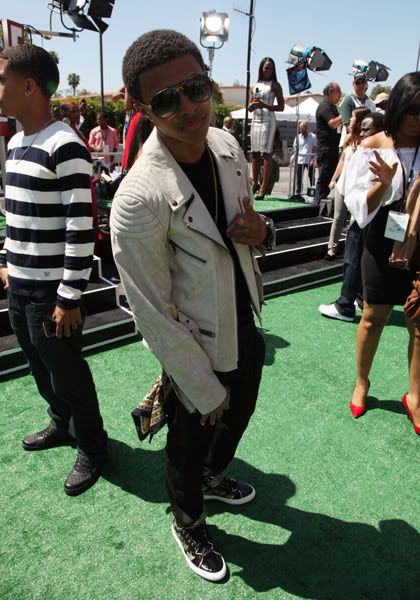 Cutie Diggy Simmons performed during the pre-show.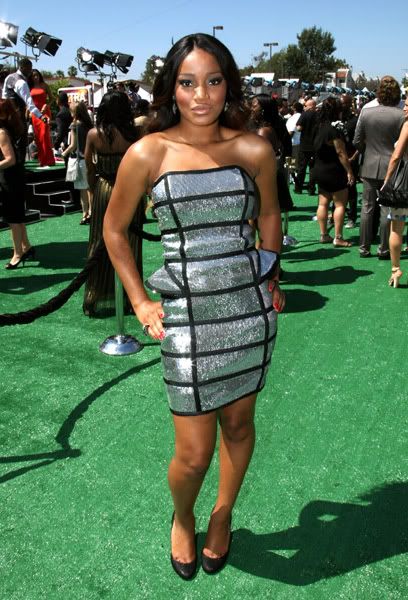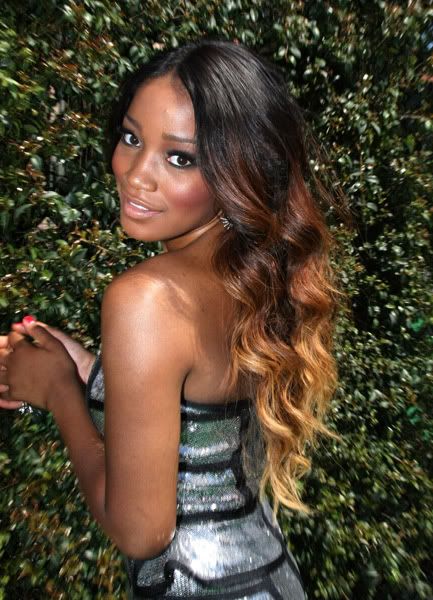 Absolutely LOVED KeKe Palmer's look tonight.  Especially the hair.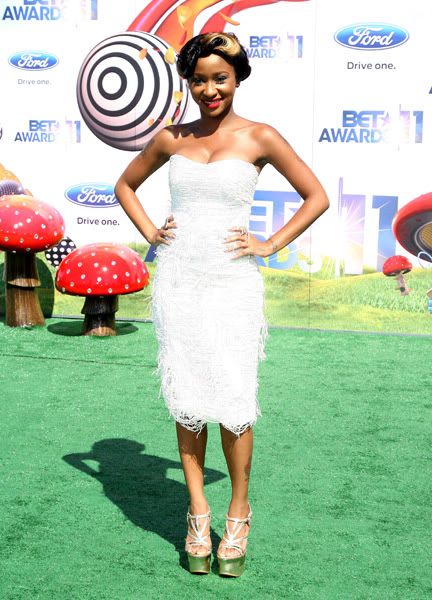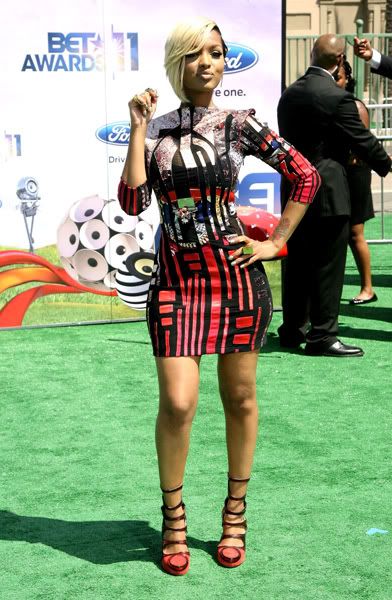 Rappers Diamond and Lola Monroe thought they were doing it up.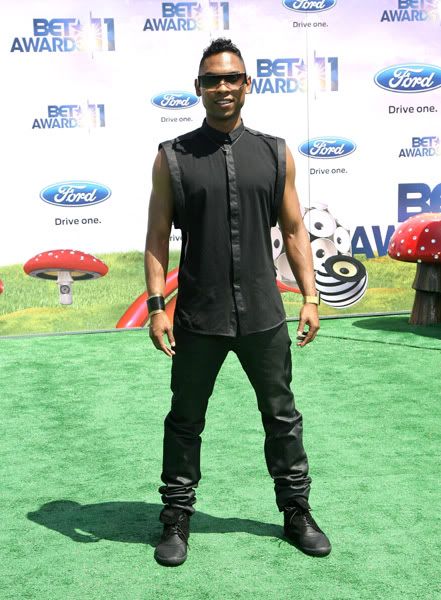 ---