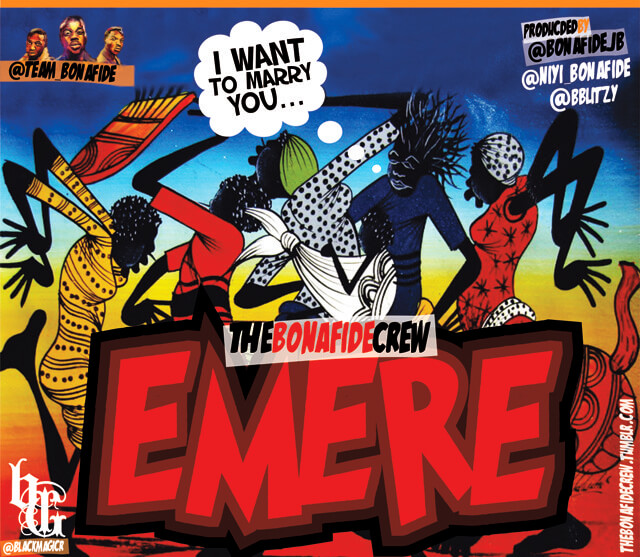 The Bonafide Crew started out as a group of seven artists/producers back in secondary school in Lagos in 2004. Their music was heavily hip-hop influenced and they put out three mixtapes: Written from the underground, Virus and Bonafide's Turn 2 Murder (B.T.2.M.) from then till 2007, gaining massive popularity among the teenage audience in Lagos. Songs like Bonafide Soulja and Virus were popular in parties and events back then. They split up across the globe for further education but three years ago, four of the original members- J.B., Niyi, Deolu Solar (formerly Blitzy) & D-NO  got together again along with new member Laolu Ogun to revive the Bonafide franchise in 2010.
 
Following the success of singles like Wajo, We Dey Ball, I'm Back and Atide featuring Ajebutter 22, the group started to enjoy a revived interest in their work. Emere is Bonafide's new release produced once again by their very own, J.B, who has produced all their recent singles and has also worked with other artists like Adey, Omo Akin, X.O. Senavoe and DIS Guise. Emere features vocals by Niyi, JB and Deolu Solar and also additional production from Adey.
 
EMERE is their ode to that special girl every guy desires to have. The group stray considerably from their usual sound to create a funky highlife tune with an eastern cultural vibe reminiscent of songs by Sir Victor Uwaifo, Oliver de Coque, Sir Osita Osadebe and Bobby Benson fused with modern day hip-hop. The song's contagious rhythm will get you dancing and singing along in seconds. Watch out for a steady stream of materials in 2013 as the group plans to release an EP compilation in April. With more singles and videos to follow, don't sleep on Bonafide.
 
Follow them @team_bonafide and also visit www.bonafidecrew.tumblr.com to keep up with them.  Listen, comment and share with a friend.
[audio:http://tooxclusive.com/wp-content/uploads/2013/01/01-Emere-_-tooxclusive.com_.mp3]
---